Post Mortal Possession - Valley Of The Starving - Reviewed By Metal Digest ! Check it out here at this link: https://metal-digest.com/2022/08/05/post-mortal-possession-valley-of-the-starving/
What is brutal these days? (sorry 'br00tal' if you're about 13 and on the internet). Is it going the extra mile in the gore department? Or is it being controversial? The answer is neither. Brutality is a feeling, it's just something those certain musicians know how to do without trying too hard and one such band are Post Mortal Possession (PMP) as the American brutal death metallers return with their latest album 'Valley of the Starving'.
                From the off, 'Valley of the Starving' wastes no time in arsing about, getting in the listener comfy, frying up some fava beans and offering them a cup of tea. PMP drive the knife in immediately, twist it and go to town in a Mary Jane Kelly style butchery that would leave Jack the Ripper standing Hampton. This is a band which know how to do brutal death metal, they've been doing it long enough now with some solid releases and this latest offering is actually no different. Through tracks such as 'Burn the Bodies and Eat the Horses', 'Forest of Flesheaters' and 'Wolves of the Dying', PMP skilfully wield their cleaver, cutting through flesh, bone and sinew alike with all the appeal of Psycroptic, Disentomb and of course Cattle Decapitation.

                'Valley of the Starving' isn't anything that PMP haven't really done before, but this is a band which know what they are doing, they aren't suddenly going to change from the day they formed to the day they die, this album will continue to appeal to death metal fans worldwide. What else do you want? - Metal Digest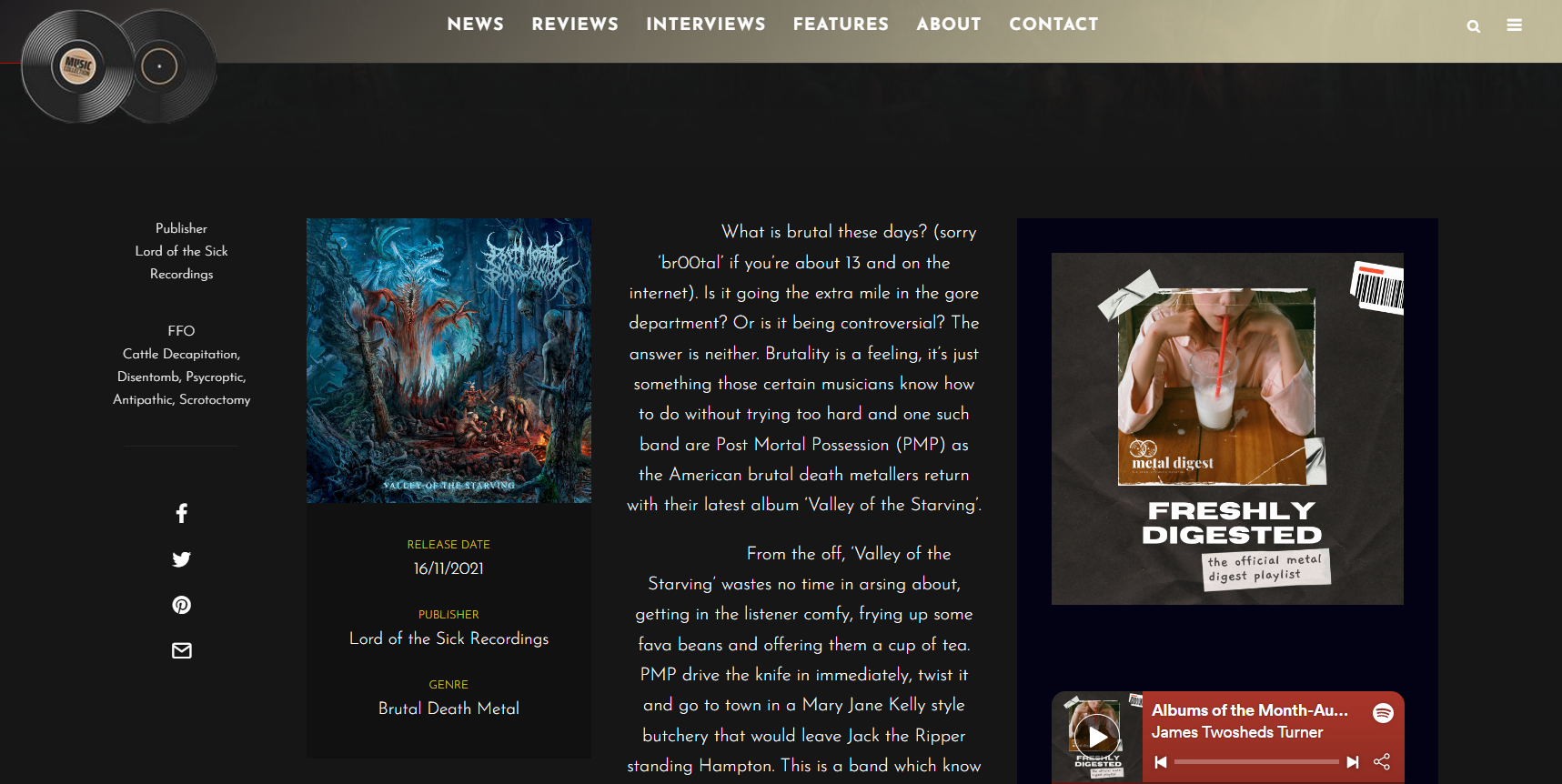 Release Date: November 15, 2021
FFO: Cattle Decapitation, Disentomb, Psycroptic
Location: Pittsburgh, PA
Post Mortal Possession is a Brutal Death Metal band with a mixture of various other extreme metal sub genres from Pittsburgh, PA . Current lineup is Nick Bentzel (Drums), Jake (Sewage) Mcmullen (Guitars), Brian Cremeens (Guitars), and Jake (Munson) Nelson (Vocals). Post Mortal Possession is currently signed to Lord Of Sick Recordings ( Russia ) and have five releases to date. Currently just released a full length ' Valley Of The Satrving ' in November 2021 recorded at Cerebral Audio Productions . 
Check out these videos!
Check them out on Spotify and add them to your playlists!

Support the band on Bandcamp!
Follow the band at these links:
https://postmortalpossession666.bandcamp.com/
https://www.facebook.com/postmortalpossession
https://www.instagram.com/postmortalpossessionofficial
https://www.youtube.com/channel/UCBDAxfiLpvj6XUl3Bng1Zfw