York (PA) - Vintage proto-metal purveyors
SPELLBOOK
have released the official video for "The Witch of Ridley Creek," the first second single from forthcoming sophomore full-length album,
Deadly Charms
.
The video is available at:
.
The single is also available on
Bandcamp
.
The trial involving the alleged "witch" of Ridley Creek, Margaret Mattson, took place in the late XVII century almost a decade before Salem's infamous witch hunt. Margaret was accused by her neighbors of practicing witchcraft, casting a curse over their animals and drying their land. The truth was that Margaret occupied first the best part of the land, which was much more fertile. At the end of the trial no evidence was found of Margaret practicing witchery, and she was condemned to a light sentence. Shot by Brian Magar, "The Witch of Ridley Creek" features Brandy Collier as the Witch herself.
Deadly Charms
will be released September 30 on CD and digital formats via
Cruz Del Sur Music
. The vinyl LP version will be released on October 7.
The follow-up to 2020's
Magick & Mischief
was recorded in February at Developing Nations in Baltimore, Maryland, with producer/engineer Kevin Bernsten. The album also marks the
SPELLBOOK
recording debut of their two new guitarists, Les Yarde and Patrick "Patty" Benton.
"The material has new life injected into it while still maintaining the adventurous '70s hard rock sound we strive for," says drummer Nick Zinn. "It certainly helped Les and Patty love
Magick & Mischief
and its no-rules approach. Yet, at the same time,
Deadly Charms
does seem a bit more focused. We love how the overall vibe has a more anthemic feel."
According to Zinn, the lyrical themes on
Deadly Charms
lean much heavier on horror and reality than the fantasy and fiction approach found in
Magick & Mischief
. The David Thiérrée (BEHEMOTH, MORTIIS, IHSAHN)-created artwork capably showcases these topics.
"The cover depicts an open spell book spewing forth witches, devils and other ghastly things," notes Zinn. "These are all subject matters within
Deadly Charms
songs. We've been fortunate to work with so many great artists over the years on different albums dating back to our WITCH HAZEL days and enjoy the excitement of a new artist on each project we do."
Magick & Mischief
was released in the thick of the global pandemic. While it put a premature end to the band's touring plans, it immediately cultivated a feverish critical following. Teeth Of The Divine called it "one of the best and most original heavy metal albums that seems like it was recorded in the '70s and just received an updated remastering." At the same time, Toilet Ov Hell noted, "This record is stuffed to bursting with hooky, moody riffs, stuffed like a filing cabinet full of promising leads."
The run-up to the release of
Deadly Charms
will find
SPELLBOOK 
busy with a myriad of projects — including some much-desired plans to hit the road.
"We are working on shooting videos for a few songs off the record," says Zinn. "Once the album is released, we really want to tour this time around. This new lineup has been gigging for a little while now and is eager to play these new songs anywhere and everywhere we can."
1. 1928
3. Goddess
4. Pandemonium
5. Her Spectral Armies
7. Deadly Charms
8. Night Of The Doppelganger
9. Out For Blood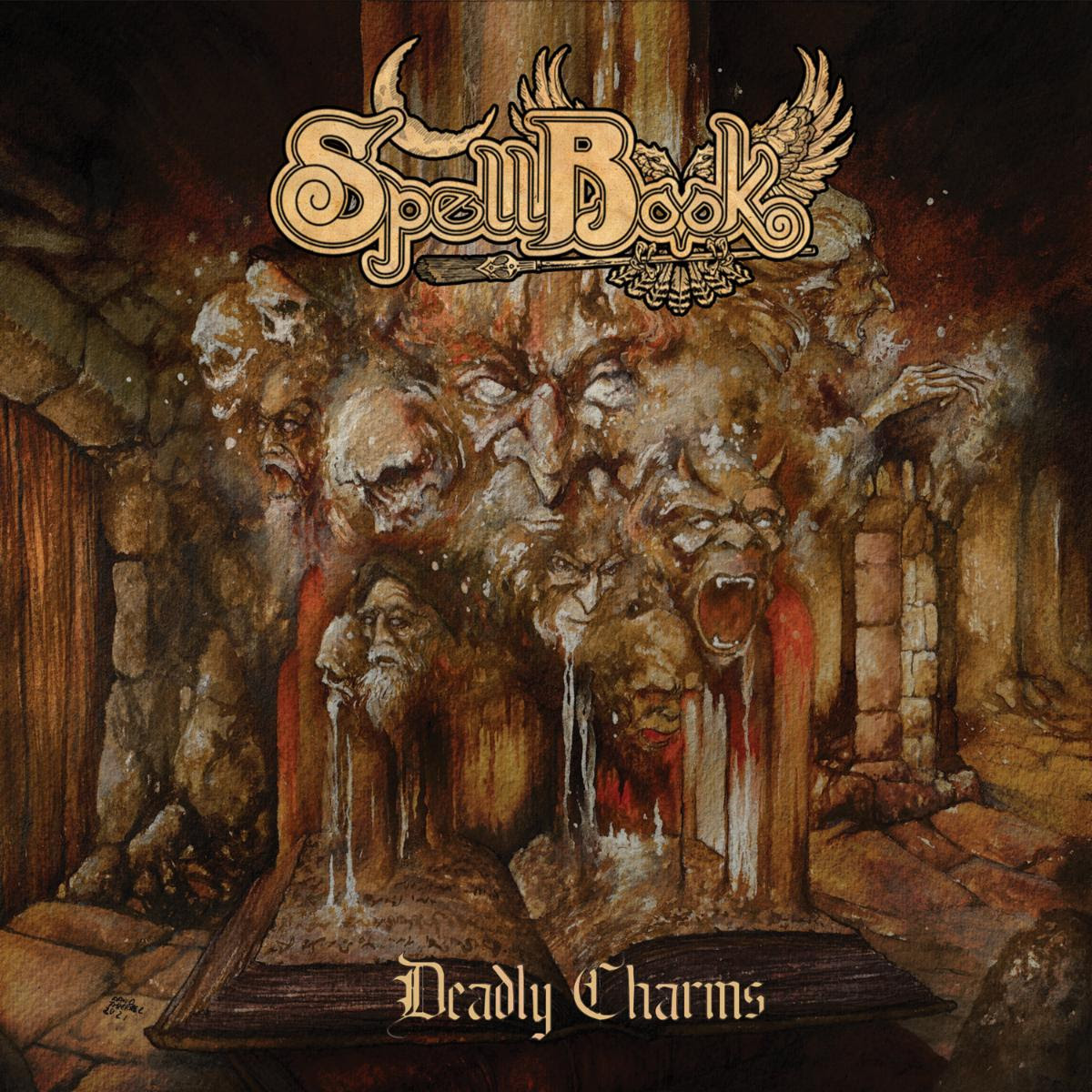 facebook.com/spellbookband
instagram.com/spellbookband
facebook.com/cruzdelsurmusic
instagram.com/cruzdelsurmusic
cruzdelsurmusic.com
cruzdelsurmusic.bandcamp.com/