HELIOS - TOUCH THE SUN - Reviewed BY powermetal ! Check it out here at this link: http://www.powermetal.de/review/review-Helios/Touch_The_Sun,39412.html
Although the name HELIOS exists several times, there is no real risk of confusion for this band from the states. First and foremost, because this quintet, founded in Pittsburgh in 2020, includes Tim Aymar, a singer whose voice is simply unique and therefore unmistakable.
The "Goldkehlchen", formerly engaged by CONTROL DENIED and still with PHARAOH and ANGBAND, is logically also the one that characterizes the debut of his new field of activity. His new colleagues, previously active as STORM DRAGON, have also got it pretty well on the line to compose tracks tailored to his vocal cords. Fans of the vocal guys will know what to do, and already the opener 'Fire From The Sky' makes it clear that HELIOS has nothing else on the program than powerful, traditionally oriented heavy metal.
Not surprisingly, this does not change until the end of the disc, even if the five-piece provides a varied and entertaining listening pleasure through tempo and rhythm changes. As references mainly JUDAS PRIEST can be heard, but from time to time also JAG PANZER, and also ICED EARTH to the "Ripper" phase may be mentioned. Not least because a vocal similarity of the two shouters in spherically arranged passages cannot be dismissed out of hand. There are also quite a few of them to hear on "Touch The Sun", as you can generally attest to the band to beat themselves quite respectably with balladic material. What would have been good for the disc, however, would have been a load of more hooks.
Because even if the song structures are definitely successful, in addition to the mentioned opener, only the title track with discreet DIO reminiscence, the 'Like A Gun', the breaker 'Mystery', which gradually increases from the intensity, and the probably quite carefully titled 'Keep It True' turn out to be formidable metal anthems.
So there is still a little need for action for the formation, if it wants to clear one day at that festival, or even come close to the title of its debut. However, a solid basis has definitely been created and Tim Aymar's vocal performance is once again as poignant as it is imposing. - powermetal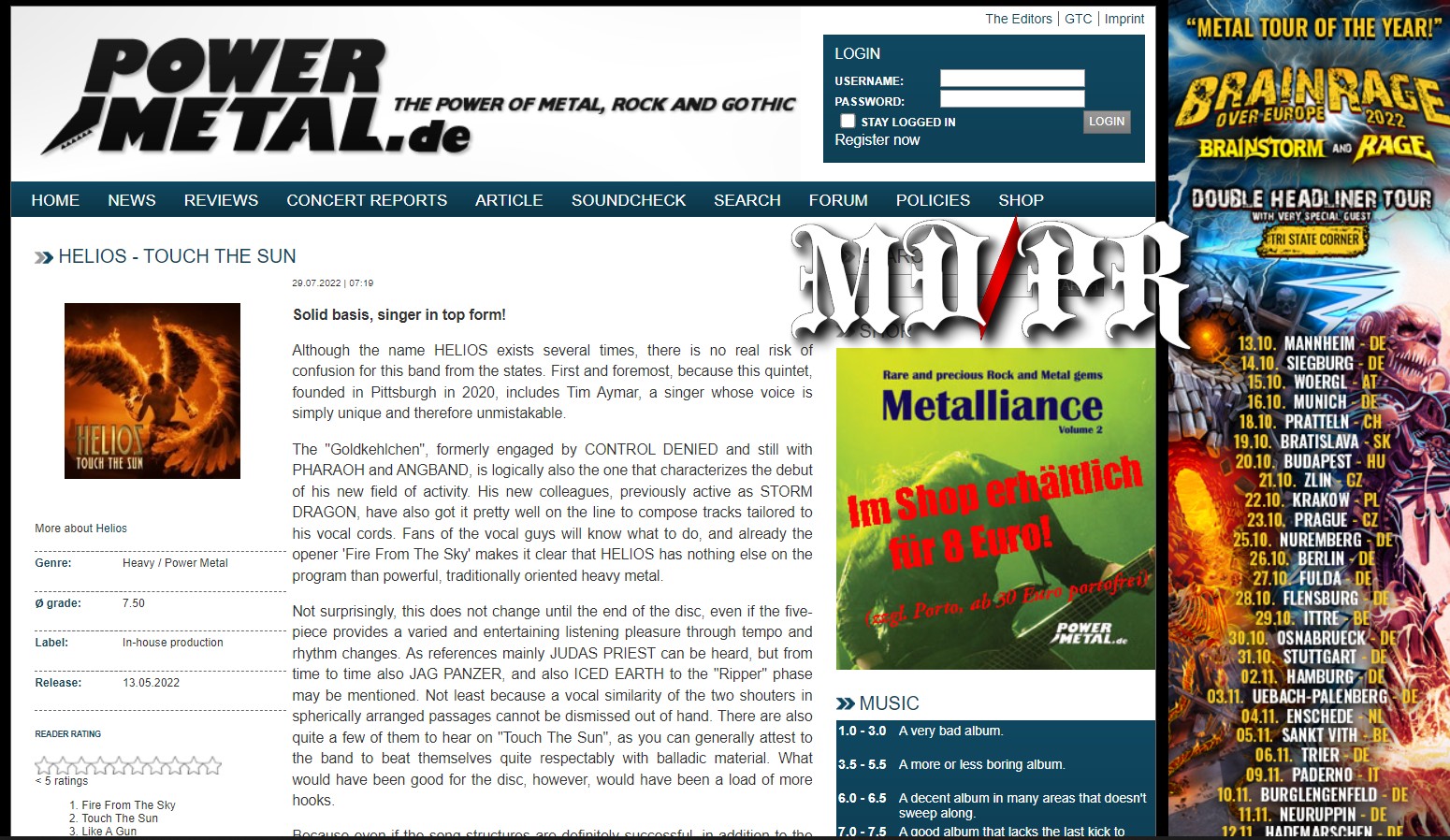 Release Date: May 13, 2022
FFO: Judas Priest, Dio, Iron Maiden
Location: Pittsburgh, PA, USA
Short Bio: Tim Aymar (singer from Control Denied and Pharoah ) has a new band! HELIOS is a NWOBHM -inspired heavy metal band who appeal to fans of Judas Priest, Iron Maiden, Dio, Yngwie Malmsteen , etc. They released a self-produced 4-song demo EP in 2020 and have released their debut full-length album, "Touch The Sun", on May 13, 2022. HELIOS has grown a fanbase of several thousand metalheads from their own self-promotion, social media, and word-of-mouth, and their fans in USA, Germany, Poland, France, Finland, Japan, and elsewhere around the world are anxiously awaiting the physical album copies and are ready to buy! Many have paid exorbitant shipping fees just to get their hands on the demo CD (which has sold out).
Check out this video!
Follow them on Spotify!
Support them on Bandcamp!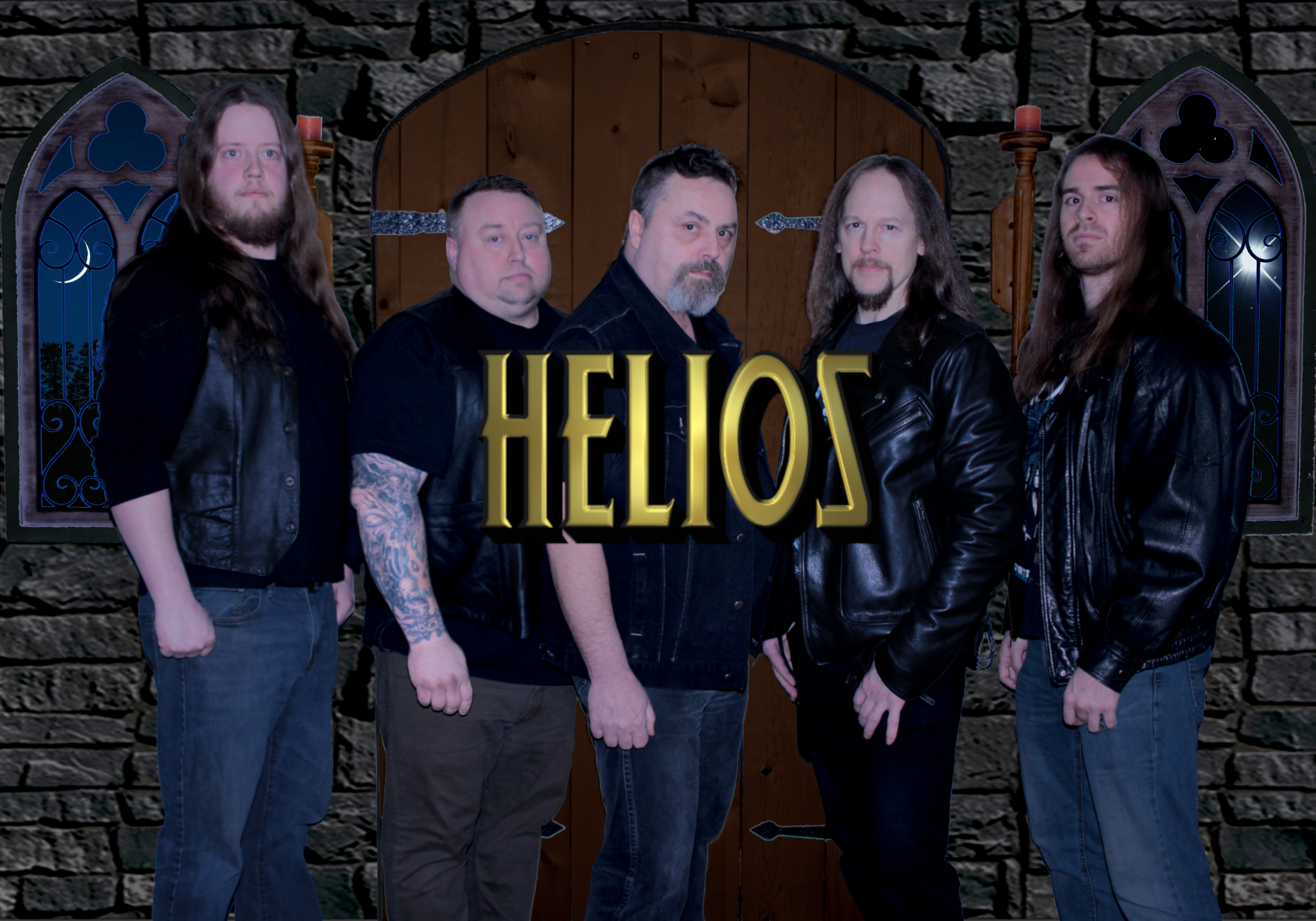 Follow the band at these links:
https://www.facebook.com/HeliosUSMetal
https://twitter.com/heliosusmetal
https://www.instagram.com/heliosusmetal/
https://www.youtube.com/channel/UCgm4ukh2VCdhc-wp_hvZXYg
https://www.reverbnation.com/HeliosUSMetal
https://distrokid.com/hyperfollow/helios4/touch-the-sun-2
https://heliosusmetal.bandcamp.com/
https://music.amazon.com/albums/B09YPTB4VZ
https://open.spotify.com/album/133NOteyzZ5ybIhbE0DYp3