Thy Dispraise (TR / IRAN) - A Human Trilogy - Reviewed by keep-on-rocking ! Check it out here at this link: https://keep-on-rocking.com/2022/07/28/thy-dispraise-a-human-trilogy/
Thy Dispraise was founded in 2012 in Tehran (Iran). Probably because of the political situation in their home country, some of the musicians later moved to Izmir in Turkey. It took eight years for the band to release their first, self-titled EP. Several singles followed and in 2021 the debut album "Lost Era". Since June the second EP "A Human Trilogy" is available, which is distributed via the German label Green Bronto Records.
New TD - 1000The first two songs have already been released as a single. Where "Ignited By Lies" has the addition "Epic Version" and is fifty seconds longer. Powerful bass and hard riffs determine the sound. In addition, there is the interplay of clear female singing (Sheyda Mohammadi) and bitterly evil growls (Alireza Shafiei). Fortunately, however, you do not hear any opera singing. So quite typical for melodic death metal. "Rising Inside" is obviously the longer of the two versions on the single of the same name. At first you can hear sheyda's vocals and guitar sounds that are a bit like industrial. These can also be heard later, in addition to the hard riffs and the nasty growls. "Out Of The Shadows" was produced especially for this EP. And sounds rockier with driving drums and guitars. For all the death metal influences, however, this song is the most melodic on the EP.
"A Human Trilogy" is a well-made EP. In terms of sound, the musicians move in melodic death metal. But fans of other genres could also enjoy it. - keep-on-rocking
Release Date: July 1st, 2022
FFO: Lamb of God, Parkway Drive, Bleed From Within
Location: Izmir, Turkey and Tehran, Iran
Band leader Abtin Zahed says: 'These three songs are about the situation that we all are in. A new world that is full of lies and we all are burning in it. The first track 'Ignited by Lies' is about our new world that makes us slaves and we are prisoners who don't feel it and we will be ignited by all the lies that are around us. The second track 'Rising Inside' is about our awakening. We suddenly see that there is nothing left from the world, and we just see nothing. Just ashes of dreams and emptiness and deep inside we want to rise. The last track 'Out of the Shadows' is about our redemption after awakening. Now we know the lies. Now we know what is behind this. Now we are fighters who come out of the darkness and reach for true light. We recorded these tracks in Iran, before our departure to Turkey. We hope that one day we can be together again. We are working on new songs, and they will be ready soon.'
Follow your dreams is the best piece of advice I was ever given says Abtin Zahed, founder and leader of Thy Dispraise for good reasons. The band started out in 2012 in Iran where free expression of art is impossible. Over years in this oppressive environment, they forged and shaped their musical style of groove metal and metalcore. Meanwhile, Singer Alireza Shafiei, master of brutal shouts and growls is the perfect counterpart to Sheyda Mohammadi and her mesmerizing clean voice. Guitarist Mohammadreza Rezaei eventually added his shredding skills and composing expertise as the missing part of the puzzle. In 2021, their debut album, Lost Era' was released and achieved critical acclaim. Attentive listeners will notice a Persian theme in our songs says Sheyda. The lyrics mirror the struggles a human identity endures at different stages of life. Lately, some of them left their homeland Iran due to government issues and started a new life in Turkey. To be continued...
Check out this video!
Check them out on Spotify!
Support them on Bandcamp!
Also available on Apple!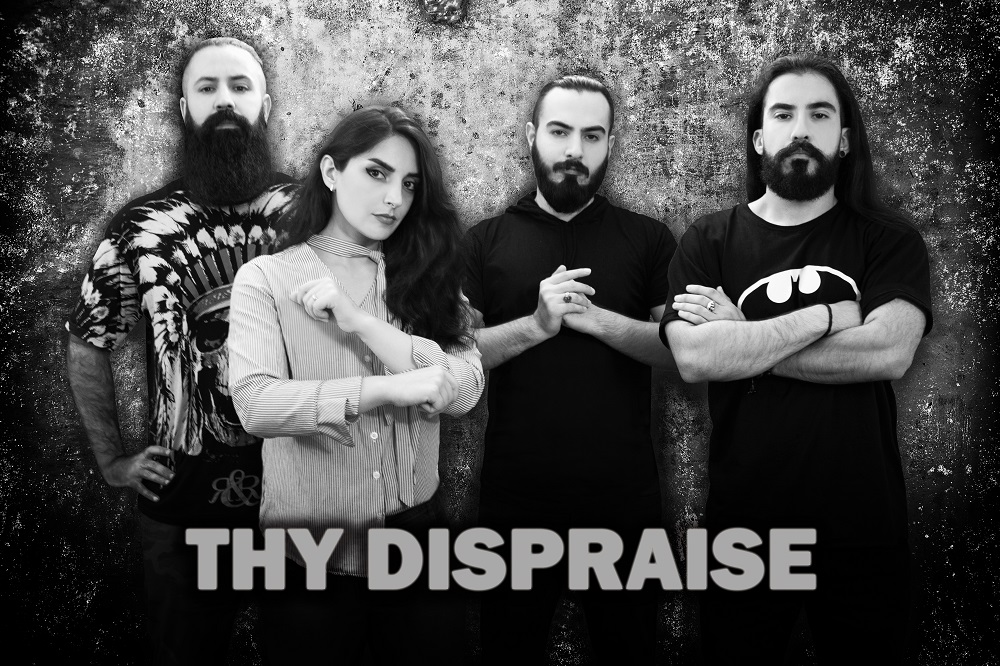 Follow the band at these links:
https://bit.ly/we_are_TD
https://www.instagram.com/thydispraise.official/
https://www.facebook.com/thydispraise
https://thydispraise.bandcamp.com/
https://bit.ly/GBR_Shop
https://www.instagram.com/green_bronto_records/
https://www.facebook.com/greenbrontorecords
https://open.spotify.com/artist/6QKDZ2y7KYCpeOAXeI5s6T
https://music.amazon.de/artists/B08TK8ZRNR/thy-dispraise
https://music.apple.com/de/artist/thy-dispraise/1545952259
https://deezer.page.link/PZ6eDcakCzsrAbbK6
https://tidal.com/artist/22738375
http://de.napster.com/artist/thy-dispraise
https://www.youtube.com/c/GreenBrontoRecords