SALEM'S 1476 ANNOUNCES FALL U.S. TOUR
June 27, 2018 – Los Angeles, CA - Salem's "hermetic death rock" duo 1476 has announced plans for a fall tour of the United States in support of their 3rd album,  Our Season Draws Near , which is available now from Prophecy Productions. The month-long tour will kick off in Buffalo, NY on August 31st and make its way around the country before wrapping up in their hometown of Salem on September 28th. 
The revered atmospheric metal band, consisting of Robb Kavjian and Neil DeRosa, has created a worldwide cult following since their debut in 2010. Following several EP and LP releases, 1476 partnered with Prophecy Productions, who are based in Germany and United States, in 2016 and released their critically heralded album,  Our Season Draws Near , mixed by Markus Siegenhort (of post-black metal band Lantlôs, )  the subsequent year. The duo's latest chapter in their dark journey is an amalgam of punk-charged metal and ambient folk that provide a haunting soundtrack for a dreary New England winter.
Stream/purchase the new record below and follow the band at  https://www.facebook.com/ 1476cult/  for additional updates and tour dates.
Purchase/Stream  Our Season Draws Near :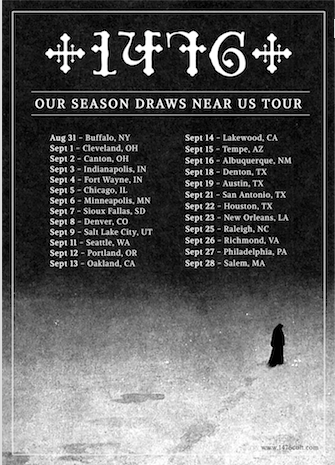 Tour Dates:
Aug. 31st - Buffalo, NY - TBA
Sept. 1st - Cleveland, OH @ The Foundry
Sept. 2nd - Canton, OH @ Buzzbin
Sept. 3rd - Indianapolis, IN @ Black Circle Brewing
Sept. 4th - Fort Wayne, IN - TBA
Sept. 5th - Chicago, IL - TBA
Sept. 6th - Minneapolis, MN - TBA
Sept. 7th - Sioux Falls, SD @ Big's
Sept. 8th- Denver, CO @ Seventh Circle
Sept. 9th - Salt Lake City, UT - TBA
Sept. 11th - Seattle, WA @ The Funhouse
Sept. 12th - Portland, OR @ High Water Mark
Sept. 13th - Oakland, CA - TBA
Sept. 14th - Lakewood, CA @ Regal Inn
Sept. 15th - Tempe, AZ @ TimeOut Lounge
Sept. 16th - Albuquerque, NM - TBA
Sept. 18th - Denton, TX @ Dan's Silver Leaf
Sept. 19th - Austin, TX @ The Lost Well
Sept. 21st - San Antonio, TX - TBA
Sept. 22nd - Houston, TX @ Rudyard's Pub
Sept. 23rd - New Orleans, LA - TBA
Sept. 25th - Raleigh, NC @ Slim's
Sept. 26th - Richmond, VA @ Strange Matter
Sept. 27th - Philadelphia, PA @ Kung Fu Necktie
Sept. 28th - Salem, MA @ Koto
*More Dates To Be Announced Soon

For More Information:
http://www.1476cult.com/
https://www.facebook.com/1476cult/
https://1476.bandcamp.com/
http://en.prophecy.de/