OCTOBER THORNS - Soul Forge - Featured & Interviewed by Pete's Rock News And Views!
OCTOBER THORNS - Soul Forge - Featured & Interviewed by Pete's Rock News And Views ! Check it out here at this link: http://petesrocknewsandviews.com/october-thorns-interview/
Release Date: Oct. 29th 2021
FFO: Dream Theater, Rush, Pain Of Salvation
OCTOBER THORNS TO RELEASE ORIGINAL DEMOS AND BONUS TRACKS REMIXED BY ICEFISH'S ALEX ARGENTO 
https://distrokid.com/hyperfollow/octoberthorns/circle-game-2
Brooklyn's L'Amour Nightclub was the self-proclaimed " Rock Capital Of The World ". From 1999-2001, one NYC band made this place their home, opening for Symphony X, Nevermore , and In Flames , and just being a weekly fixture there - that band was October Thorns . 
Part of the Catalyst Promotions family of bands, October Thorns shared the stage with Tommy Vext (Bad Wolves, Divine Heresy, Snot) , Ray Mazola (Full Blown Chaos, Brick By Brick) , Frank Godla (Meek Is Murder, founder of Metal Injection) , and many more extremely talented musicians. 
Frontman Paul LaPlaca has also played with Chris Caffery (Savatage/ TSO), Ted Poley (Danger Danger), Carnivore AD , and currently plays with Drift Into Black . Thorns also featured a young David Z on bass who was discovered by Chris Caffery at the Savatage Convention in 1999 and was quickly asked to join the newly formed Trans-Siberian Orchestra . He also went on to play with Joan Jett, Jeff Scott Soto , and his own band, ZO2 . They toured with KISS/ Poison in 2004 and had their own television show, Z-Rock on IFC . Dave tragically lost his life in a vehicle crash while on tour with Adrenaline Mob in 2017.
October Thorns was only active for a short while but in that time they released a popular 6 song demo CD, played the Milwaukee Metalfest, Powermad , and the Big Bang festival . Several years ago, the band was contacted by Divebomb Records to remix the old material along with several unreleased bonus tracks. After years of trying to self-produce this project, the band finally decided to use the talents of Icefish keyboardist and producer, Alex Argento .
LaPlaca explains, "The CD was mixed by drummer Jofu and original bassist Rob Carpenter . Both of them are outstanding engineers. I attempted to remix these tracks but couldn't improve on them so I reached out to Alex from Icefish . I was thoroughly impressed with his mixing and production, particularly the mastering. He was the perfect choice to bring these old songs up to date."
The first single, " Circle Game " will be released digitally this fall and the full CD will be out on Divebomb Records in the winter of 2022. 
This remix/ remaster is a parting gift to the original fans of the band and a tribute to David Z , a remarkable talent that was taken far too soon.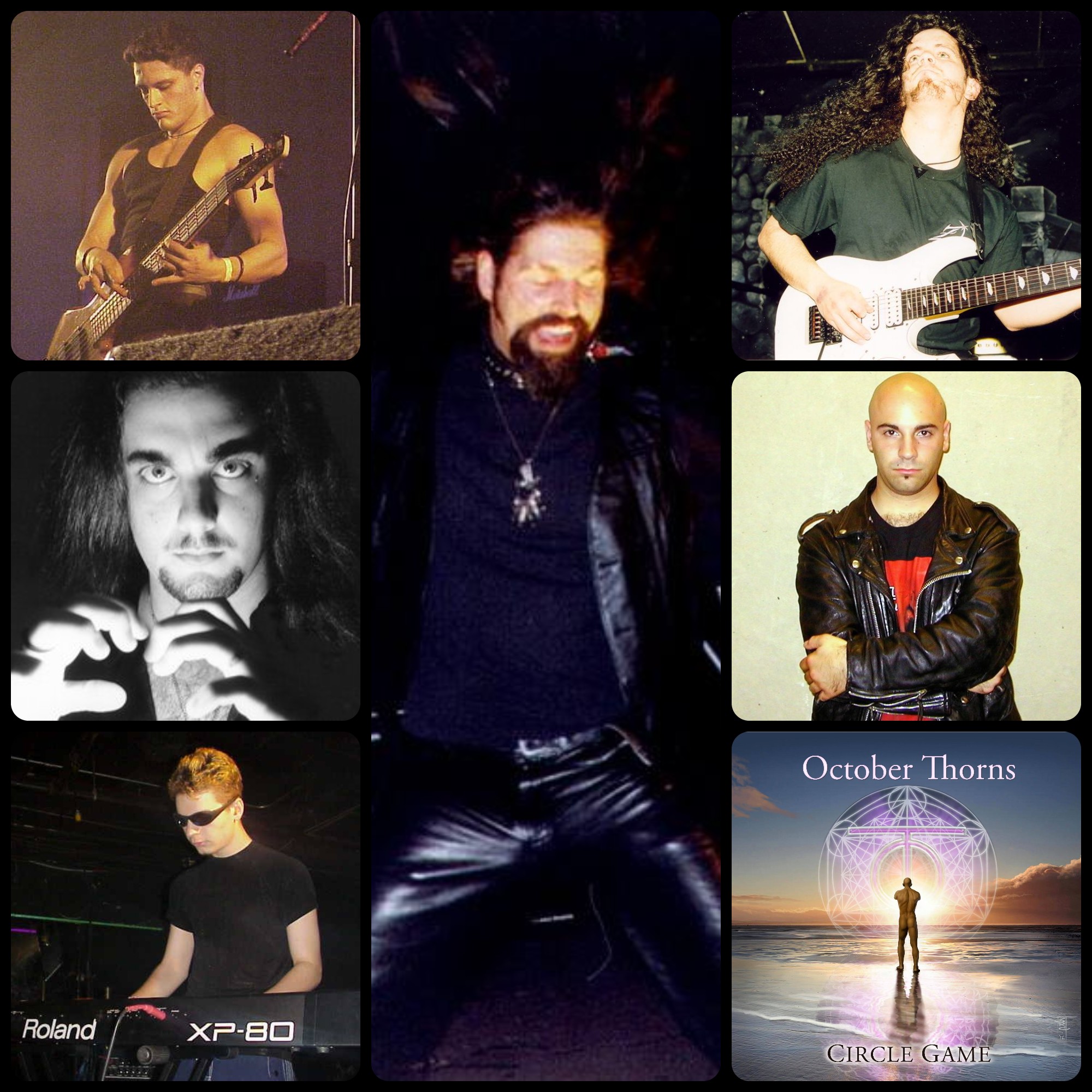 Check out the videos!
Follow the band at these links:
https://www.facebook.com/October-Thorns-116719685391554/
https://youtube.com/playlist?list=PLGcc2MjrIrzcces9XNeXt-S_52MJbCehj
https://distrokid.com/hyperfollow/octoberthorns/circle-game-2