ALMOST DEAD WILL BE JOINING ATHEIST, SUICIDAL ANGELS, ABYSMAL DAWN, SUMMONERS CIRCLE AND CRITICAL MESS FOR THE ENTHRALLED IN EUROPE TOUR 2022
ALMOST DEAD WILL BE JOINING ATHEIST , SUICIDAL ANGELS , ABYSMAL DAWN , SUMMONERS CIRCLE AND CRITICAL MESS FOR
THE ENTHRALLED IN EUROPE TOUR 2022
Atheist Band is widely regarded by those in the know as the pioneers of technical death metal, influencing many of today's top technical extreme metal bands. ATHEIST was set to return to Europe for the first time since 2011 with the ENTHRALLED IN EUROPE TOUR in September of 2020. Due to the pandemic, the tour has been rescheduled for September 2022. Yet, the waiting makes it even more desirable for the death metal fans! 
The lineup is set as Atheist with support from Suicidal Angels, Abysmal Dawn, and promising opening acts Almost Dead, Critical Mess and Summoner's Circle on selected dates. 
Carefully flex your neck and keep yourself hydrated so that your body is in good shape when this lineup comes to your town and slams your face with a pristine death metal wall of sound!
CONFIRMED TOUR DATES:
06.09: Budapest (HUN) - Barba Negra º +
07.09: Novi Sad (SRB) – Fabrika º +
08.09: Sofia (BUL) - Mixtape 5 º +
09.09: Bucharest (ROM) – Maximum Rock Fest 
10.09: Cluj Napoca (ROM) – Flying Circus º +
11.09: Vienna (AUT) - Viper Room º +
13.09: Martigny (SUI) - Sunset Club º +
14.09: Milan (ITA) - Slaughter Club º +
15.09: Rome (ITA) - Traffic Club º +
16.09: Bologna (ITA) – TBC º +
18.09: Weinheim (GER) - Café Central º *
19.09: Paris (FRA) – Glazart º *
20.09: Vorselaar (BEL) - De Dreef *
21.09: Essen (GER) – Turock *
22.09: Apeldoorn (NLD) – Gigant *
23.09: Geleen (NLD) – Café De Meister *
24.09: Berlin (GER) - ORWO Haus *
25.09: Osnabruek (GER) - Bastard Club *
26.09: Hamburg (GER) – Headcrash *
27.09: Copenhagen (DEN) – Stengade *
28.09: Cottbus (GER) – Gladhouse *
29.09: Warsaw (POL) - Proxima
30.09: Katowice (POL) - P23
01.10: Kosice (SVK) - Collosseum
02.10: Ostrava (CZE) – Barrack Club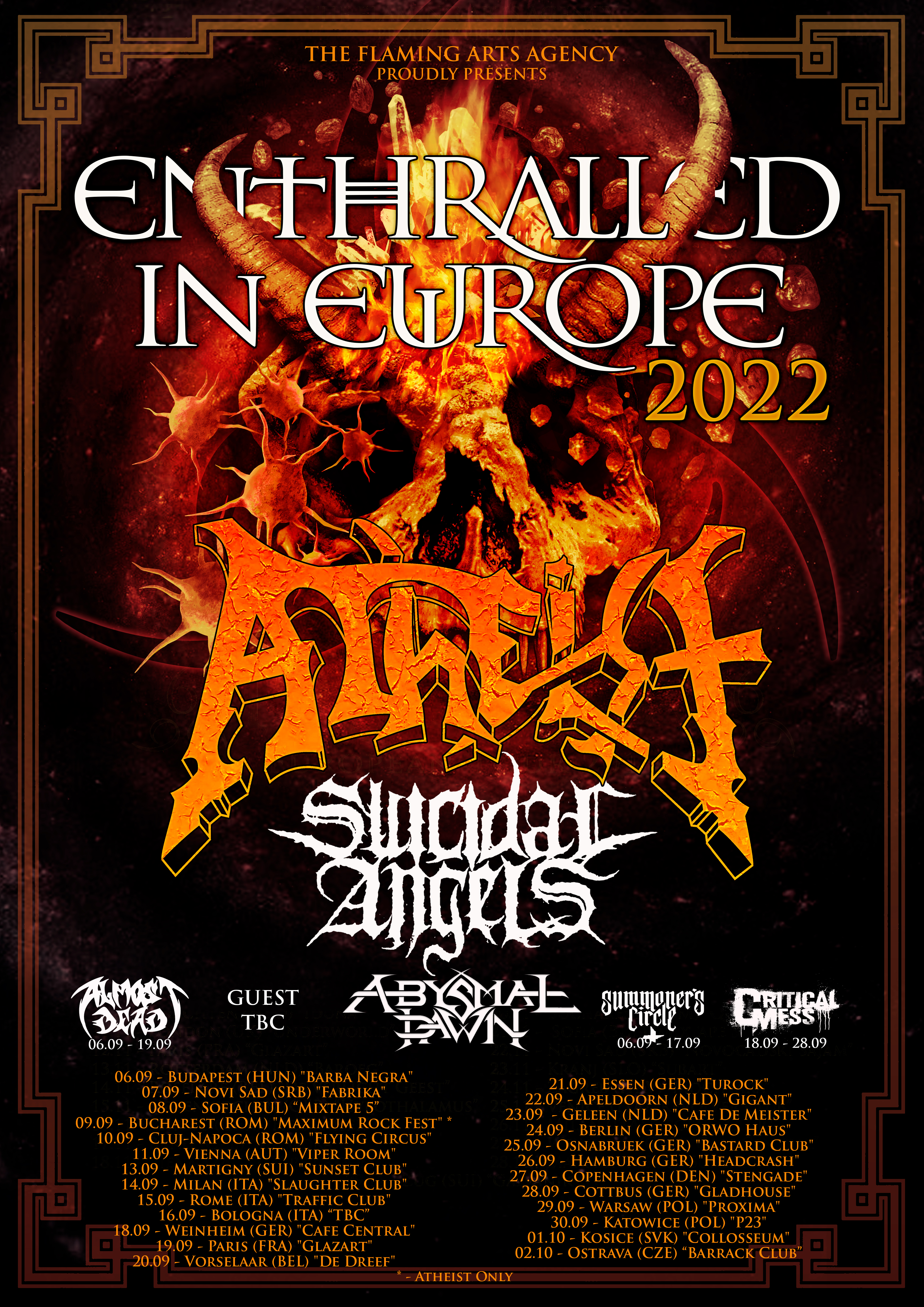 Follow the bands at these links:
https://www.instagram.com/officialatheistband/
https://www.instagram.com/suicidalangelsofficial/
https://www.instagram.com/abysmaldawn/
https://www.instagram.com/almostdeadband/
https://www.instagram.com/criticalmessofficial/
https://www.instagram.com/summonerscircle/