Phenomy - Syndicate Of Pain - Reviewed & Featured In Metal Hammer Magazine ! Check it out here at this link: https://www.metalhammer.gr/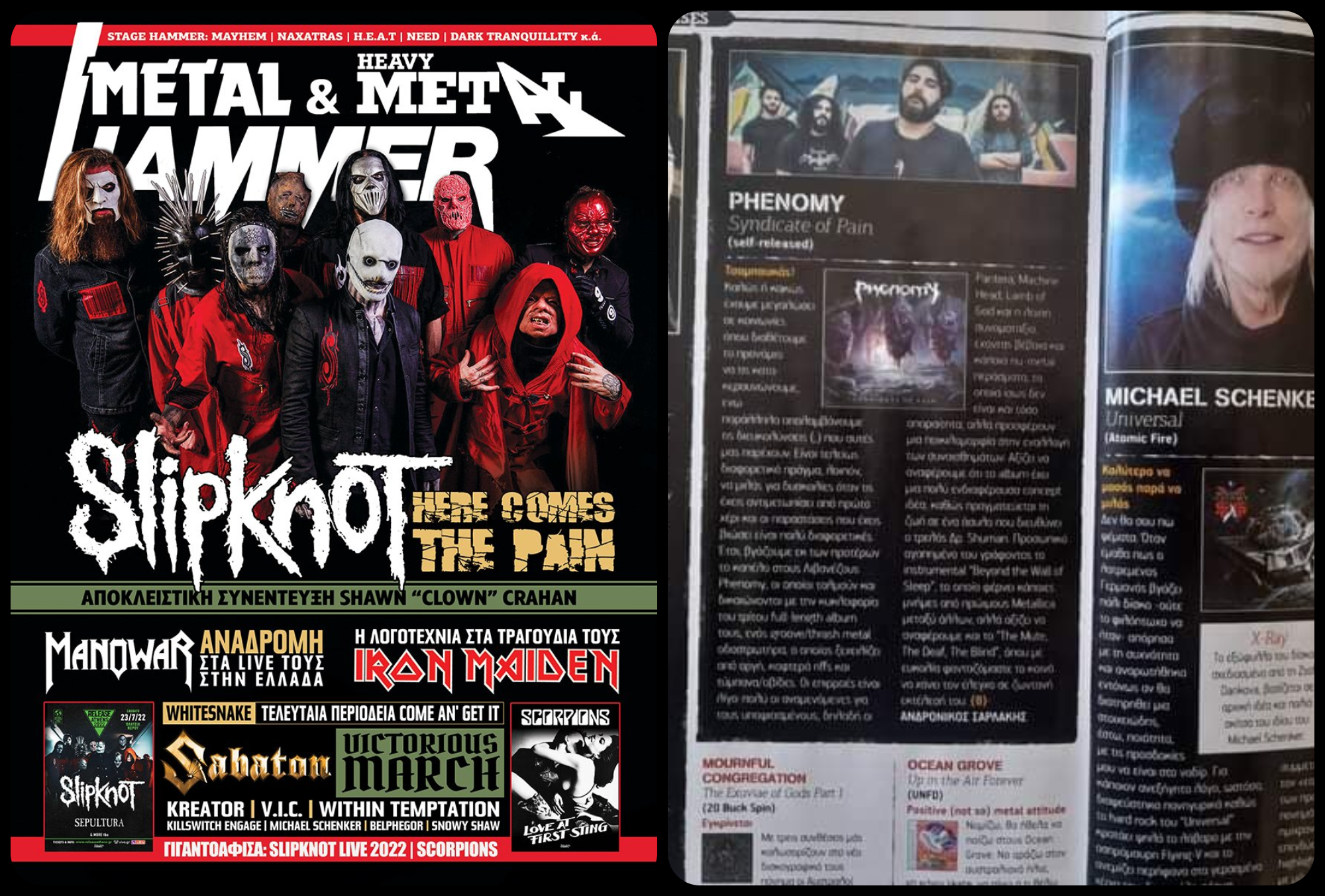 Release Date: March 3, 2022
FFO: Inflames, Sepultura, Gojira
Location: Beirut, Lebanon
LEBANESE THRASH TITANS PHENOMY ANNOUNCE BLISTERING NEW ALBUM 'SYNDICATE OF PAIN', A TALE OF ASYLUM MANIPULATION, ABUSE & INSANITY, WITH ANIMATION VIDEO 'LEAD ME TO MY THRONE' OUT NOW.
Lebanese thrash / groove metal titans Phenomy have today announced the release of their blistering new album 'Syndicate Of Pain', unleashed March 3rd, 2022, with animation video 'Lead Me To My Throne' out now. 'Syndicate Of Pain' is a concept album about an asylum ran by Dr Anton Shuman, a mad scientist that is manipulating criminals and patients labelled insane in his facility. The album later reveals that these patients are not being cured, but are part of a bigger and darker project, that even Dr Schuman himself is being deceived by. Pre-order, pre-save & find the track-listing here: www.phenomyofficial.com
Check out the videos:
The 10-track studio album follows on from four new singles 'BONE ORCHID' reflecting dreams of a dead orchid, the ghost of a flower, grieving the death of mother nature: 'THE MUTE, THE DEAF, THE BLIND' depicting imprisonment in society, wishing for death: 'OMINOUS' depicting a paranoid patient, possessed by internal voices taking control, leading toward gruesome consequences: And finally 'LEAD ME TO MY THRONE', the animated music video unleashed to coincide with the album. A serial killer, talking about the things he has done, asking for redemption, asking the god above for forgiveness. Admitting he's not in control of himself when he turns into a monster: "So Grim, So True, So Real" ....... Hallowed words that ring true for metalheads the world over, particularly for those living in far-flung corners of the earth where freedom of expression and socio-political upheaval makes it almost impossible to follow your passions.
Formed in 2014, the mission from the start was to create music in the vein of traditional and modern groove and thrash metal. The dystopian nature of 1980s and 1990s metal releases rang true for many a music fan in war - torn regions globally. This was no different, they in hearted the street spirit that many of those early metal classics were based upon and bridged it to meet their own reality. With two previous albums, numerous tours across Romania, Croatia, Hungary, Bulgaria, Serbia and beyond, and major festival appearance at the likes of Wacken and Metalhead Meeting under their belt, Phenomy are excited to be heading into 2022 with an even bigger future ahead of them, fueled by 'Syndicate Of Pain'. The new album 'Syndicate Of Pain' coming March 3rd, 2022!