DECEASED begin tour with THE ACCÜSED and OVERDOSE this week, to play "Fearless Undead Machines" set at Rage Of Armageddon Fest 6
Later this week, underground legends Deceased will embark upon a nine-date tour alongside The Accüsed and Overdose. Commencing Friday, June 17th at Rage of Armageddon Fest 6 in Brooklyn, the tour will encompass the American East Coast and Midwest. Full list of confirmed dates & venues as well as tour poster are as follows:
June 17 - Brooklyn, NY @ Rage of Armageddon Fest 6
June 18 - Cambridge, MA @ The Middle East
June 19 - Philadelphia, PA @ Milkboy Philadelphia
June 20 - Rochester, NY @ Photo City Music Hall
June 21 - Cleveland, OH @ Now That's Class
June 22 - Detroit, MI @ Sanctuary
June 23 - Chicago, IL @ Reggie's
June 24 - Indianapolis, IN @ Black Circle Brewing
June 25 - Pittsburg, PA @ Metal Immortal Fest 2 (*no Overdose*)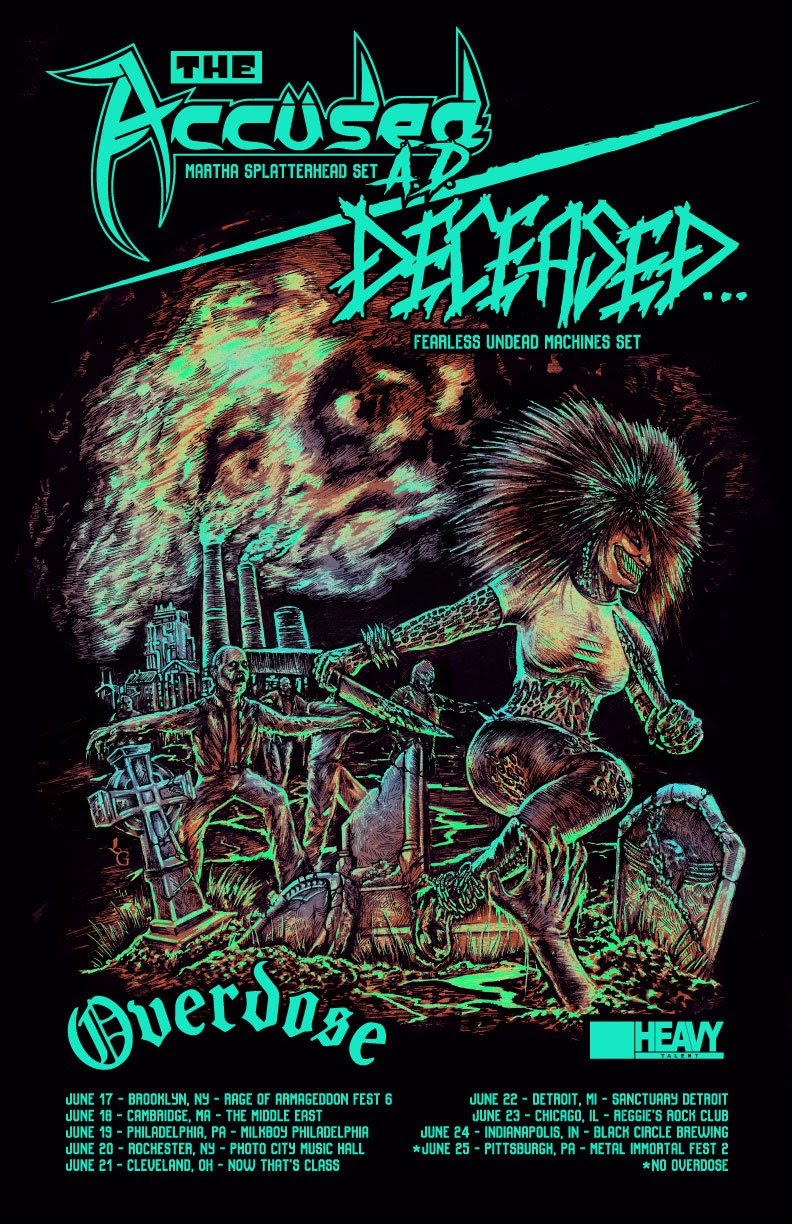 Says founding frontman King Fowley, "Going out on the road with genuine underground legends The Accüsed and the always raunchy Overdose will be a blast. Gonna play the Fearless Undead Machines album at date one for Rage of Armageddon fest in New York. Gonna play lots of cuts from it on the rest of the tour, too, with a mix of some other goodies night to night. It is the 25th anniversary of Fearless Undead Machines, so giving it a little extra this go 'round! Time to smash it to the wall. See some of you mutants on the road. Up the tombstones!!!"
In other Deceased news, Hells Headbangers currently has at press another round of vinyl reissues of the band's aforementioned Fearless Undead Machines (1997) as well as The Blueprints for Madness (1995) and Supernatural Addiction (2000). For more info, consult the links below.
MORE INFO:
www.facebook.com/deceasedofficial
 
"When you need metal, go to hell!"
www.hellsheadbangers.com
www.facebook.com/hellsheadbangers