Carolina Perez , the drummer from Castrator joins us on the show to talk about the new record, playing shows and the meanings behind the songs. We play new music from the band as well as tracks from BulletBoys, Lamb Of God, Skrog, Slayer, SAVAGE MASTER, Leather Duchess, Tygers Of Pan Tang, The Red Mountain, Casket Robbery, Inhuman Condition, Cannibal Corpse, Body Count, St. Madness, Jason Aaron Wood, Gravehuffer, Crucifyre, Grave, Deicide, Hooded Menace, W.A.S.P. , and Silence The Prophecy !
Track List:
1 - Hell Yeah!/Rock Candy/Hang On St. Christopher - BulletBoys
2 - The Zach Moonshine Intro
3 - Nevermore - Lamb Of God
4 - South of Heaven - Skrog
5 - Behind The Crooked Cross - Slayer
6 - Hunt At Night - SAVAGE MASTER
7 - White Leather - Leather Duchess
8 - Red Mist - Tygers Of Pan Tang
9 - Cosmic Guns - The Red Mountain
10 - The Hidden... The Hideous - Casket Robbery
11 - Castrator - Interview featuring Dawa of Yousafzai/Tormented by Atrocities/ Countess Bathory (Venom cover)
12 - Tyrantula/I'm Now The Monster/The Neck Step - Inhuman Condition
13 - Stripped, raped and strangled - Cannibal Corpse
14 - All Love Is Lost - Body Count
15 - sweet leaf - St. Madness
16 - To The Victors, The Spoils (bonus track) - Jason Aaron Wood
17 - Destroyer Of Worlds - Gravehuffer
18 - Pentagram Palms - Crucifyre
19 - You'll Never See... - Grave
20 - Blame It On God - Deicide
21 - The Torture Never Stops (Cover) - Hooded Menace
22 - Wild Child/Widowmaker/Mississippi Queen (Bonus Track, Single B-Side) - W.A.S.P.
23 - Demo - Silence The Prophecy
Listen to the full show hereat this link below on Mixcloud!
Listen to the interview segment alone on Spotify:
Listen to the interview segment alone on YouTube:
Listen to the interview segment alone on iTunes:
This summer, furious old school mastery returns to Dark Descent Records in the form of CASTRATOR's long-awaited debut album 
Defiled in Oblivion
. Nearly seven years have passed since their 
No Victim
 EP set the scene aflame… yet these were mere warning shots across the bow.
With their third release to date, the New York four-piece have perfected their blend of fierce old-school USDM to a fault. More uncompromising and ruthless than ever before, CASTRATOR's zero-fucks-given approach rips and shreds across 9 hypnotically violent new tracks (alongside a cover of Venom's Countess Bathory) and makes Defiled in Oblivion a release to be reckoned with. Boys club beware!
Experience the fury of CASTRATOR with the music video for album track "Tyrant's Verdict." Watch it now at 
youtu.be/FU7tC-aAvfw
The video for "Tyrant's Verdict" was
filmed by Carolina Perez and Stephanie Gentry, and directed and edited by Carolina Perez.
Dark Descent Records will release 
Defiled in Oblivion
 on CD, vinyl, cassette, and digital formats on July 22.
Defiled in Oblivion
 Tracklisting:
1. Dawa of Yousafzai
2. Tormented by Atrocities
3. Befoul My Existence
4. Inquisition Sins
5. Voices of Evirato
6. Forsaken and Deprived
7. Sinister Mind
8. Purge the Rotten (Ones)
9. Tyrant's Verdict
10. Countess Bathory (Venom cover)
Cover art for
Defiled in Oblivion
by Jon Zig.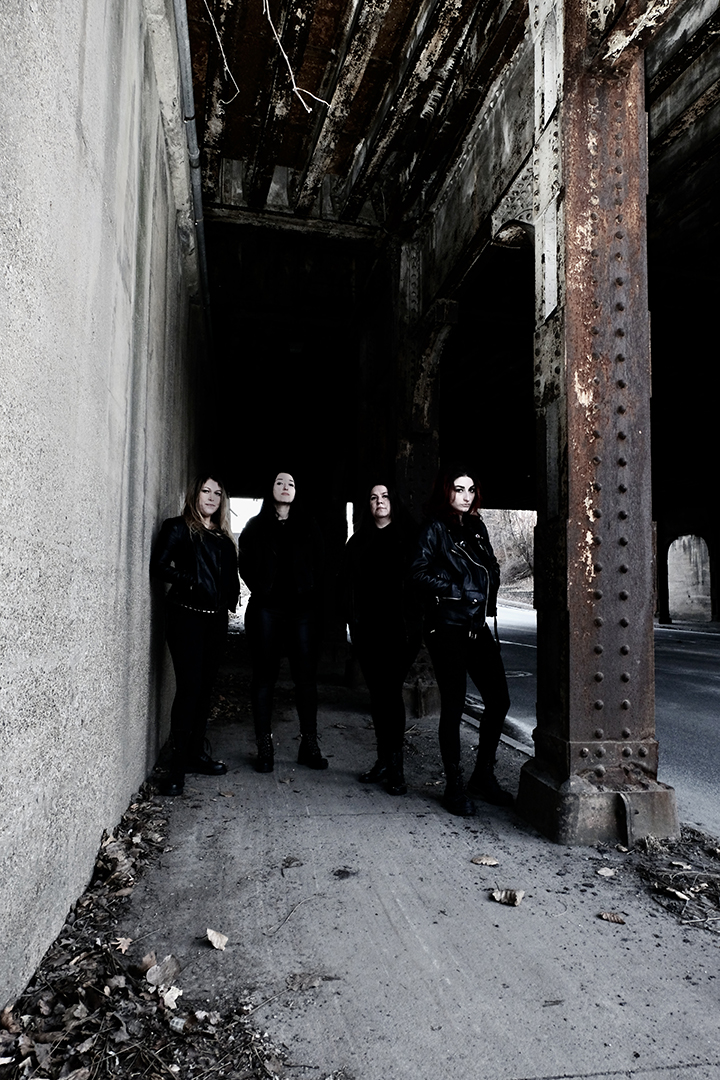 CASTRATOR is:
Robin Mazen - Bass
Carolina Perez - Drums
Kimberly Orellana - Guitars
Clarissa Badini - Vocals
www.facebook.com/CastratorBand
​castrator.bandcamp.com​​​
www.darkdescentrecords.com
darkdescentrecords.bandcamp.com