Die With Fear - (I) Favor The Brave - Reviewed By Metal Temple ! Check it out here at this link: http://www.metal-temple.com/site/catalogues/entry/reviews/cd_3/d_2/die-with-fear-sonata.htm
There is much hate in the Metal scene against modern tendencies and those that aren't modern as some purist people preach. Some people defend that Metal is 'purest' in the 70's and 80's, and that's not the case, because Metal was born from many mixed influences, and during the 80's, Hardcore and Punk Rock influences came into for the creation of Death Metal, Thrash Metal, Black Metal and others, even on NWOBHM, so their hypothesis doesn't fit in reality. The best thing to do: to not be attached to a form of thinking, and enjoy the music you like. Free of conceptions is easier to understand and like acts as DIE WITH FEAR, as can be heard on "Sonata Di Morte".
Their music can be described as a form of Melodic Death Metal in the vein of Gothenburg bands with some influences of Groove Metal and of modern tendencies as well. In words, one can think of many bands that already worked in such trench, but the music of the band is really something personal, full of pyroclastic melodies and an amazing modern energy, full of life and aggressiveness. But pay attention that there are many hooks that are hard to resist when heard. The producer of the album is Yngvar Mehus, having the band working with him. Yngvar mixed and mastered the songs as well, and their work is shown on a modern and greasy sonority that shows weight and aggressiveness as well. But it's easy to understand what is being expressed on the songs due the care of using modern, but defined, instrumental tunes.
The songs are fine examples of how an old model can gain new life when one isn't caring for others' opinions. And be prepared, because "To the Wolves" (many shrapnel guitar riffs and great melodic solos can be heard into such aggressive song), "(I) Favor the Brave" (many aggressive hooks can be heard, and what great contrasts on the tunes of the vocals), "Sonata Di Morte" (this is an extremely brutal song, based on many blast beats that shows how bass guitar and drums are working as an unity), "The War Against You" (these tempos that aren't extremely fast are always a great feature, and in the hands of these guys, things are really great), and "My Darkened Heart" (what lovely melodies once more, contrasting with the oppressive parts and rhythms) are showing a band that's here to stay, for the disgust of many puritans, and happiness of those that prefer that the past must be in the past…
DIE WITH FEAR is really an impressive band, and the work shown on "Sonata Di Morte" deserves to be heard and praised.
Songwriting: 10
Musicianship: 9
Memorability: 8
Production: 9 - Metal Temple
Single Release Date: March 25, 2022
Full album release date tba!
FFO: Arch Enemy, Lamb Of God, Devildriver
Location: Gothenburg, Sweden
Melodic Death Metal hailing from Gothenburg, Sweden - Est. 2021 Die With Fear has operated under the name Dienamic from 2010. From 2019 the band consisted of Linus Hernvall and Stein-Odin Johannessen. The name change came to life after much consideration due to the new sound, new members with William Bergbacka in front with his unique voice in 2021. 2019 and 2020 became a dark time in the history of the group. Corona pandemic struck the globe, and the continuing struggle to find the right members started to slow the band down. At the mid of 2020, everything came to a holt. It wasn´t until the summer of 2021 when William Bergbacka came in for audition that everything changed. A short but effective two-hour online audition was all it took. With the first demo received only five hours later, they booked a work session to record and produce vocals for two of the eight songs on the new record. William Bergbacka came and delivered a masterpiece of a performance throughout the album. Sonata Di Morte has turned out better and more alive than they could ever have hoped for.  Shortly after Robin Lagerborg joined and tock up the duties on the rhythm guitar.  Sonata Di Morte will be the debut album for Die With Fear, but the 3rd full length album and the 4th release in the history of the band.
Check out these videos!
Check them out on Spotify and add them to your playlists!
Check them out on Apple!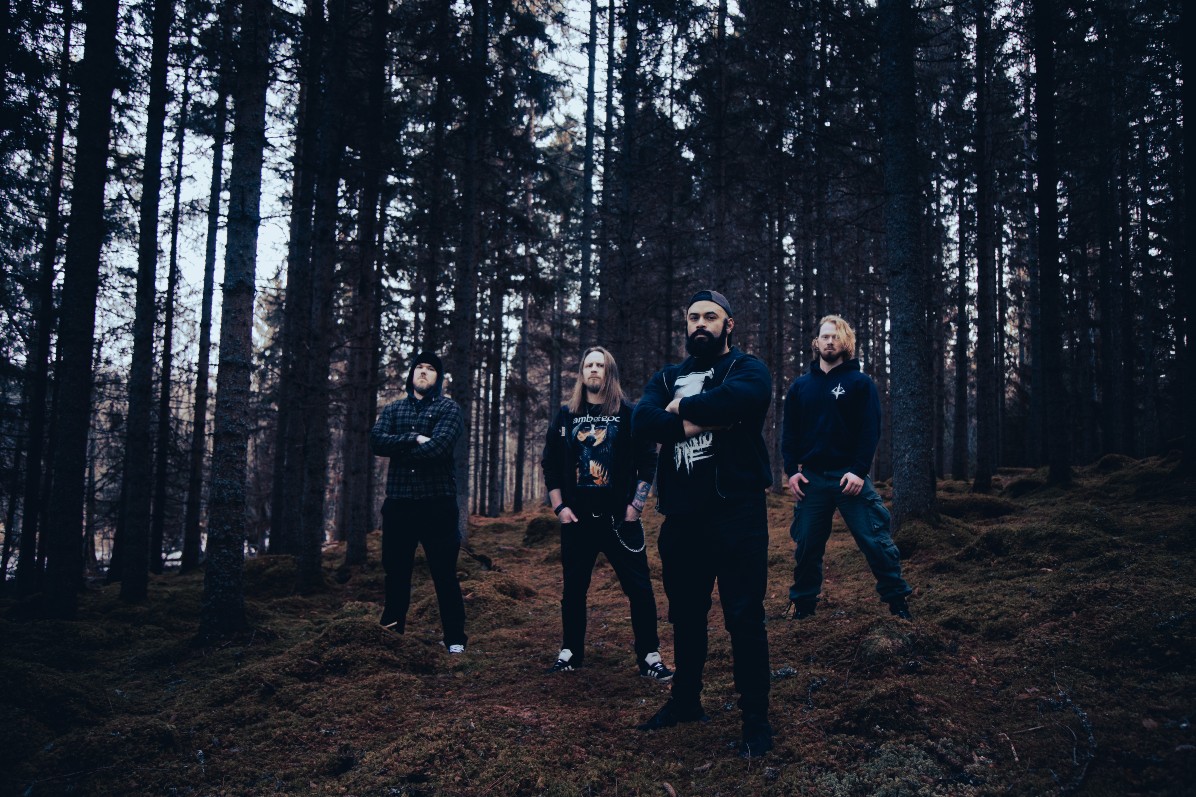 DIE WITH FEAR are:
William Bergbacka (session) - Vocal
Stein-Odin Johannessen - Guitar
Robin Lagerborg (session) - Guitar
Linus Hernvall - Bass
Follow the band at these links:
https://www.facebook.com/diewithfear
https://www.instagram.com/diewithfear/
https://twitter.com/diewithfear
https://www.youtube.com/channel/UCaglHVX-keTZ-KcizaQqVyA
https://www.twitch.tv/diewithfear
https://open.spotify.com/artist/2USmBrjixg5pPbh0fcwp6Z