GHOST BATH to tour N. America with ABIGAIL WILLIAMS and WOLVHAMMER
Depressive suicidal black metallers GHOST BATH will join ABIGAIL WILLIAMS and WOLVHAMMER on tour this August/September. The band will be supporting their latest album Starmourner, which was released last year via Nuclear Blast Entertainment. Confirmed dates are as follows: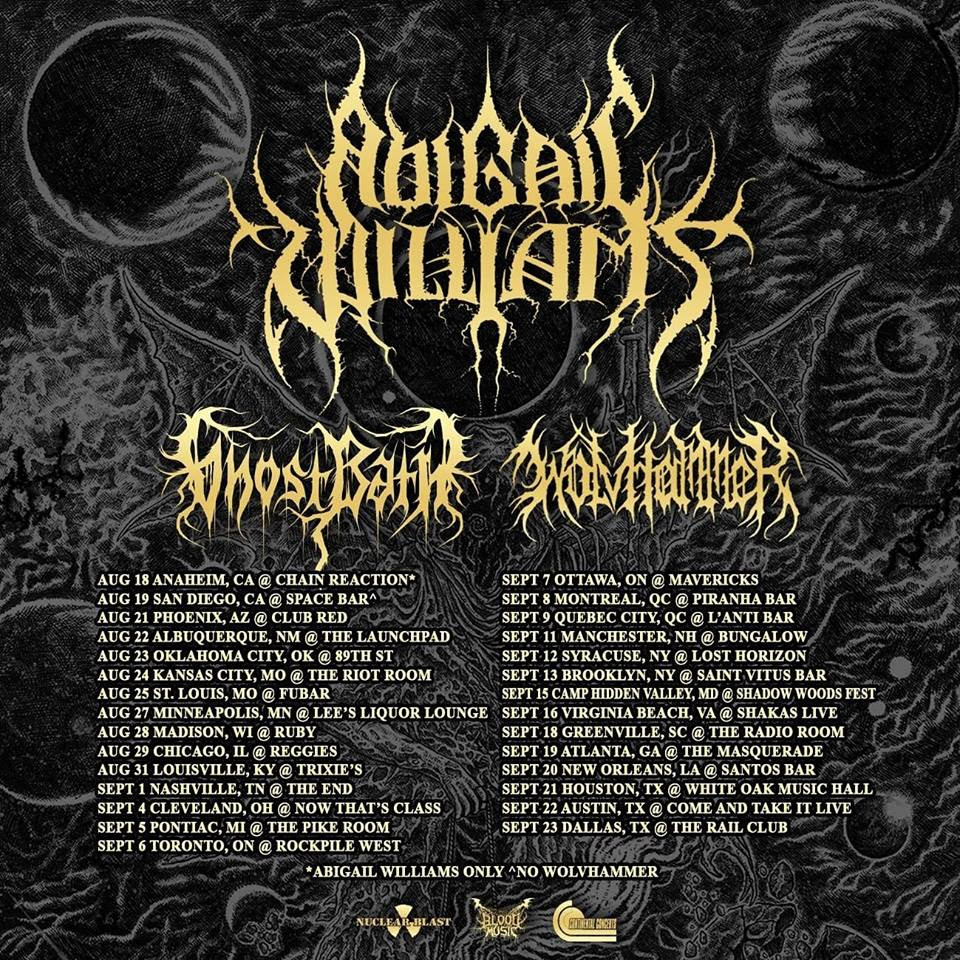 GHOST BATH w/ ABIGAIL WILLIAMS, WOLVHAMMER
8/19 San Diego, CA @ Space Bar (No Wolvhammer)
8/21 Phoenix, AZ @ Club Red
8/22 Albuquerque, NM @ The Launchpad
8/23 Oklahoma City, OK @ 89th Street Collective
8/24 Kansas City, MO @ The Riot Room
8/25 St. Louis, MO @ Fubar
8/27 Minneapolis, MN @ Lee's Liquor Lounge
8/28 Madison, WI @ Ruby
8/29 Chicago, IL @ Reggies
8/31 Louisville, KY @ Trixie's
9/1 Nashville, TN @ The End
9/4 Cleveland, OH @ Now That's Class
9/5 Pontiac, MI @ The Pike Room
9/6 Toronto, ON @ Rockpile West
9/7 Ottawa, ON @ Mavericks
9/8 Montreal, QC @ Piranha Bar
9/9 Quebec City, QC @ L'Anti Bar
9/11 Manchester, NH @ Bungalow
9/12 Syracuse, NY @ Lost Horizon
9/13 Brooklyn, NY @ Saint Vitus Bar
9/15 Camp Hidden Valley, MD @ Shadow Woods Fest
9/16 Virginia Beach, VA @ Shakas Live
9/18 Greenville, SC @ The Radio Room
9/19 Atlanta, GA @ The Masquerade w/ Revocation
9/20 New Orleans, LA @ Santos Bar
9/21 Houston, TX @ White Oak Music Hall w/ Revocation
9/22 Austin, TX @ Come And Take It Live w/ Revocation
9/23 Fort Worth, TX @ The Rail Club w/ Revocation
More on Starmourner:
'Ambrosial':
'Thrones':
'Seraphic':
GHOST BATH refers to the act of committing suicide by submerging in a body of water. The band writes and creates under the assumption that music is an extension of one's own soul. They journey through the sorrow and sadness that all lives experience, but leave a glimmer of hope. They portray both deep anguish and angelic soundscapes that are sure to leave an impression on the listener. The band started in October of 2013 with the release of their self-titled EP on Solitude Productions. This was followed by their debut album titled, Funeral, which was released on Pest Productions in June of 2014. The band's sophomore album, Moonlover, was released in April of 2015 through Northern Silence Productions. A reissue was released by Nuclear Blast Entertainment in June of 2016 and the second part of that concept album circle, Starmourner, followed in spring 2017. The third and final part of the triptych is currently in the works.
Visit GHOST BATH online:
https://www.facebook.com/blackghostbath/
http://www.allinmerch.com/category/GB.html
www.twitter.com/ghostbath
www.instagram.com/ghostbathofficial