On August 17th, the new 2-CD studio album, Forever Warriors, Forever United, with 25 (!) brand-new DORO tracks will be released via Nuclear Blast! "There are some big anthems on the album, countless heavy songs, as well as heart-warming melodies! The album is supposed to give you power and thus contains a lot of energy!", unveils the metal queen. A first proof for this is the single "All For Metal" which is available now! The track features several metal heroes, who can also be seen in the new official music video.
Watch the music video of "All For Metal" feat. Mille (KREATOR), Johan Hegg (AMON AMARTH), Chuck Billy (TESTAMENT), Warrel Dane (R.I.P.), Jeff Waters (ANNIHILATOR), SABATON, Ross The Boss, Rock'n'Rolf (RUNNING WILD), DETRAKTOR, Tommy Bolan (ex-WARLOCK), Andy Brings and The Ultimate Doro Clan, here:
Doro comments: "I think the song 'All For Metal' is an anthem like 'All We Are' with some great guests singing, who are all friends of mine. It's an awesome live song and I hope you enjoy it because it's one of my favorite songs!"
The single will be also available as a 7" vinyl in different colors (black, picture, silver, gold).
"All For Metal" 7" vinyl track list:
Side A
All For Metal
Side B
If I Can't Have You – No One Will
Get the digital version or the 7" vinyl of the single here:   http://nblast.de/ DoroAllForMetal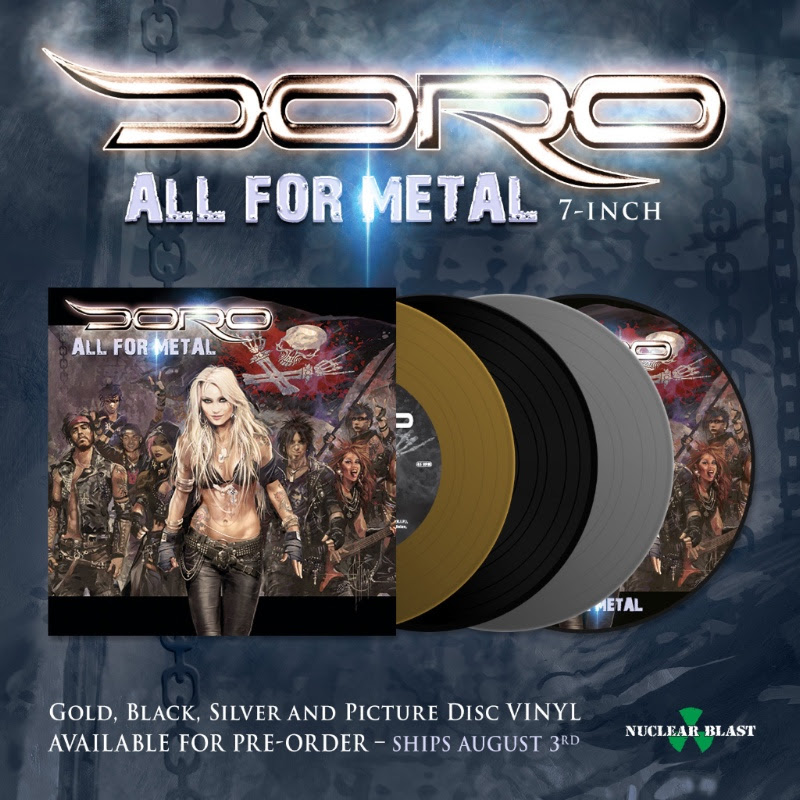 Also, the pre-order of Forever Warriors, Forever United has started today! The album will be available in the following formats:
DIGI Slipcase (Forever Warriors + »Forever United«)
2LP (black (Forever Warriors in gatefold)
2LP (black (Forever Warriors in gatefold)
Media Markt/Saturn ONLY 2LP (red (Forever Warriors ) in gatefold)
Media Markt/Saturn ONLY 2LP (blue (Forever Warriors ) in gatefold)
NB MAILORDER ONLY 2LP+2CD (framed gold vinyl)
Retail BOX (incl. 2 Digipaks, 2x2LP (1.violet/2.green) in gatefold, 2 poster flags, pin, plectrum)
NB MAILORDER ONLY BOX (incl. 2 Digipaks, 2x2LP (silver) in gatefold, 2 poster flags, pin, plectrum + signed photo card & bag)
Pre-order your copy, here: http://nblast.de/ DoroForeverWarriors

  Or pre-save the album on Spotify: h ttp://nblast.de/ DoroForeverWarriorsPre

Track lists:
Forever Warriors
01. All For Metal
02. Bastardos
03. If I Can't Have You – No One Will
04. Soldier Of Metal
05. Turn It Up
06. Blood, Sweat And Rock 'n' Roll
07. Don't Break My Heart Again
08. Love's Gone To Hell
09. Freunde Fürs Leben
10. Backstage To Heaven
Bonus songs:
11. Be Strong
12. Black Ballad
13. Bring My Hero Back Home Again
Forever United
01. Résistance
02. Lift Me Up
03. Heartbroken
04. It Cuts So Deep
05. Love Is A Sin
06. Living Life To The Fullest
07. 1000 Years
08. Fight Through The Fire
09. Lost In The Ozone
Bonus songs:
10. Caruso
11. Tra Como E Coriovallum (instrumental)
12. Metal Is My Alcohol
DORO and Nuclear Blast weekly release short track-by-track clips to the songs of the upcoming double album on the official DORO facebook page as well as on the Nuclear Blast YouTube channel.
  Follow DORO on Facebook to make sure you won't miss any upcoming videos: www.facebook.de/ DoroPeschOfficial


DORO live:
Festival shows 2018:
09.06. D Berlin - Zitadelle Spandau (w/ SWEET)
16.06. D Hamminkeln - Thunderbike Jokerfest
21.06. B Dessel - Graspop Metal Meeting
07.07. RUS Novokuznisk - City Anniversary Open Air
12.07. D Balingen - Bang Your Head!!!
13.07. D Jüterbog - Motorcycle Jamboree
15.07. CZ Vizovice - Masters of Rock
20.07. D Fritzlar - Rock am Stück
21.07. D Wertheim - Burgrock
01.08. D Wacken - Wacken Open Air
03.08. D Wacken - Wacken Open Air
05.08. F Colmar - Hard Rock Session
10.08. UK Derby - Bloodstock Open Air
11.08. E Villena - Leyendas del Rock
17.08. D Dinkelsbühl - Summer Breeze
31.08. D Dormagen - Zons rockt
01.09. D Hartenholm - Werner Rennen
14. - 21.10. E Mallorca - Full Metal Holiday
Today, DORO announces to support SAXON as special guest on their Thunderbolt Tour Pt. 3 - 2018 at 3 shows in UK this November:
w/ WAYWARD SONS
08.11. UK Bath – Forum
10.11. UK Nottingham – Royal Concert Hall
11.11. UK Newcastle – City Hall
After the SAXON sspecial guest shows, DORO will head on the second part of the upcoming European tour, celebrating the band's 35th anniversary as well as the upcoming release of the double album Forever Warriors, Forever United! DORO, who will also announce some more worldwide dates soon, will return to Germany and Austria in November 2018, followed by countless shows throughout Europe in March 2019. Check these dates:
»European Tour 2018/19«
w/ Special Guests - presented by: Metal Hammer, Radio Bob, Slam Magazine, Musix, Metaltix, Rock Antenne
2018
16.11. D Bremen - Aladin
17.11. D Hamburg - Große Freiheit 36
18.11. D Berlin - Astra Kulturhaus
20.11. D Görlitz - Kulturbrauerei
21.11. A Vienna - Simm City
23.11. D Memmingen - Kaminwerk
24.11. D Stuttgart - Im Wizemann
25.11. D Saarbrücken - Garage
27.11. D Frankfurt - Batschkapp
28.11. D Erfurt - Stadtgarten
30.11. D Cologne - Live Music Hall
01.12. D Bochum - Zeche
2019
08.03. B Kortrijk - De Kreun
09.03. F Strasbourg - La Laiterie
10.03. F Vauréal - Le Forum
12.03. UK Manchester - Rebellion
13.03. UK London - Camden Underworld
15.03. E Pamplona - Totem
16.03. E Madrid - Mon
17.03. E Barcelona - Razzmatazz 2
20.03. CH Solothurn - Kulturfabrik Kofmehl
22.03. D Munich - Backstage
23.03. D Nuremberg - Löwensaal
24.03. D Speyer - Halle 101
More worldwide live dates to be announced soon!