Scars And Guitars (Australia) - featured In Blabbermouth ! Check it out here at this link: https://www.blabbermouth.net/news/tomas-haake-is-open-to-releasing-official-meshuggah-book-thats-a-good-idea/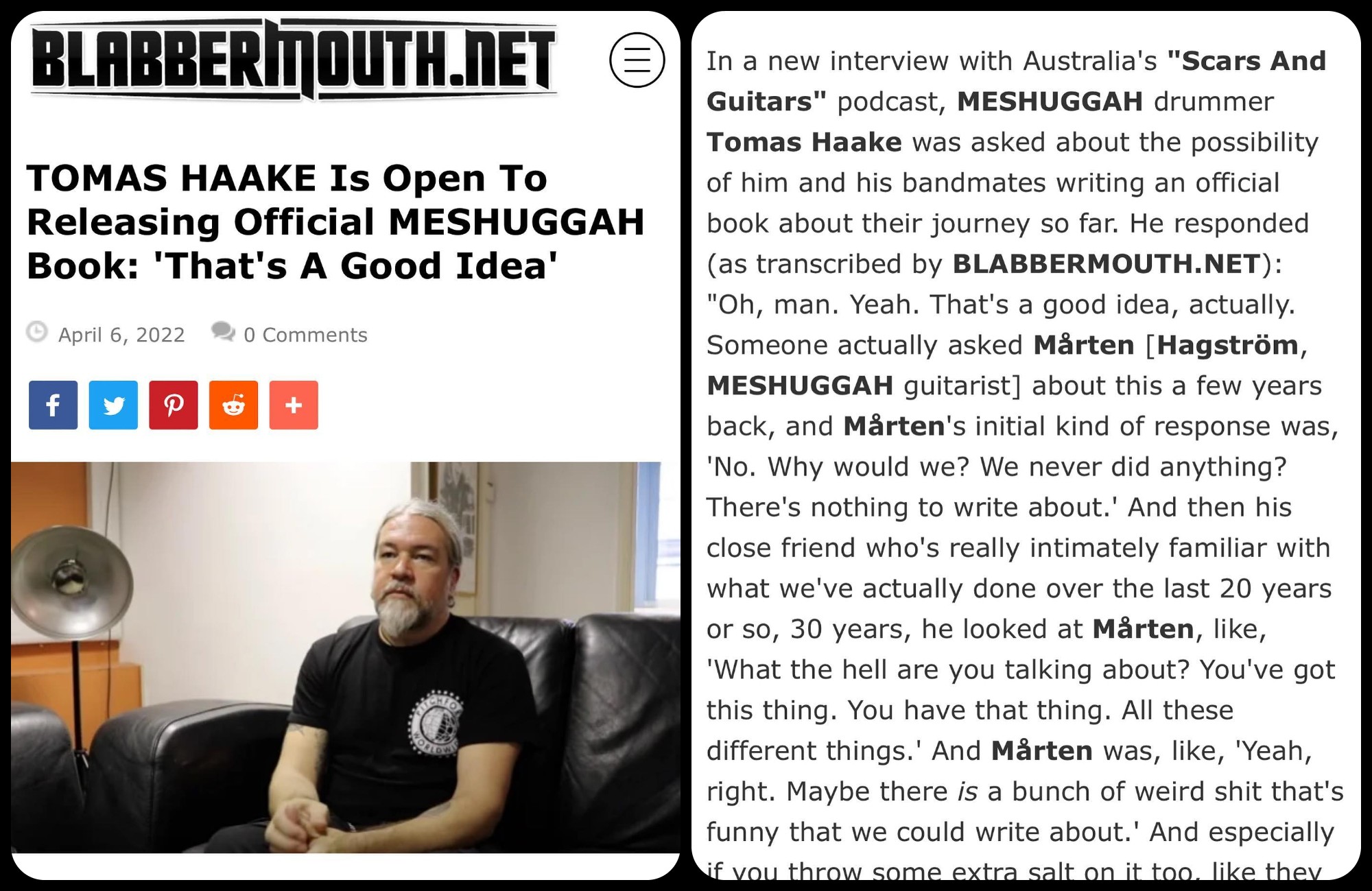 If you love reading rock and heavy metal autobiographies, this book is for you. 
Location: Gold Coast, Australia. 
Short Bio: Contained within the pages of Scars and Guitars, Volume 1, you'll discover thoughts and recollections from conversations with over 90 podcast guests. You'll read excerpts from conversations with the members of bands playing their trade under the broader banners of rock, classic rock, heavy metal, industrial, death metal, black metal, deathcore, thrash metal, punk, and reggae, featuring musicians as diverse as Michael Schenker (MSG/ Scorpions), Don Felder (Eagles), Erik Danielsson (Watain), Phil Campbell (Motörhead), Al Di Meola, Adam Darski AKA Nergal (Behemoth/ Me and That Man), George Lynch (Dokken) as well as bumper entries featuring conversations with the members of Morbid Angel, Anthrax, Megadeth, Napalm Death, Testament, Corrosion of Conformity, and Cradle of Filth , to name just a few. 
Check out this video!
Link to marketplaces to download a sample of the book:
https://books2read.com/u/4DKxLD
  Andrew McKaysmith has been the host of the Scars and Guitars podcast since 2017, with content from episodes featuring in Metal Hammer, The PRP, Ultimate Guitar, Blabbermouth, Metal Injection , and many more metal-themed sites. 

Contact Andrew McKaysmith: andrew.mckaysmith@gmail.com 
Social Media Links:
https://www.facebook.com/Scarsandguitarspodcast/
https://www.instagram.com/scarsandguitarspodcast/