Die With Fear - (I) Favor The Brave - Reviewed By metalepidemic.com ! Check it out here at this link: https://www.metalepidemic.com/die-with-fear-sonata-di-morte/
Die With Fear operated under the name Dienamic for ten plus years before finding their new sound and their new singer. Hailing from the Melodic Death Metal utopia of Gothenburg, Sweden. Die With Fear are more musically in line with The Haunted than the melo-death that Gothenburg is most famous for. Sonata Di Morte marks the band's debut album under the new moniker but is the fourth release in the band's overall history. In 2019, they consisted of only two members, Guitarist Stein-Odin Johannessen and Bassist Linus Hernvall; the global pandemic put the struggle of finding the right members to an absolute stand still. It wasn't until the summer of 2021 that the band found the unique and versatile vocal talents of screamer/growler William Bergbacka. Now with Rhythm Guitarist Robin Lagerborg on board as well, Die With Fear is looking for the right partners to get this album to the masses. Century Media, Metal Blade?
Right off the rip, the band shows their influences, Dark Tranquillity mixed with a Lamb of God style groove. It's an intriguing mix, that manages to complement each other and still sound fresh. To The Wolves is a hard-hitting catchy song, with great screaming vocals, fierce low growls and a furious solo. The angular riffs and Gothenburg melodies are a natural fit together, creating a unique dynamic sound. A striking and heavy opening track that gets right to the point.
Taking their influences further on title track Sonata Di Morte with pinch harmonics and blast beats. The Haunted comes to mind with fast downbeat thrashy drums and a catchy staccato riff ripe for headbanging. It pushes forward to an airy and dark sound, loosely chorded tremolo picking, and blasting contorts the atmosphere to more menacing. A melodic but ripping guitar solo splits the song and eventually goes into a dual harmony to finish out the track. 
Track six, Before You Confess brings fast crunchy thrashy riffs just aching for the pit. Parts of this song has a Metalcore vibe, which adds some serious attitude to the hybrid melo-death stylings. A killer bass and drum part that grooves about in a bouncy fashion force you to move your body before returning to the ferocious muscular riff-fest. The song rips and tears without much time to breathe, inflicting maximum damage. 
Die With Fear, while not afraid to showcase their influences, are a unique take on melo-death. Adding bits and pieces of style that includes some nasty Black Metal influence on My Darkened Heart or a guitar melody that follows along to the chorus vocals on The War Against You. These extra touches make this a familiar yet invigorating listen. Incredible virtuoso yet well composed guitar solos are plentiful on the album, from face-ripping to lush harmonies. Being from Gothenburg, they crush the stigma of what they're supposed to sound like. The Scandinavian melodies are there, but they seem more concerned with bringing a bulldozer full of intensity to smash your skull in. 
Sonata Di Morte is not perfect, however. There's too many Lamb of God esque spoken passages, mechanical sounding drums (no drummer as of yet), and each song is somewhere between mid-paced and faster. Not a lot of variances in the song tempos. The album is too short, it clocks in at thirty-two minutes. Two of those minutes are from a bit of a filler song. With that being said, I did personally enjoy the album, though. 
Part of what makes Die With Fear work is that the band is playing a relatively safe "metal for the masses" type of music. That's not a bad thing, this being heavy and even brutal at times, it's still very accessible and will appeal to many types of Metal fans. Catchy songs with great hooks and superb musicianship. Expertly combining crushing grooves, thrashy riffs, melo-death and extremely varied vocals ranging from higher pitched screams, monotone shouting and growling lows. Die With Fear do have their own distinct sound and with the right backing will establish themselves to be a band to watch out for.  - metalepidemic.com
Release Date: March 25, 2022
FFO: Arch Enemy, Lamb Of God, Devildriver
Location: Gothenburg, Sweden
Melodic Death Metal hailing from Gothenburg, Sweden - Est. 2021 Die With Fear has operated under the name Dienamic from 2010. From 2019 the band consisted of Linus Hernvall and Stein-Odin Johannessen. The name change came to life after much consideration due to the new sound, new members with William Bergbacka in front with his unique voice in 2021. 2019 and 2020 became a dark time in the history of the group. Corona pandemic struck the globe, and the continuing struggle to find the right members started to slow the band down. At the mid of 2020, everything came to a holt. It wasn´t until the summer of 2021 when William Bergbacka came in for audition that everything changed. A short but effective two-hour online audition was all it took. With the first demo received only five hours later, they booked a work session to record and produce vocals for two of the eight songs on the new record. William Bergbacka came and delivered a masterpiece of a performance throughout the album. Sonata Di Morte has turned out better and more alive than they could ever have hoped for.  Shortly after Robin Lagerborg joined and tock up the duties on the rhythm guitar.  Sonata Di Morte will be the debut album for Die With Fear, but the 3rd full length album and the 4th release in the history of the band.
Check out these videos!
Check them out on Spotify and add them to your playlists!
Check them out on Apple!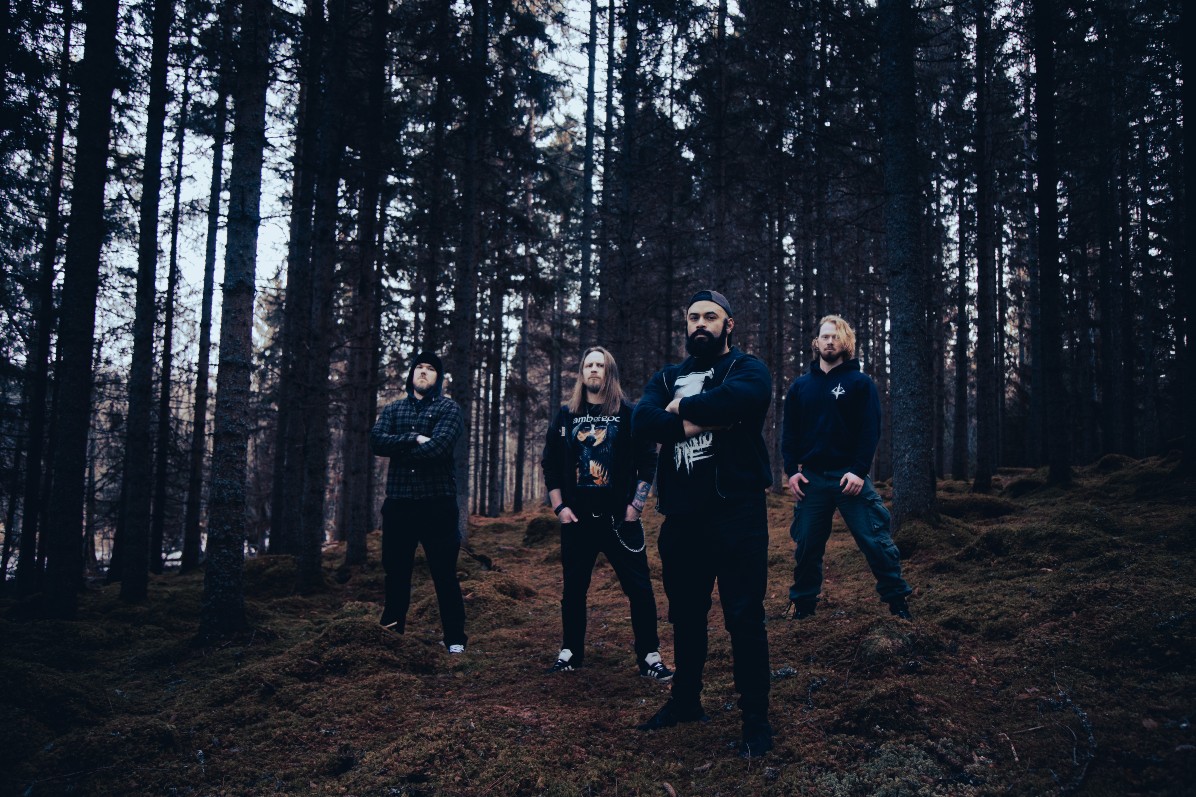 DIE WITH FEAR are:
William Bergbacka (session) - Vocal
Stein-Odin Johannessen - Guitar
Robin Lagerborg (session) - Guitar
Linus Hernvall - Bass
Follow the band at these links:
https://www.facebook.com/diewithfear
https://www.instagram.com/diewithfear/
https://twitter.com/diewithfear
https://www.youtube.com/channel/UCaglHVX-keTZ-KcizaQqVyA
https://www.twitch.tv/diewithfear
https://open.spotify.com/artist/2USmBrjixg5pPbh0fcwp6Z