Devourer - Raptus - Reviewed By FULL METAL MAYHEM ! Check it out here at this link: https://fullmetalmayhem.wordpress.com/2022/03/14/devourer-mit-raptus/
Other releases of the band: This is their fourth album after two demos and one EP and one single each.
On which label released: Iron, Blood and Death Corporation took care of the release.
How did I get to know the band: Again some of my Pile of Shame. Again, Metal Devastation Radio sent me the songs and now I finally got them out of the Dropbox. Too bad I didn't dissect the album on Friday.
How do I find the disc: Already at the first bars I knew that this could be something. Here there are sometimes clubs, sometimes quieter songs or passages and yet the whole thing seems to be made of one piece. The vocals are nicely varied, sometimes nasty growls and then again bitterly evil screaming. Although the last kick is missing for a really terrific album, but here you should definitely take a look.
The opener, BEARER OF DARK TIDINGS, made sure that I really feel like the rest of the album. MALFORMED has also earned a place in the playlist. Here there are constant banters, sometimes brute, sometimes as a threat in quieter passages.
Conclusion: Not only the Norwegians are familiar with black metal, also the Swedish neighbors get the black metal really well. Here you can easily risk a pure look: - FULL METAL MAYHEM
Release Date: January 31, 2022
FFO: Dark Funeral, Kadaverdisciplin, Mgla
Location: Sweden/Russia
Devourer was formed by multi-instrumentalist John Falk (Sorcery, ex-In Aeternum) in Sandviken, Sweden 2002. The first demo came out in 2003, and then four full-length albums and a handful of videos and singles have been released. Vocalist Fredrik Håf (Patronymicon, Sordid Flesh) joined Devourer in 2007, and bassist Oksana Falk (Teodolit) and guitarist Johan Vikholm (Sorcery, Patronymicon) joined the band in 2019. Raptus is Devourer's fourth full-length album. It was written and produced by Devourer, and the cover art has a design made by Vald de Mar. It's available to order on digipak CD from Devourer's Bandcamp page.
Check out the video!
Support the band on Bandcamp!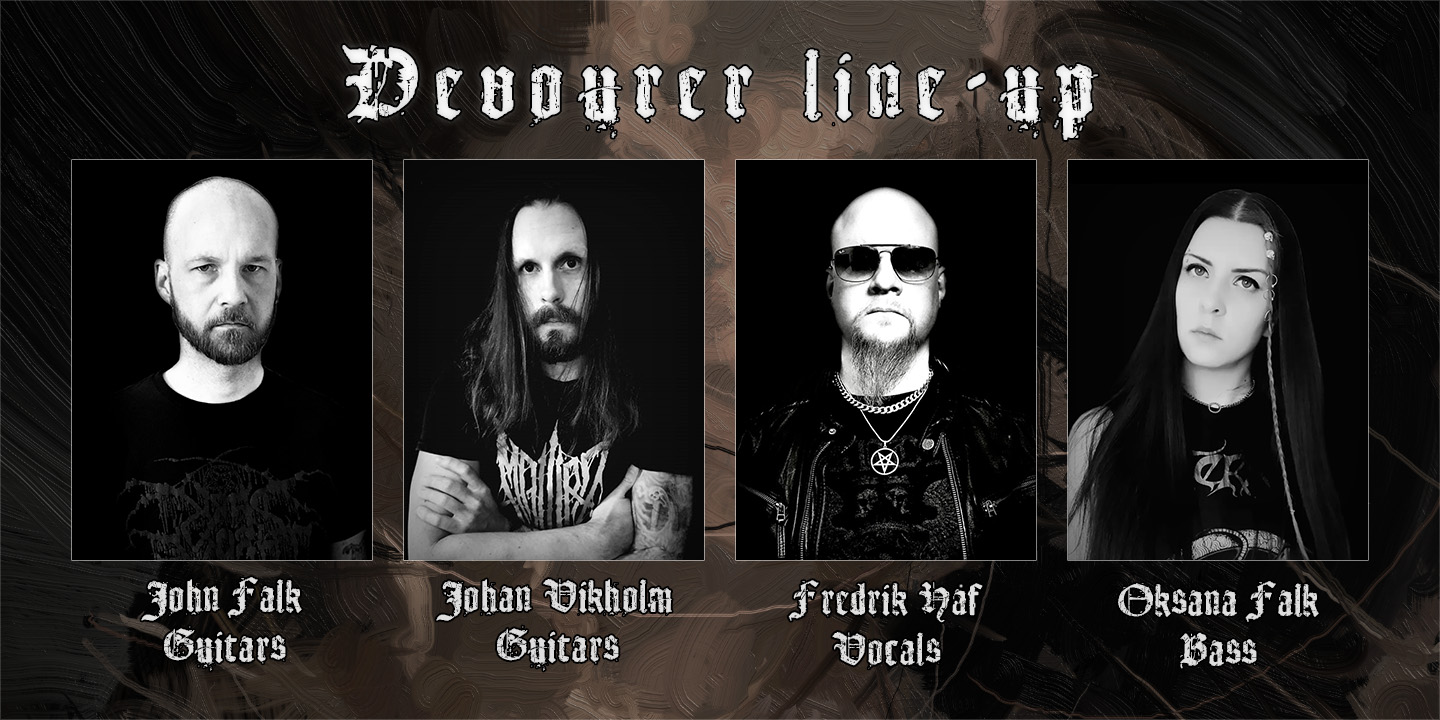 Follow the band at these links:
https://devourer.bandcamp.com/
https://www.youtube.com/DevourerSeMetal
https://www.facebook.com/devourermetal
https://www.instagram.com/devourermetal/