Oscenrad - Beyond The Fells - Reviewed By Jenny Tate ! Check it out here at this link: https://jennytate.wordpress.com/2022/03/13/oscenrad-beyond-the-fells/
Welcome to the land of Oscenrad – Viking/epic/pagan metal, founded in East Anglia and their 6 track debut album, 'Beyond The Fells'.
Formed by front man Haeoenwulf, in 2017, Oscenrad aims to time travel back to ancient times of myth and legend, magical beliefs and practices and mediaeval Anglo-Saxon England and North West Europe.
Echoing Celtic atmospherics, interwoven with Viking battles and evocations of castle ruins, 'BTF' is inspired by a complex melting pot of sounds. These include traditional European folk and classical music, within strong metallic styles, such as Viking band Bathory, plus other more complex sounds, such as Moonsorrow, Thyrfing and Manegarm.
Across The Waves – Sounds of the shoreline, lapping on the sand, a ship's horn, approaching, with a spaced out drum beat accompanying. Soon replaced by metallic riffs and a Viking warrior vocal. Drums speeding up, with the fast-paced riffs. It's a high-energy track, with space to breathe and an invigorating sense. Trollish vocals roar, into the atmosphere. Quick, effective rhythms. Segueing, into a beautifully light, folky refrain, before the riffs return, in velvet form, performing a gorgeous solo. Building that collective power, with the percussion, working in tandem with the riffage. Melo-death, in essence, with a strong Viking streak. Some great tight fretwork, utilising echo well, in the tension release. Very powerful track, ending with a soft, feminine, wordless vocal, fading into the distance, with the returning shoreline.
Beneath The Ancient Sky – Gradual, atmospheric intro, soon segueing, into heavy riffage. Notably deathy vocals, matching the accompaniments well. Light percussion forms an evocative backdrop. Always, those riffs are consistently smooth. Everything here fits, like a glove. Soft cymbal hits add further nuanced emphasis. Gentle acoustic tones enter, amongst the heaviness. Very fantasy-esque thread, around the mid-section. Very Turisas-esque, but with gentler reflections. Great riff techniques, melding naturally, as all aspects bleed into each other. Rhythms performed to perfection. Tension and impact built and released effectively and very naturally. Lots of fluidity to the flow. Fading out smoothly.
Beyond The Fells – Similar intro, gently breaking into the feel of the moment, with synths and light, feminine vocals, though wordless, as before, still as atmospheric. Then, the vibe climbs, with the riffs, but now interplayed with the gentle acoustic notes, earlier on. Once more, those blackened warrior vocals make their presence known. Blending it with some slight background croons. Still making some of the death vocals audible. Again, a stronger, more commanding voice gives it that Turisas-esque edge. Melody sustained. Harder sections boost the song's power, explosively, around the 3/4 mark. Suddenly racing, before artistically bringing it back down, again. Drum rhythms carefully controlled. Strumming folky acoustic chords, once more, before yielding, to the power, once more. A strong bass line loosens up the end and then is taken over, by a harp and quiescent backing hums.
Seeress – A familiarly evocative opening. Beautifully executed acoustic slide, with melodic echoes of Bon Jovi's softer stuff. Clearly folkier, at heart, with powerful natural backdrops, enhanced by the atmospheric tribal beats. Slide growing louder and more hauntingly beautiful. A slight country feel, in places. Gathering Latino flavour, in addition. Very pure sounds. A magical instrumental.
Runes Ye Shall Find – Straight into a blazing riff intro, infused with eclecticism and frantic urgency. Very blackened vocals. Maximum strength, zapped right up, to the max. Great atmospheric reverb. Once again, it's very visually evocative. Creative drumming, never leaving room for predictability. Wherever it goes, though, the direction's always adeptly handled. Velvet riffs, towards the mid-section. Easing into it, with consummate adaptability. Fading, to soft acoustics, at the mid-section, before returning to greater electric heights. Well matched by that merciless drumming. Evolving, into another rhythm, with tighter fretwork, once more. Ticking along, at a rattling pace, before the intensity fades and it melts, into a gentle fade.
Of Wolf And Blood – A stormy intro, complete with thunder and lightning and into a looser riff drawl. Relaxed and comfortable. A well constructed sound, with booming drums and again, a heavy instrumental emphasis, though there are vocals here, entering eventually. Powerful lyrics. Another blend of loud and quiescent, strong and soft, light and shadow. Very dark spoken word sections, disturbing, at times. All the way into a pained howl, towards the bridge. Riffs heightening, there. A stronger emphasis, accompanying light percussion. Classic Viking metal lyrics, so evocative. Gradually, evolving, into more beautiful acoustic riffs. A sudden sharp rise, at the mid-point. Really getting into its stride, melodically and in power terms. Such a palpably heavy impact, from that point. Climbing up the scales, so easily and effortlessly. Total fluidity. A strong Celtic edge to those victorious velvet riffs, turning it up, higher, all the way. Returning to quiescent form, at the end, with an accomplished flourish and a magical, melodic twist. Intro'ing church bells, intermingling with warrior tribal drum beats and a return to a tropical rainstorm.
Overall – A beautifully delivered, atmospherically charged production, featuring a host of eclectic sounds, styles and senses. Accessible and enthralling, on multi-sensory levels. 'BTF' creates a whole world of wonder and intrigue, all deftly portrayed and flawlessly performed. The ultimate escapism.
10/10 ********** - Jenny Tate
Release Date: May 28th 2021
FFO: Bathory, Moonsorrow, Thyrfing
Location: England
Oscenrad - Anglo Saxon Heathen Metal from the depths of East Anglia
Founded in 2017 as the solo project of frontman Hæðenwulf, Oscenrad seeks to awaken something deep and primal within the listener; to harken back to the Old Gods of Heathen lore, to ancestral roots and to the mythologies and folklore of times gone by with a primary lyrical focus on Anglo-Saxon England and North Western Europe in the pre-Christian age.
The debut album Beyond the Fells consists of 6 tracks making up a total of 54 minutes of Anglo-Saxon Heathen Metal in the vein of Bathory's Viking Metal era (mainly Hammerheart, Twilight of the Gods and the two Nordland albums) with a mix of various influences from artists such as Moonsorrow, Thyrfing and Månegarm as well as traditional European folk music and classical music
Beyond the Fells aims to immerse the listener completely, from start to finish, transporting them to a time of myth and magic, swords and spears, old, ruined castles and forbidden forests. 
Check out this video!
Check it out on Spotify and add to your playlists!
Support on Bandcamp!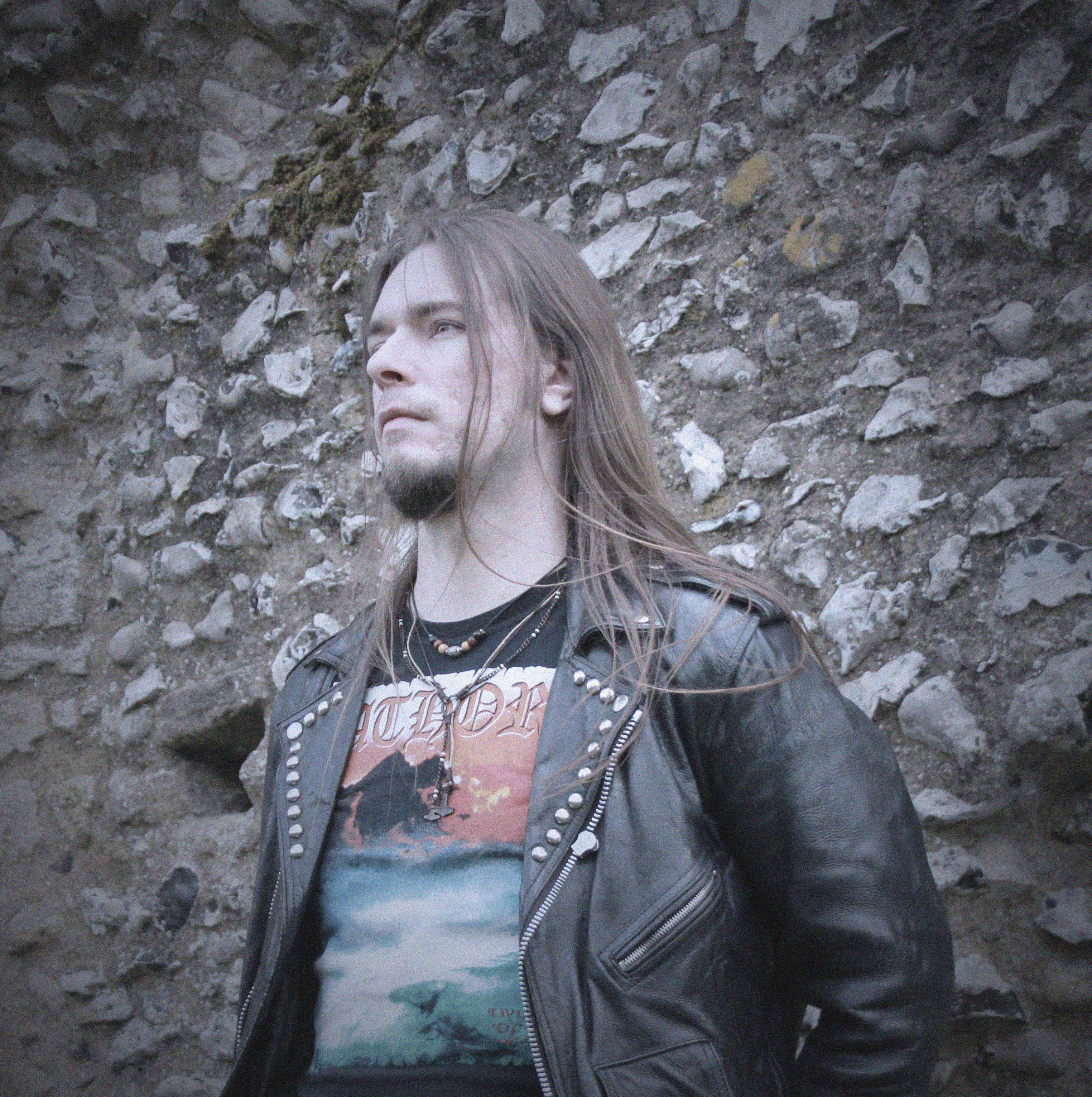 Follow this artist at these links:
https://oscenrad.bandcamp.com
https://open.spotify.com/artist/001G1BJcqW125huqZJVK6H
https://music.apple.com/gb/artist/oscenrad/1568274092
https://www.youtube.com/channel/UCyagK0s53BG7cG84CdDc6Jg
https://www.instagram.com/oscenrad/
https://www.facebook.com/oscenrad
https://twitter.com/oscenrad
https://vk.com/oscenrad