Black Altar / Vulture Lord - "Deathiah Manifesto" split reviewed in the new issue of Zero Tolerance Magazine ! Check it out here at this link: https://www.ztmag.com/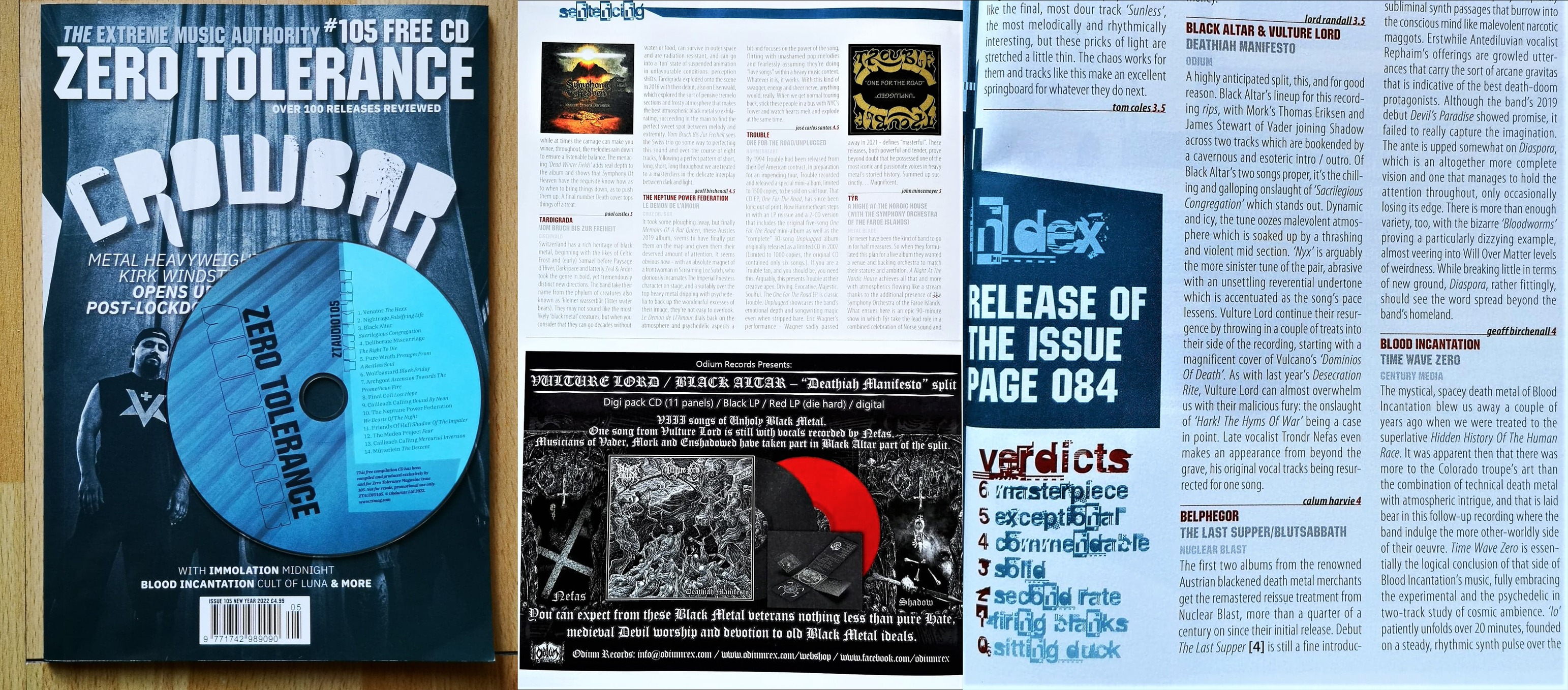 Release Date: Feb 18, 2022
FFO: Carpathian Forest, Marduk, KRIEGSGOTT 
Location: London, Norway 
Odium Records are proud to announce a new split release from two of the supreme forces in black metal, Vulture Lord and Black Altar , entitled Deathiah Manifesto . Featuring eight songs, including intros created by Ludo 'Evil' Lejeune , the album will be released on vinyl and Digi-pack CD this October . One of the Vulture Lord tracks features vocals recorded by the dearly departed Trondr Nefas , who left this world in 2012, while the Black Altar tracks feature performances from musicians known for their work with Vader , Mork and Enshadowed . The stunning cover artwork has been created by Jenglot Hitam ( Abigail, Impiety, Sabbat etc.) and the whole package is an unmissable expression of infernal hate!
Check out these videos!
Check them out on Spotify and add them to your playlists!
The split was released as a Digi pack in the shape of inverted cross and as regular black and die-hard version in March. Split contains 8 songs, including intros done by Ludo "Evil" Lejeune. One song from Vulture Lord is still with the vocals recorded by Nefas.
 Musicians of Vader , Mork and Enshadowed has taken part in Black Altar part of the split. Cover art was done by Jenglot Hitam .
Vulture Lord 's stunning comeback album, Desecration Rite is also still available from Odium Records at:
www.odiumrex.com/webshop
www.odiumrecords.bandcamp.com
Follow the bands at these links:
https://www.facebook.com/blackaltar/
https://www.facebook.com/deathcibel/
https://www.label.odiumrecords.com/
https://www.facebook.com/OdiumRex/
https://open.spotify.com/artist/4yDtkmdoQfXuPNY1Sa08OY
https://open.spotify.com/album/2uChjGS9IcECOJKZS9okD8