Martyr 'Planet Metalhead' Album Reviewed By Metal Gods TV ! Check it out here at this link: https://metalgodstv.com/martyr-album-review-planet-metalhead/
Martyr are a heavy/power metal band from the Netherlands formed in 1982, releasing five albums – 'For The Universe' (1985), 'Darkness At Time's Edge' (1986), 'Circle Of 8' (2011), 'You Are Next' (2016), and 2022's 'Planet Metalhead' – over a forty year career, which included a period of inactivity between 1989 and 2005. The bands sold out performance at the 2019 True Thrash Fest in Osaka, Japan, was recorded and released later the same year – simply titled 'Live In Japan'.
The new album 'Planet Metalhead' is a ten song, fifty minute mixed bag of metal styles, swinging this way and that, covering every inch of the power, and heavy metal genres – with a minor foray into thrash territory. Opening with 'Raise Your Horns, Unite!' the band deliver a new anthem for every metal fan everywhere. Delivered at a blistering pace, Martyr scream for everyone to "raise your horns" and I for one already am! For 'Raise Your Horns, Unite!' is just that damn infectious – mosh pits too will be a frenzied mass of energetic lunacy! And with a song titled 'Demon Hammer', your expectation of a fast, furious, and aggressive gallop is not wrong! Straight outta the gate, 'Demon Hammer' is heavy, menacing, and a little fiery. 'Children Of The Night' picks up the energy level, fairly scorching forth at a high pace, displaying the traditional metal gallop and "foot on the monitor" vibe.

Switching gears, Martyr adopt a more mid tempo foot stomping flair for 'Fire Of Rebellions' – the kind of energy driven heavily melodic seeking vengeance kinda stomps that legends Judas Priest brought to the world of heavy metal. And what the….! OMG please no…! A ballad…! Really…! Hmph…! Now regular readers will know my dispassion for ballads on metal albums – they should remain in the realm of rock. However, Martyr cross borders to include a ballad here, and it simply drains away all the energy and oomph of the opening four songs. 'No Time For Goodbyes' is a mellow yet soulful ballad that would look really great adorning a rock album. And at nearly seven minutes in length I had been tempted to press the "skip" button, and move on to the next song! And now back to heavy metal with a bang – 'Metal Overdrive' a Dio-esque gallop, highly anthemic and overly infectious. And it's also a second anthem (following 'Raise Your Horns, Unite!') for the worlds metal heads to take to heart and ramp up their affinity for heavy metal. Moving swiftly on, 'La Diabla!' brings a thrashy feel to the album – blistering pace and an aggression level not heard previously, Martyr crossing borders once more, but in a much more favourable direction.

Detecting a Judas Priest flavour once more – simply because of the way the bands singer Rop Van Haren screams the word "sinner" from the songs title 'Diary Of A Sinner'. Boy does that resemble Rob Halford! 'Diary Of A Sinner' is heavy metal power at full tilt, infectious, overly catchy, and a bloody pleasure to listen to. A second six minute plus song 'Church Of Steel' opens with tribal sounding drumming, building to a crescendo with bold vocals, before all hell breaks loose and we're galloping at a fast and furious pace. Keep those heads banging guys and gals, this one is pure heavy metal heaven. The final song 'Wings In A Darkened Soul' is a return to the ballad territory of earlier, but more mellow, more serene, and much more of a lighters in the air song.
Overall, a myriad of metal styles, 'Planet Metalhead' powers through fast, slow, heavy, heavier, and lighter songs. - Metal Gods TV
Release Date: February 24, 2022
FFO: Judas Preist, Iron Maiden, Helloween
Location: The Netherlands
WELCOME TO MARTYR - METAL TORTURE SINCE 1982!
Martyr is a heavy / speed / power metal band from Utrecht / The Netherlands that exists since 1982. During their career, a few demo cassettes were released as well as a number of long players. The general public first became acquainted with Martyr in 1984 when Roadrunner Records released the ' Dutch Steel ' compilation album.
Martyr's contribution to this release entitled ' Snow And Fire ' is still a highlight on the band's setlist today. In 1985 their song ' En Masse (Stand Or Die) ' appeared on the notorious ' Metal Massacre VI ' album from the legendary U.S.A. based ' Metal Blade ' record label. Both releases gained interest from metalheads from all over the world.
The debut mini album ' For The Universe ', which was released the same year, nowadays is considered a genuine heavy metal classic. The well-known website ' Encyclopaedia Metallum: The Metal Archives ' states: "Martyr's songwriting is vastly superior to most of its competitors".
Its successor ' Darkness At Time's Edge ' (1986) made Martyr's fanbase grow larger and larger and the band gigged and performed all over Europe. Martyr even was aired on MTV's 'Headbangers Ball' show.
After a few years however the band members decided to go separate ways and explore other musical directions in acts such as Medallion, Mindscape, Syrenade, Vangouw, Hot Legs and Wild Ride .
Needless to say, Martyr went on hiatus for a while... The flame however never flickered out and reignited around 2005 when they were asked to reunite to play old school metal festivals such as Heavy Maniacs Fest , Keep It True and Headbangers Open Air .
After the very successful reunion shows Martyr was back on track which resulted in the ' Fear The Universe ' compilation (2009, Rusty Cage Records ) and their highly anticipated comeback album ' Circle Of 8 ' on Metal Blade Records in 2011.
In 2014, Martyr was featured on the ' Dutch Steel (80's Metal From The Netherlands) ' compilation and their sophomore " after reunion " studio album ' You Are Next ' was released in 2016 by Into The Limelight Records .
The group frequently performs home and abroad, as a headliner or as a support act such as Manilla Road , Lizzy Borden, Saxon, Iced Earth and Trivium . The absolute highlights in Martyr's career so far have been three tours in the Land of the Rising Sun.
Their performance at the sold out 2019 edition of the legendary True Thrash Fest in Osaka was recorded and released on their most recent output ' Live In Japan ' which was released worldwide through Pt78 Records (The Netherlands) in co-operation with Rock Stakk Records (Japan). The album contains songs from their career-spanning back catalogue.
Martyr is releasing their new full-length on 24 February 2022. The 3 previously released songs ' No Time For Goodbyes', 'Fire Of Rebellions' and ' Raise Your Horns, Unite !' already showed an excellent performance beforehand. With 2 online listening sessions in December 2021 the band got confirmation that this material was the best thing Martyr has ever produced and it will be the next step forward. All songs are written by MARTYR, produced, mixed and mastered by drummer Rick Valcon at RA Recordings and are of excellent production quality. The new artwork is created by Wasi Kendedes .
"Planet Metalhead" will prove Martyr is still a force to be reckoned with.
Check out this video!
Check them out on Spotify and add them to your playlists!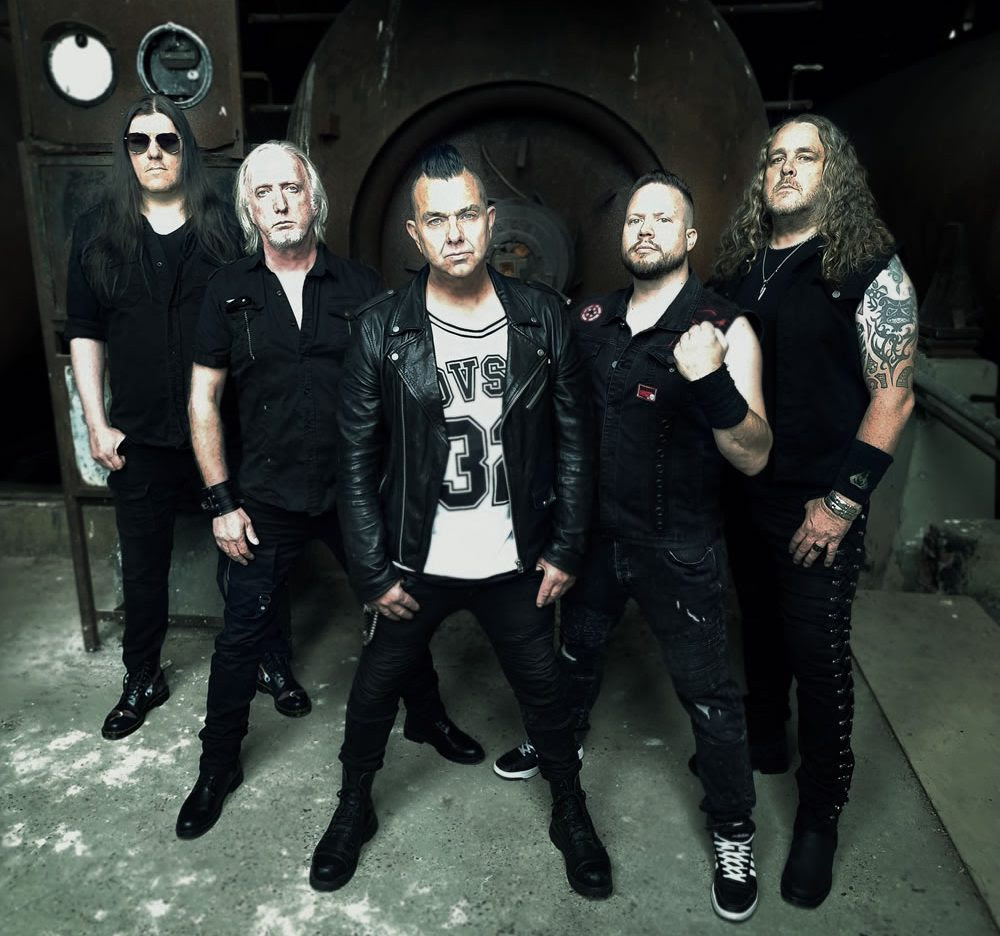 Lineup:
Rick Bouwman - Guitars
Rop van Haren - Vocals
Geoffrey Maas - Guitars
Vinnie Wassink - Bass
Rick Valcon - Drums
Management / Record label Martyr
Harm Kindt - Manager
Koen Bakker - Manager
Follow the band at these links:
https://open.spotify.com/artist/6Os2c8U66NlOGOZF2GGLX6
https://www.facebook.com/MARTYRONLINE
https://www.instagram.com/MARTYRONLINE/
https://twitter.com/martyronline2
https://muzika-p.com/epk/martyr
https://wayland-management.nl/
https://www.facebook.com/pt78records