SMASH YOUR ENEMIES - GENOCIDE - Featured At BATHORY ́zine ! Check it out here at this link: https://www.bathoryzine.com/2022/02/smash-your-enemies-genocide-hardcore.html
Release Date: March 4, 2022
FFO: TERROR, KUBLAI KHAN, HATEBREED
Location: DETROIT 
Photo Credit:  Melissa Pardo
It should come as no surprise that Detroit's own Smash Your Enemies habitually leave the art of subtlety at the door. This hardcore crew's sound and aesthetic is one of wholeheartedly straightforward aggression: no gimmicks, just groove-laden bellicosity. 
"Genocide is for sure, our heaviest record to date. We wanted to change things up for this one, rather than write the same record over and over. It's a different animal now. There are influences and styles from all of us. We all listen to a lot of different music and to a certain degree, that comes out in this one. 
Genocide is angry, it's dark, and not without intent".
 - Guitarist, Chris Norman 
GENOCIDE , in short, is designed for bloody knuckles, bruised ribs, and the sweet taste of violent catharsis. Featuring a notably burly low end, spine-snapping riffage, breakdowns a-plenty, and snarled vocals dripping with attitude, Smash Your Enemies proudly exemplify the embattled realm of hardcore metal. As such, they will undoubtedly appeal to acolytes of Terror, Kublai Khan, Madball , and, of course, Hatebreed --the latter of which, given this outfit's homage of a moniker, is practically a given.  
Watch the new video for their single "Faithless"
Brandon Critt: Vocals 
Chris Norman: Guitar
Jesse Adkins: Vocals
Miles Pardo: Drums
Shawn Williams: Guitar
Kyle Nastal: Bass
At this stage, the hardcore scene is exceedingly familiar territory for Smash Your Enemies. Since their official formation in 2008, they've been putting in the work, the result of which has been a series of shows throughout the United States, Canada, and Puerto Rico, as well as a stream of EPs across the past decade. Each fresh release is a reinstatement of intent--indeed, their previous effort, 2019's Become Death, was praised for its no-nonsense application of pugilistic fury. In the words of No Echo, "the intimidating metallic hardcore on display is as cold blooded as their homestate's punishing winter."
Needless to say, these Detroiters strive to make a similarly aggressive impact with their forthcoming 7-track, due March 4th of 2022. Genocide is Smash Your Enemies' second release via Upstate Records, and serves to shake things up in the viscerality department. Featuring several (comparatively) slower tracks, yet clocking in at a brisk 20 minutes, Genocide is a vicious and varied affirmation of what Smash Your Enemies does best: injecting the hallmarks of the genre's foundations with a fresh enthusiasm, vigor, and a notable willingness to pulverize their audience. Bottom line? Come March, fans of metallic hardcore--or blatantly muscular antagonism in general--will do well to take heed.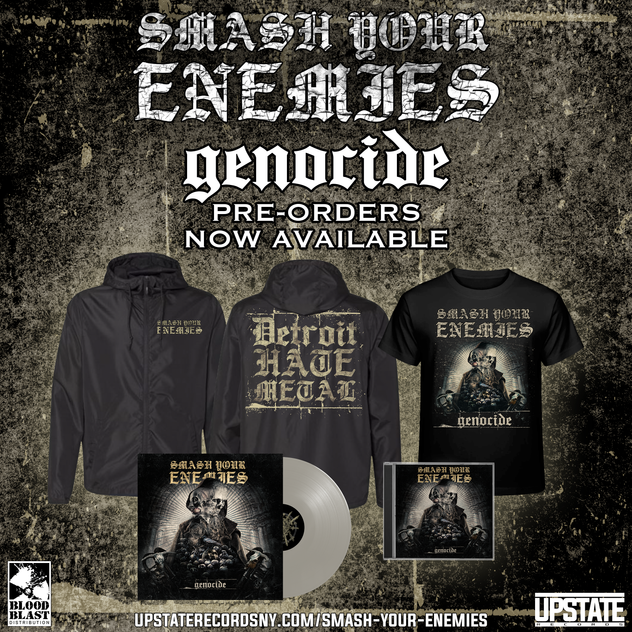 SMASH YOUR ENEMIES
"GENOCIDE" RECORD RELEASE SHOW
FEATURING:
ANTE UP - IN COLD BLOOD - POISON TONGUES
ILLMATIC - AZTEK THE BARFLY
MARCH 5, 2022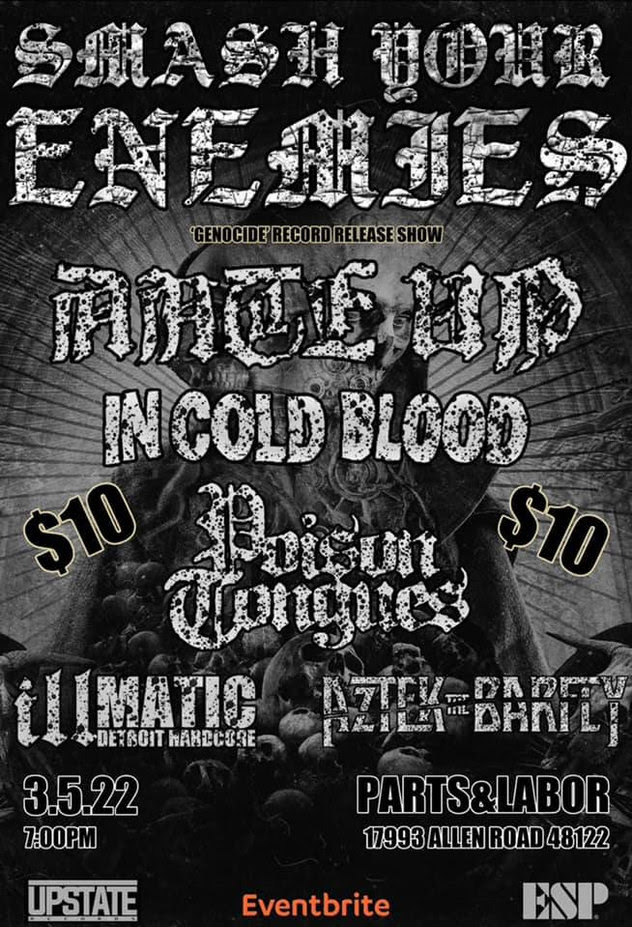 SMASH YOUR ENEMIES
"WAR FOR WAR"
AS PREMIERED ON DECIBEL MAGAZINE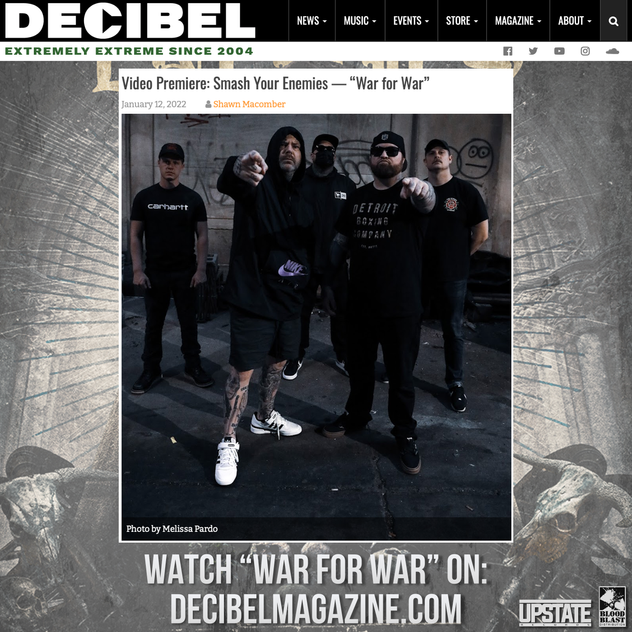 Check them out on Spotify and add them to your playlists!
Support the band on Bandcamp!
Follow the band and label at these links:
https://www.upstaterecordsny.com/
https://upstaterecords.bandcamp.com/
https://www.facebook.com/smashyourenemies
https://www.instagram.com/upstaterecordsinc