' Erik Danielsson ' from ' Watain ' joins The Zach Moonshine Show , to talk about the new release ' The Agony & Ecstasy of Watain ' and much more! Erik talks about the recording process of the new record, recording as a band, the special guest appearances from Farida Lemouchi from ' The Devils Blood ' / ' Molassess ' and Gottfrid Åhman from ' In Solitude' / 'Repugnant '. We also talk about the possibility of Erik playing guitar on the US tour if Pelle Forsberg is not able to enter the country again. We feature new music from the band as well as new releases from Behemoth, Black Altar, Vulture Lord, Goat Blood Fetish, Midnite Hellion, Ghost In The Atlantic, Testimony of Apocalypse , and Snipers of babel ! We also played some classics by request from Carpathian Forest, Empyrean Fire, Acid Bath, Goatwhore, Gravehuffer, Brutal Death Fuck, Pantera, Metallica, Slayer, St. Madness, Ghost, AC/DC, Warlock , and Metal Church .
Track Listing:
1 - The Frostbitten Woodlands Of Norway/Start Up The Incinerator (Here Comes Another Useless Fool)/Submit To Satan!!! - Carpathian Forest
2 - The Zach Moonshine Intro
3 - Conquer All (Live)/Ov Fire and the Void (Live) - Behemoth
4 - Corruption - Empyrean Fire
5 - Sacrilegious Congregation/Nyx - Black Altar
6 - Dominios of Death - Vulture Lord
7 - Watain - Interview 2022 Featuring Malfeitor/Stellarvore/The howling
8 - Paegan Love Song - Acid Bath
9 - Cold Earth Consumed In Dying Flesh - Goatwhore
10 - Disembodied Enlightenment - Goat Blood Fetish
11 - Custom of the Sea/Destroyer Of Worlds - Gravehuffer
12 - Elizabeth...Death Camp/Children Of The Necronomicon/RedHed - Brutal Death Fuck
13 - Speed Demon - Midnite Hellion
14 - Power Metal/Hollow/Revolution Is My Name - Pantera
15 - Feeling Hunted - Ghost In The Atlantic
16 - Creeping Death/Am I Evil (Live at Moscow, Russia 1991) - Metallica
17 - War Ensemble/South Of Heaven/Raining Blood (Live) - Slayer
18 - comfortably numb/sweet leaf - St. Madness
19 - Waiting For The Night/Mummy Dust - Ghost
20 - Take My Spirit - Testimony of Apocalypse
21 - deceived - Snipers of Babel
22 - Heatseeker (live) - AC/DC
23 - Touch Of Evil - Warlock
24 - Gods Of Second Chance/Fake Healer/Anthem To The Estranged - Metal Church
Check out the full show on Mixcloud!
Listen to the interview segment on Spotify:
Listen to the interview segment on YouTube:
Listen to the interview segment on iTunes: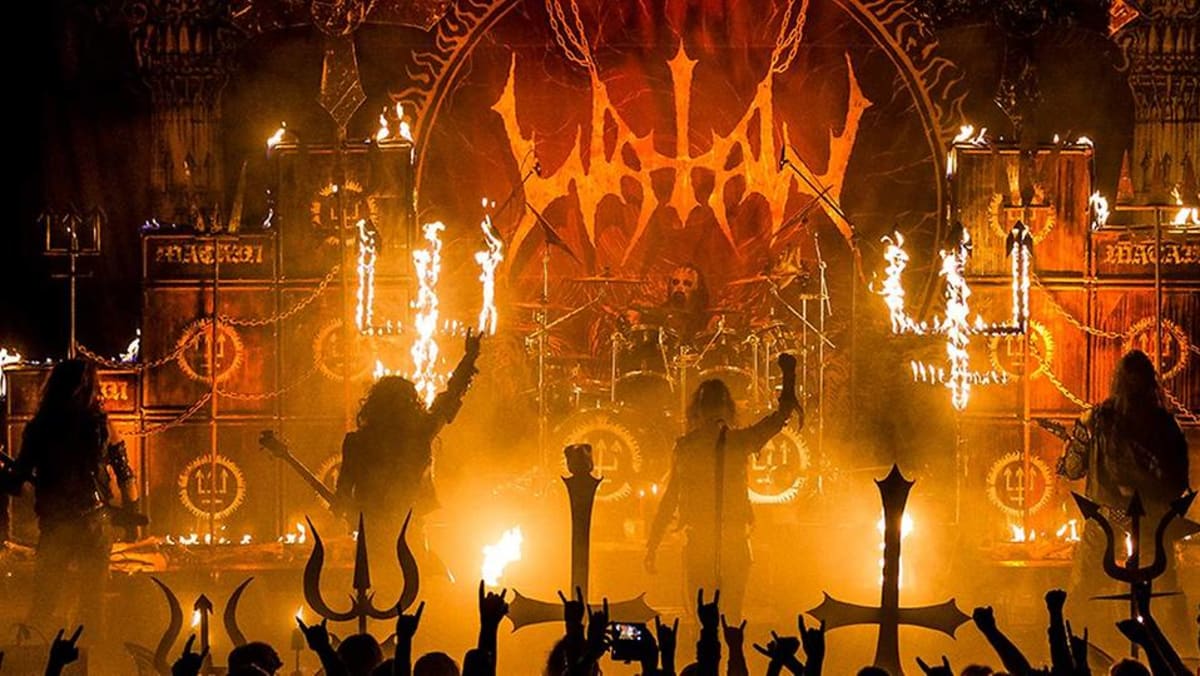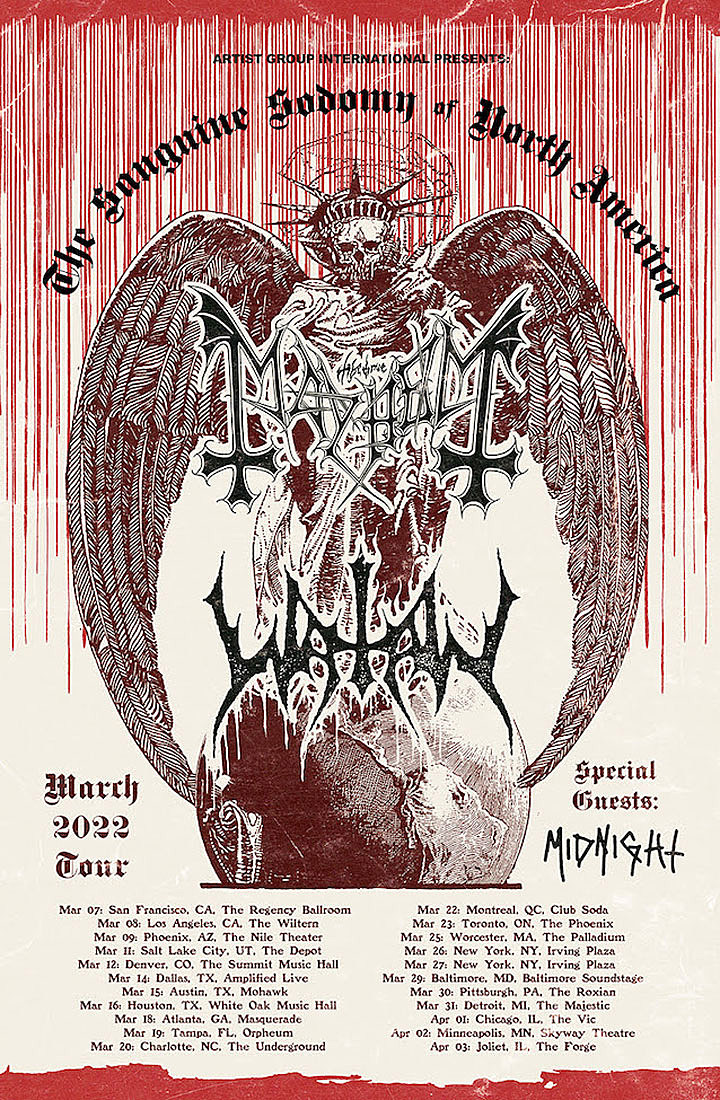 Watain crawled out of Satan's cunt in 1998, and has since then ascended and grown into one of the world's most well known and notorious Black Metal bands. Their legacy is often referred to with fear, love, confusion or awe, but seldom with indifference.
Their infamous live shows have become a worldwide phenomenon; inimitable ceremonies of wild Black Metal fanatism where the sacred and solemn collides with raw unadulterated force.
With their greatly anticipated seventh studio album, Watain continues to arouse and electrify their audience with an unmistakable, adventurous brand of Black Metal Magic, processed and distilled over the course of a 25-year long history.
Recorded live inside an old church on the Swedish countryside, "The Agony & Ecstasy of Watain" takes the listener one step closer to the innermost heart of a band that despite always being surrounded by rumors and controversy has always strived for the most sincere and genuine ways of expression.
With 10 songs written by the founding trinity of Watain (E. Danielsson, H. Jonsson and P. Forsberg), it is also the first Watain album to be recorded with a full line up completed by A. Lillo, H. Eriksson and E. Forcas.
The material is further enriched by noble contributions from Farida Lemouchi (Ex The Devil's Blood, now in Molasses) and Gottfrid Åhman (ex In Solitude, now in PÅGÅ).
The lyrics, always central in Watain, range from profound contemplation to manic proselytism, meticulously exploring the winding depths of both mind and spirit with a new sense of clarity and determination.
Characterized by a twisted beauty and primal ecstatic force, Watain is the wolf that keeps on hunting, fearless and free, in the dark night of man. Via Nuclear Blast Records https://www.nuclearblast.com/eu/watain
Check out the video!
Support the band by visiting this link: https://bfan.link/the-howling