NoLifeTilMetal Records Reissuing MADROST's Into The Aquatic Sector on Vinyl and Expanded CD
NoLifeTilMetal Records
and Southern California thrashers
MADROST
are at it again! After the very successful albums already released jointly (of which the vinyl editions are nearly sold out) NLTM Records is back to bring you the only
MADROST
album left that has not been given the vinyl treatment:
Into The Aquatic Sector
! In fact, even the CD version has been sold out for years and is being remastered and expanded.
NLTM Records will reissue
Into The Aquatic Sector
on
February 25
. The label has given this one an amazing breath of life, completely remastering, expanding, and including updated art and liner notes.
Into The Aquatic Sector
has been remastered for vinyl and an expanded CD edition by Rob Colwell of Bombworks Sound. As well as a brand new album cover by Tony Koehl (The Black Dahlia Murder, Putrid Pile, Malignancy). And as an added bonus the Limited Edition CD will be expanded in to a beautiful
two-disc special edition
. The
bonus disc
is a previously unreleased live show from the
Into The Aquatic Sector
era.
This limited edition vinyl is on a traditional glossy black vinyl and limited to only 100 copies Worldwide! The double-disc set limited edition is limited to 250 copies only worldwide. The first 40 pre-orders will receive a limited edition holograph sticker of the album art.
Coming off of 2012's debut release
Maleficent
album,
Into the Aquatic Sector 
picks up right where its predecessor left off, offering even more aggression this time around. Determined to make the most intense music possible in 2014,
Into the Aquatic Sector
is a slab of technical aggression infused with what the band had previously built upon in the years proceeding it. This semi conceptualized album has since gained in popularity as the years followed and is now being given a second opportunity with where the band's sound was heading during that time period. Having an entirely new lineup meant an entirely different approach and what was captured on the record was just that. So sit back and enjoy the next chapter in
MADROST's 
evolution and crank up the newly remastered sophomore album,
Into the Aquatic Sector.
Into The Aquatic Sector
 Track Listing
:
1. The Unknown
2. Frozen Beneath The Snow
3. Universal Energy
4. Operation: Xenomorphic Protocol
5. The Oceanic Prelude*
6. Subterranean Nightmare
7. Into The Aquatic Sector
8. Depravity
Into the Aquatic Sector
 Credits
:
Tanner Poppitt: Vocals/Guitar
Alejandro Pelaez: Guitar
Richard Orellana: Bass
Cesar Escobar: Drums
Additional Backups: Mike Abominator
Additional Keyboards: Peter Demore
Music and Lyrics by Tanner Poppitt
*Music by Alejandro Pelaez
Recorded March-May 2014 at Overboard Recording Company Studios
Recorded by Peter Demore and Shaun Carmer
Mixed by Matthew Earl of Earth and Axen Studios
Mastered by Rob Colwell
Artwork by Tony Koehl at Sketch the Soul
Photography by Adrian Mejia
Tanner Poppitt: Vocals/Guitar
Necro Nick: Guitar
Richard Orellana: Bass
Cesar Escobar: Drums
Recorded at Di Piazza's in Long Beach, CA on January 30th, 2016
1. Universal Energy
2. Frozen Beneath The Snow
3. Operation: Xenomorphic Protocol
4. Drawn and Quartered
5. Into the Aquatic Sector
6. Zombie Grinder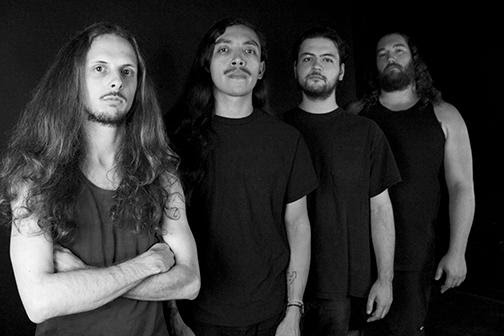 Tanner Poppitt: Vocals and Guitar
Necro Nick: Guitar
Richard Orellana: Bass
Mark Rivas: Drums