DAMNUM, New Album Available February 25th
Tour with Omnium Gatherum Begins February 26th
Watch "Of Beasts and Worms":
Ahead of their anticipated album DAMNUM (out February 25th), ALLEGAEON have delivered the next video from the album, the visually haunting and captivating "Of Beasts And Worms." Accompanying the track, the band shares details behind the video, track listing and additional tour dates. Album and merch pre-orders are available now at: metalblade.com/allegaeon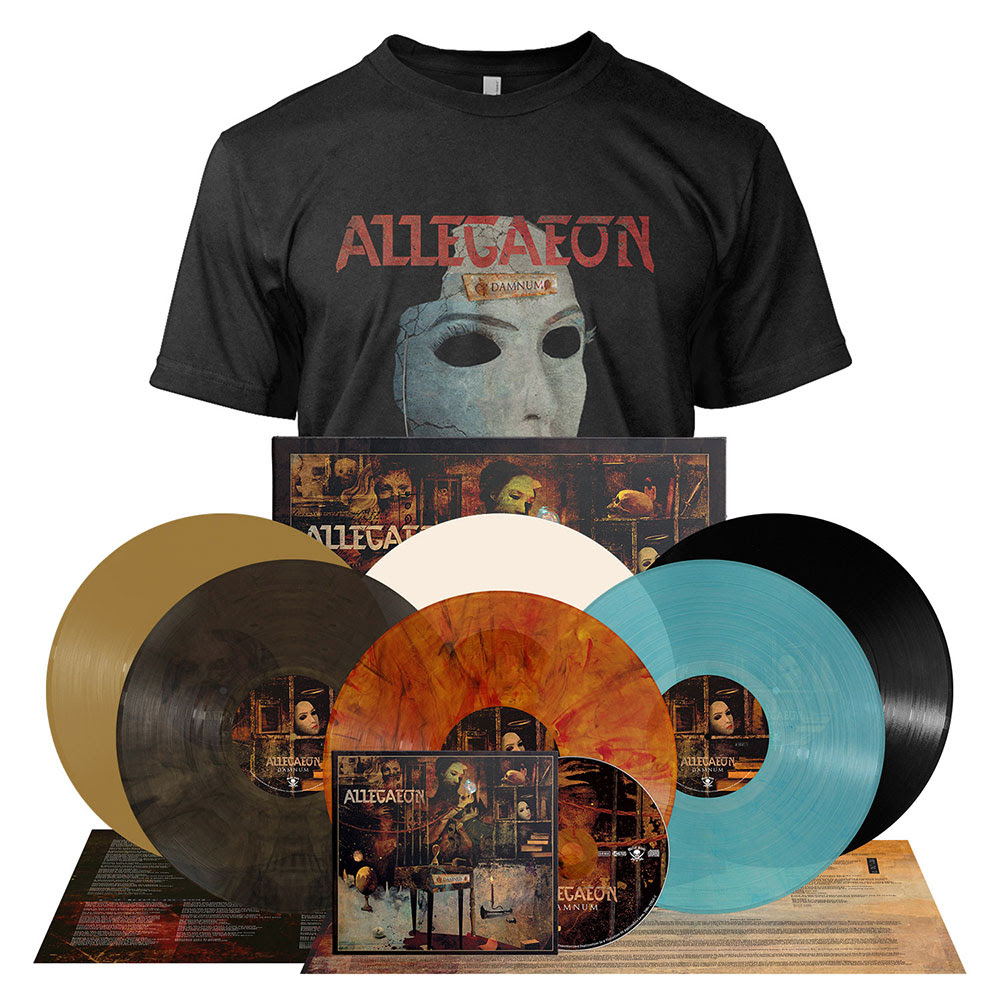 "This is the place where I rest my bones and the river that cleanses me runs alone!" cries frontman Riley McShane on the track. "This song is about finding a place of inner quiet, a safe haven to explore your thoughts and escape from the anxieties of your life," the vocalist explains. "This lyrical intention is paired with a depiction of disparity and tiredness with the world around you and the stressors that contribute to the deafening silence of the mundane. In the music video, we showcase a more physical - and graphic - display of this thought process where the escape from the daily grind is manifested into a willing self-sacrifice. Though a dramatization, this concept of sacrifice to find your own personal peace can be applied to something less tangible and played an important role in my own process while writing the lyrics for DAMNUM. Thank you for watching and listening, we hope you enjoy it."
ALLEGAEON recently released the first video behind the album, "Into Embers," and have built themselves a unique place in the musical landscape, forcing both technicality and melody to the forefront as they create tumultuous and riveting death metal. With DAMNUM, their sixth full-length, they push everything further into the extreme, and in the process deliver the definitive ALLEGAEON record.
DAMNUM Track Listing:
01. Bastards of the Earth
02. Of Beasts and Worms
03. Into Embers
04. To Carry My Grief Through Torpor and Silence
05. Vermin
06. Called Home
07. Blight
08. The Dopamine Void Pt. 1
09. The Dopamine Void Pt. 2
10. Saturnine
11. In Mourning
12. Only Loss
Catch ALLEGAEON as their first tour behind DAMNUM kick offs with the band supporting OMNIUM GATHERUM beginning February 26 in Brooklyn, NY.
ALLEGAEON ON TOUR:
With OMNIUM GATHERUM:
February 2022
26 - Brooklyn, NY @ The Kingsland
27 - Baltimore, MD @ Metro Gallery
28 - Chapel Hill, NC @ Local 506
March 2022
1 - Atlanta, GA @ Masquerade
2 - Orlando, FL @ The Haven
4 - Austin, TX @ Come and Take it Live!
5 - Houston, TX @ Satellite Bar
6 - Dallas, TX @ Amplified Live
7 - Kansas City, MO - BLVD Nights
8 - Denver, CO @ Oriental Theater
9 - El Paso, TX @ Rockhouse Bar & Grill
10 - Mesa, AZ @ Nile Theater
11 - San Diego, CA @ Brick by Brick
12 - Los Angeles, CA @ Catch One @ Jewel
13 - San Francisco, CA @ DNA Lounge
14 - Portland, OR @ Bossanova Ballroom
15 - Seattle, WA @ El Corazon
16 - Vancouver, BC @ Rickshaw Theatre
18 - Calgary, AB @ Dickens
19 - Regina, SK @ The Exchange
20 - Winnipeg, MB @ Park Theater
21 - Minneapolis, MN @ Amsterdam Bar & Hall
22 - Madison, WI @ The Crucible
23 - Chicago, IL @ Reggies
24 - Toronto, ON @ Velvet Underground
25 - Montreal, QC @ The Ritz
26 - Quebec City, QC @ Source de la Martinière
27 - Boston, MA @ Middle East Downstairs
FACES OF DEATH TOUR
With RIVERS OF NIHIL, ARCHSPIRE, BLACK CROWN INITIATE, TO THE GRAVE
November 2022
11 - Germany, Oberhausen @ Kulttempel
12 - Germany, Karlsruhe @ Die Stadtmitte
13 - Italy, Milan @ Slaughter Club
14 - Switzerland, Aarau @ KiFF
15 - Germany, Munich @ Backstage
16 - Czech Republic, Prague @ Futurum
17 - Austria, Vienna @ Viper Room
18 - Hungary, Budapest @ Dürer Kert
19 - Poland, Poznan @ U Bazyla
20 - Germany, Dresden @ Puschkin
21 - Germany, Berlin @ Hole44
22 - Germany, Hannover @ Béi Chéz Heinz
23 - Denmark, Copenhagen @ Stengade
24 - Germany, Hamburg @ Logo
25 - Netherlands, Nijmegen @ Doornroosje
26 - UK, Bristol @ Thekla
27 - UK, London @ O2 Academy Islington
28 - UK, Glasgow @ Cathouse
29 - UK, Manchester @ Rebellion
30 - UK. Birmingham @ Mama Roux's
December 2022
1 - UK, Southampton @ The Loft
2 - France, Paris @ Gibus
3 - Belgium, Aarschot @ De Klinker Club
"Incredible riffs, solos, and mind-bending complex leads" - METAL WANI
Allegaeon online:
https://www.facebook.com/Allegaeon
https://twitter.com/allegaeon
https://www.instagram.com/allegaeonofficial
https://www.youtube.com/ALLEGAEON