De Arma (Sweden) - Strayed In Shadows - Reviewed By Review Hard Music Base ! Check it out here at this link: https://hardmusicbase.cz/index.php?stranka=recenze_vypis&id=84741&m=1
Behind the cover of the album "Strayed In Shadows" I would hardly find the secret of gothic rock, rising from the inside of the soul. And that appearance is deceiving. Deception and deception everywhere. Or perhaps we only see what we want to see? No wonder, then, that we need lights everywhere so that we do not get lost in the recesses of fear and thus become killers of our own shadows. The work of the Swedish gothic duo (Andreas Petterson and Johan Marklund) DE ARMA on the album "Strayed In Shadows is not saturated with darkness, but the shadow play of emotions causes me to get lost in the atmospheres of the individual songs as a naïve adventurer in the Amazon jungle and the chiaroscuro of tones becomes a mosaic for snow blindness even where they have never seen snow. Lost and blinded, I have only one clue to finding myself and that is the river flow in the form of vocals. But even these are not a clear clue, because they are deceptively covered up in such a way that you do not know whether it is a main stream or one of its many tributaries. Layered, melancholic vocals are the glory of all songs. Not that there are brilliant singers in DE ARMA, as it is rather the opposite, but ingeniously knows how to use all the available options in a limited vocal register. Well, the layering of vocals is not about two or more voices sounding in unison. They are in unison, but each of them does not follow the same melodic line and sometimes does not express the same emotions. They separate and merge again. They lead one another astray with normality, to the brink of the very harmony of falsehood. The individual chants seem to live a different life and by some miracle were trapped in one song, which gives the impression of schizophrenia, without unnecessary added value depressive. The vocal side of the album is absolutely breathtaking. But even the music itself does not lag behind in creating atmospheres, although the inventiveness itself lags a bit. But I don't play gothic rock and if someone does, they're with the wrong band or even in the wrong genre. The whole musical anabasis is based on the traditions of the epic mystery of traditional gothic rock and the dirty ambiguity of post punk. References to the Bauhaus are definitely not out of the question, but also to Love Like Blood or The Sisters Of Mercy and David Bowie. However, the band probably deliberately chose a slightly more contemporary, sharp sound. Then the guitars with their roughness begin to beg for a swindle many times. Their incisiveness allows metal ornaments of contagion into gothic rock and suddenly we find ourselves with the Portuguese romantics Heavenwood from the period of the album "Swallow" and sometimes with the German perverts Evereve from the time of their debut. If DE ARMA had even blucked a little, which is also a bit happening in the final "You Were Blood", we could definitely find ourselves at Dismal Euphony. At the same time, this band does not try to create some gothic anthems, as the music industry would like, but they go entirely into emotional experiences. There's plenty of cheap gothic emo trash with seasonal hits all around, and DE ARMA doesn't want to be another parasitic flout in the genre. They are not demons, vampires, Satanists, or deceivers. They are worshippers of true mystery. As an absolutely great song I would like to call the calmer, most melancholy "Illusions Of Love", which was decorated with her vocal art by the guest singer Maria Oja.
Release Date: June 25, 2021
FFO: Anathema, Katatonia, Paradise Lost
Location: Sweden
DE ARMA "Strayed in Shadows" Melancholy is a delicate matter. This haunting emotion can in one moment sting unbearably painful yet at other times even deliver a bittersweet pleasure to the afflicted. Yet there can be no doubt that this feeling permeates all of the songs on DE ARMA's sophomore full-length "Strayed in Shadows" in one way or the other. And while the Swedes shift musically in and out and between melancholic metal, gothic rock, shoegaze, and even post-punk, melancholy remains the duo's anchor point. Although geography is often overrated in the interpretation of music, there is no denying that long winters' darkness high up North seems to have an effect on artists. Frontman Andreas Pettersson hails from Arvisjaur in the historic Swedish province of Lappland and drummer Johan Marklund lives in the the town of Skellefteå, which lies just across the Gulf of Bothnia to the west of the Finnish town of Oulo – home of such renowned brothers in melancholic spirit as SENTENCED and CHARON. The North is leaving a dark mark on its people.
On "Strayed in Shadows" the line-up has undergone a significant change. In the place of FEN and FELLWARDEN mastermind Frank "The Watcher" Allain, who sang on the album debut "Lost, Alien & Forlorn" (2013), guitarist and bass-player Andreas Pettersson, who founded DE ARMA in 2009, took over vocal duties as he already does in STILLA among other bands. This decision was partly caused by the extremely personal nature of his lyrics for "Strayed in Shadows". Those, who have followed the many bands and projects of this very creative Swede might be surprised by his vocal expression in the album, which is supported by the beautiful guest performance of Maria Oja on the tracks 'Illusions of Love' and 'Days Of Judgement' – a constellation inviting comparison with acts such as ANATHEMA and ANTIMATTER. Particularly in those two song, but also throughout other passages on "Strayed in Shadows", another aspect of DE ARMA becomes more prominent: Despite all the darkness and melancholy inherent in the duo's songs, there is also a warm feeling of comfort and shelter. "This, album, 'Strayed in Shadows' reaches partially back to recordings that have been made years ago", explains frontman Andreas Pettersson. "In my mind, it has adopted many faces over time, both in negative and positive ways. DE ARMA has always been very important to me despite long periods of seeming inactivity. I could never shake the feeling that one day it would crawl back upon me, which has been both, a burden and an inspiration. The completion of this 'new' album marks the final stage of a journey as well as some kind of rebirth for DE ARMA and for me personally. To me, its identity has grown stronger over time and now the vision leading to it has fully materialised. 'Strayed in Shadows' reflects the feeling of being lost in oneself, to be lost in or without a profound relationship, and the hesitant longing for a future without change. While the album is based upon true events and personal experiences, I hope that listeners will find their own connections and interpretations." With "Strayed in Shadows", DE ARMA send a ray of light to invite you into their warm shelter in a sea of Nordic melancholy.
Check out this video!
Check them out on Spotify and add them to your playlists!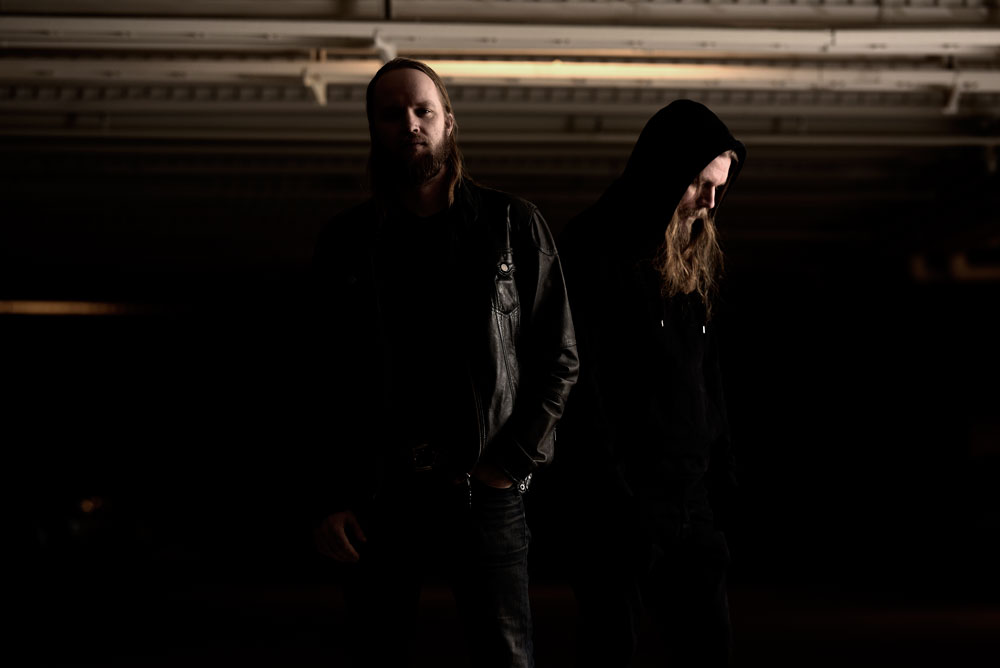 Line-up
Andreas Pettersson – guitars, bass, vocals
Johan Marklund – drums, synth

Guest appearance
Maria Oja - additional vocals ('Illusions of Love', 'Days Of Judgement')
Recorded at Nordvis Ljudstudio
Mastered by Tore Stjerna at NBS Studio
Cover Artwork by Ariel ZB
Follow the band and label at these links:
https://www.instagram.com/dearmaband/
https://www.facebook.com/dearmaswe
https://silentfuture.se/introducing-de-arma/
https://www.instagram.com/silentfuturerec/
https://www.youtube.com/c/Nordvis/search
Spotify:
https://open.spotify.com/artist/0o8bjfXoG4poMNrg0TLEzS
Purchase album:
https://nordvis.com/en/silent-future-recordings-m-17/
http://lnk.spkr.media/de-arma-strayed-in-shadows
Band pictures and graphic materials
https://www.dropbox.com/sh/f2tqfr2zcnhdjbe/AACceRgBLonF2nGz1EOIzqiKa?dl=0