De Arma (Sweden) - Strayed In Shadows - Reviewed At Metal Digest ! Check it out here at this link: https://metal-digest.com/2022/01/14/de-arma-strayed-in-shadows/
    From its most extreme metal components to its softer, synthier underbelly, the Gothic genre has a real habit of polarising fans into camps. One such band who lean on the rockier side are De Arma, the Anglo-Swedish duo who have released their sophomore album 'Strayed in Shadows'.
                If you are expecting an album to sound like 'Dance of December Souls' or 'Icon', then you may as well look away now as 'Strayed in Shadows' whack out the synths and the electronics to create an album of decent quality Gothic rock that harks to a late 90's and early 2000's Gothic sound. We're not talking something that drags in elements of industrial though; tracks such as 'Funeral in My Brain', 'City Vultures' and 'Pain of the Past' have all the appeal of Paradise Lost from this era as well as touching on bands such as Fen, Agalloch and Novembre whilst also reaching into the likes of Alcest and Lantlôs.

                Yet, 'Strayed in Shadows' is a nostalgic album, it's fun to listen to whilst it's on and it is enjoyable, but quite a number of songs are just a tad too long and it can't be helped thinking that this album would have benefited from just being shorter. Ultimately, there are a lot of good ideas here and De Arma continue to chip away and mould their sound to fit who they are They may not have reached that point yet, it is an improvement on the last album, and it will be interesting to see what the next one sounds like. - Metal Digest
Release Date: June 25, 2021
FFO: Anathema, Katatonia, Paradise Lost
Location: Sweden
DE ARMA "Strayed in Shadows" Melancholy is a delicate matter. This haunting emotion can in one moment sting unbearably painful yet at other times even deliver a bittersweet pleasure to the afflicted. Yet there can be no doubt that this feeling permeates all of the songs on DE ARMA's sophomore full-length "Strayed in Shadows" in one way or the other. And while the Swedes shift musically in and out and between melancholic metal, gothic rock, shoegaze, and even post-punk, melancholy remains the duo's anchor point. Although geography is often overrated in the interpretation of music, there is no denying that long winters' darkness high up North seems to have an effect on artists. Frontman Andreas Pettersson hails from Arvisjaur in the historic Swedish province of Lappland and drummer Johan Marklund lives in the the town of Skellefteå, which lies just across the Gulf of Bothnia to the west of the Finnish town of Oulo – home of such renowned brothers in melancholic spirit as SENTENCED and CHARON. The North is leaving a dark mark on its people.
On "Strayed in Shadows" the line-up has undergone a significant change. In the place of FEN and FELLWARDEN mastermind Frank "The Watcher" Allain, who sang on the album debut "Lost, Alien & Forlorn" (2013), guitarist and bass-player Andreas Pettersson, who founded DE ARMA in 2009, took over vocal duties as he already does in STILLA among other bands. This decision was partly caused by the extremely personal nature of his lyrics for "Strayed in Shadows". Those, who have followed the many bands and projects of this very creative Swede might be surprised by his vocal expression in the album, which is supported by the beautiful guest performance of Maria Oja on the tracks 'Illusions of Love' and 'Days Of Judgement' – a constellation inviting comparison with acts such as ANATHEMA and ANTIMATTER. Particularly in those two song, but also throughout other passages on "Strayed in Shadows", another aspect of DE ARMA becomes more prominent: Despite all the darkness and melancholy inherent in the duo's songs, there is also a warm feeling of comfort and shelter. "This, album, 'Strayed in Shadows' reaches partially back to recordings that have been made years ago", explains frontman Andreas Pettersson. "In my mind, it has adopted many faces over time, both in negative and positive ways. DE ARMA has always been very important to me despite long periods of seeming inactivity. I could never shake the feeling that one day it would crawl back upon me, which has been both, a burden and an inspiration. The completion of this 'new' album marks the final stage of a journey as well as some kind of rebirth for DE ARMA and for me personally. To me, its identity has grown stronger over time and now the vision leading to it has fully materialised. 'Strayed in Shadows' reflects the feeling of being lost in oneself, to be lost in or without a profound relationship, and the hesitant longing for a future without change. While the album is based upon true events and personal experiences, I hope that listeners will find their own connections and interpretations." With "Strayed in Shadows", DE ARMA send a ray of light to invite you into their warm shelter in a sea of Nordic melancholy.
Check out this video!
Check them out on Spotify and add them to your playlists!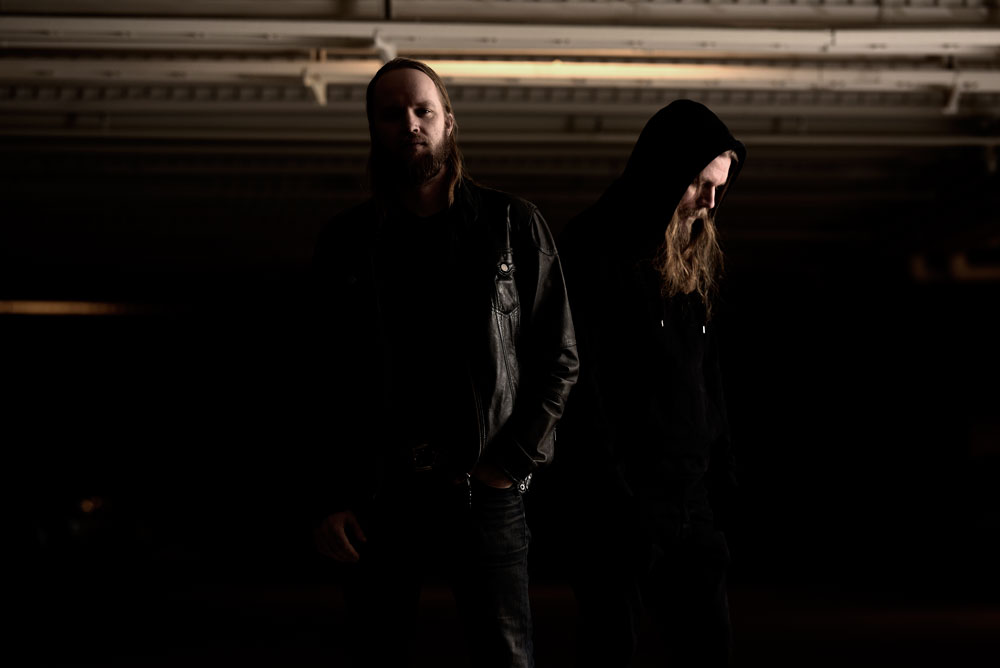 Line-up
Andreas Pettersson – guitars, bass, vocals
Johan Marklund – drums, synth

Guest appearance
Maria Oja - additional vocals ('Illusions of Love', 'Days Of Judgement')
Recorded at Nordvis Ljudstudio
Mastered by Tore Stjerna at NBS Studio
Cover Artwork by Ariel ZB
Follow the band and label at these links:
https://www.instagram.com/dearmaband/
https://www.facebook.com/dearmaswe
https://silentfuture.se/introducing-de-arma/
https://www.instagram.com/silentfuturerec/
https://www.youtube.com/c/Nordvis/search
Spotify:
https://open.spotify.com/artist/0o8bjfXoG4poMNrg0TLEzS
Purchase album:
https://nordvis.com/en/silent-future-recordings-m-17/
http://lnk.spkr.media/de-arma-strayed-in-shadows
Band pictures and graphic materials
https://www.dropbox.com/sh/f2tqfr2zcnhdjbe/AACceRgBLonF2nGz1EOIzqiKa?dl=0