Vancouver (BC) - New Wave of Traditional Heavy Metal newcomers Maule have released a new song from their forthcoming debut album. "Sword Woman" is available to stream at:
Maule will release their self-titled, full-length debut album January 14, 2022 on Gates of Hell Records (a Cruz Del Sur Music sub-label). Pre-orders are available at the following links:
CD: https://tinyurl.com/2p8fhtx8
LP: https://tinyurl.com/4wdt5rws
A lyric video for opening track "Evil Eye" is available at:
"Everything you love about heavy metal is present on this album; from killer riffs to soaring vocals to godly solos. What more could one ask for?" (4.5/5)
- Metal-Rules
"Maule's self titled release is a catchy, groovy and very polished sounding album that will satisfy any fans of heavy, speed and thrash metal." (8.5/10)
- Metal Purgatory Media
"It's the sort of unalloyed heavy metal that made you fall in love with the genre in the first place, and points to a bright future for these guys.
Highly recommended!"
- Sentinel Daily
"MAULE revitalizes the sounds of the early 1980s with a fresh and energetic twist, making them one of the most exciting debuts of the year."
- Dioses Del Metal
"Nine songs of heavy metal strongly influenced by bands like Iron Maiden and Saxon. Maule's first album is a respectful tribute to the traveling glories of Heavy Metal. But they have not simply settled for that, it is also a work with its own imprint."
- El Lado Oscuro
"Maule have something here that really works and it's because they know how to regulate themselves, which results in this record being the tightly controlled, but crystal clear beast that it is."
- The Razors Edge
Pure, aggressive traditional metal that captures the spirit of NWOBHM for the 21st century! On their self-titled album, Vancouver's Maule reinvigorates the sounds of the early 1980s with a fresh, energetic twist, making it one of the year's most exciting debuts!
More than four decades after its arrival, the New Wave of British Heavy Metal (NWOBHM) continues to inspire new musicians. Its first wave, of course, helped create thrash and laid the groundwork for the European and North American metal scenes that would take shape throughout the ensuing decade. And while Iron Maiden and Saxon emerged as the unabashed mainstays of the style, bands like Angel Witch, Blitzkrieg, Diamond Head and Tygers of Pan Tang established the core sonic tenants that now live on through bands a generation removed, including Vancouver, British Columbia's Maule.
Formed in 2017 by rhythm guitarist/vocalist Jakob Weel and bassist Johnny Maule, Maule broke onto the scene in 2019 with their From Hell demo. The five-song offering made waves throughout the metal underground, showcasing a young band with a deft grasp on traditional metal. As it turns out, Johnny Maule and original lead guitarist Daniel Gottardo came from a classical and jazz music background, informing their unique sense of riffs, rhythms and songwriting arrangements. The momentum from the From Hell demo carried the band into 2020 when they began work on what became their eponymous debut, their first release for Gates of Hell Records.
Recorded in February 2020 at Little Red Sounds Studio with producer and engineer Michael Kraushaar, who previously manned the From Hell sessions, Maule's self-titled debut is an nine-song realization of the band's sound, stocked with thrash-inspired riffing, anthemic choruses, blazing leads and Weel's sharp, biting vocal approach that capably handles aggressive and mid-tempo material. (Gottardo played all leads on the album, but has since been replaced by Justin Walker.)
Lyrically, Maule embraces the storytelling philosophy embraced throughout classic metal with tales of life and death, with additional nods to Robert E. Howard and H.P. Lovecraft. The album's cover art was created by Dave Levi Holland and was based on a sketch from Johnny Maule.
Track Listing:
1. Evil Eye
2. Ritual
3. Summoner
4. Maule
5. Red Sonya
6. Sword Woman
7. Father Time
8. March of the Dead
9. We Ride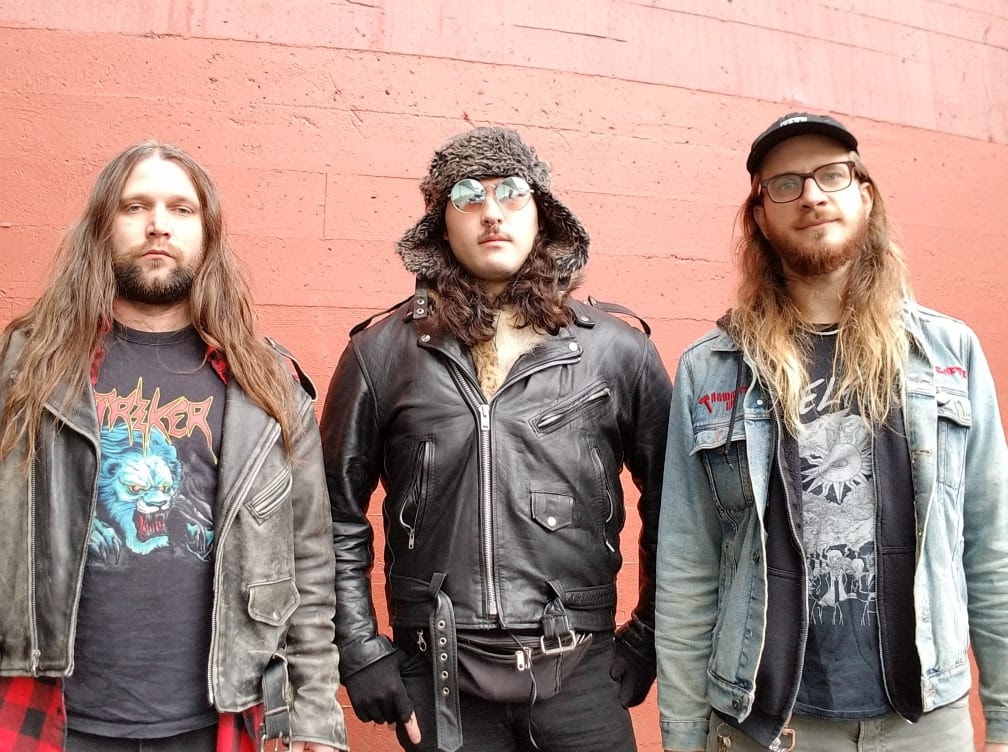 Album Line-Up:
Jakob Weel – Vocals/guitars
Daniel Gottardo – Lead guitars
Johnny Maule – Bass
Eddie Riumin – Drums
Current Line-Up:
Jakob Weel – Vocals/guitars
Justin Walker – Lead guitars
Johnny Maule – Bass
Eddie Riumin – Drums
maule.bandcamp.com/releases
facebook.com/MAULEOFFICIAL
instagram.com/mauletheband
gatesofhellrecords.com
facebook.com/gatesofhellrecords
instagram.com/cruzdelsurmusic
cruzdelsurmusic.com
cruzdelsurmusic.bandcamp.com