Bulletproöf 'Dynamite' E.P. Reviewed At Metal Gods TV!
Bulletproöf 'Dynamite' E.P. Reviewed At Metal Gods TV ! Check it out here at this link: https://metalgodstv.com/bulletproof-e-p-review-dynamite/
Bulletproöf are a heavy metal band from Argentina formed in 2017, releasing their debut E.P. 'Dynamite' in 2021…
…featuring five songs of unabashed heavy metal. The four piece band from South America pound the monitors with their feet over the E.P.'s twenty minute run time, each and every song rich with traditional metal. Opener 'Banners High!' has an anthemic and highly rabble rousing feel to it, the thunderous rhythm reeking of old school NWOBHM – fucking great if you're a fan of bands such as Saxon and Raven.
The E.P. motors on with the title song 'Dynamite' – portraying a much heavier feel. Also the melodious intent of 'Dynamite' (the song) is a lot more, with the chorus highly sing a long-able and memorable. Bulletproöf may be forty years and seven and a half thousand miles away from the iconic NWOBHM evolution, but boy do they fit that era perfectly. The anthemic rabble rousing feel is far from over, as 'Flag Of Freedom' takes a more mid tempo foot stomping approach to heavy metal, with the influence of the early eighties British style clearly evident.

And if you're looking for a new anthem to raise your fists high and punch the air to, then look no further than 'Fist Pounding' – a rollicking call to arms for fans all around the world. This will surely gonna go down a storm in a live arena. The fifth and final song on the E.P. 'Feel The Heat' is the most melodic song on offer – attractive to fans of both metal and rock. 'Feel The Heat' has an air of the majestic about it too, as it strides on, very tall, and very very proud.
Overall, a cracking five song blast of old school, traditional heavy metal, highly melodic and very anthemic. - Metal Gods TV
Release Date: November 1st, 2021
FFO: Running Wild, Judas Priest, Accept
Stream it here: https://distrokid.com/hyperfollow/bulletprof/dynamite
"All around, choruses rock harder than Freddie Mercury in is heyday; once the hard-driving and ever-fuelled "Dynamite" proper blows up in our adamantly grimacing faces, all bets and codpieces are off. The actual musicianship is nothing out of this World - except maybe for these wicked, fun-loving solos which take off at every knuckle-dragging turn, alongside killer main riff to " Flags of Freedom ". Beginning with a stomping, AOR reminiscent drum beat and throbbing, pulsing bass - the kind Rudy Sarzo and Bob Daisley would approve of - this winner makes kick-ass use of its utterly slack n' sleazy momentum, kind of similar to Judas Priest 's " Rock You All Around The World ", but with way more character."
"Leads occasionally feature Tony Iommi' s singularly sharpened, diabolical flair, and I'd be lying by omission not to exclaim (maybe a touch too eagerly) how much this release also brings me back to Slade 's cheesy, albeit wondrous, Keep Your Hands Off My Power Supply , from 1984. " Fist Pounding " is another haymaker which suits both illegal drag-racing/911 pursuits and stalled big city traffic jams, alike. Try to dismiss its allegorically fun refrain, and let us know how that works out. Closer " Feel The Heat " starts off with a down-home, GNR ' (circa "Lies") style clean blues shuffle-slam before turning it up, combining sardonic chutzpah with mesmeric Rob Halford ian poise..." -  -  Metal Archives
"We want to thank all those who allowed us to make this dream become true. Family, friends, colleagues and the entire Heavy Metal brotherhood. Long live Rock, long live Heavy Metal, long live Bulletproöf!"
Check out the video!
Recorded at Barbaro Recording Studios and Martillo Estudio.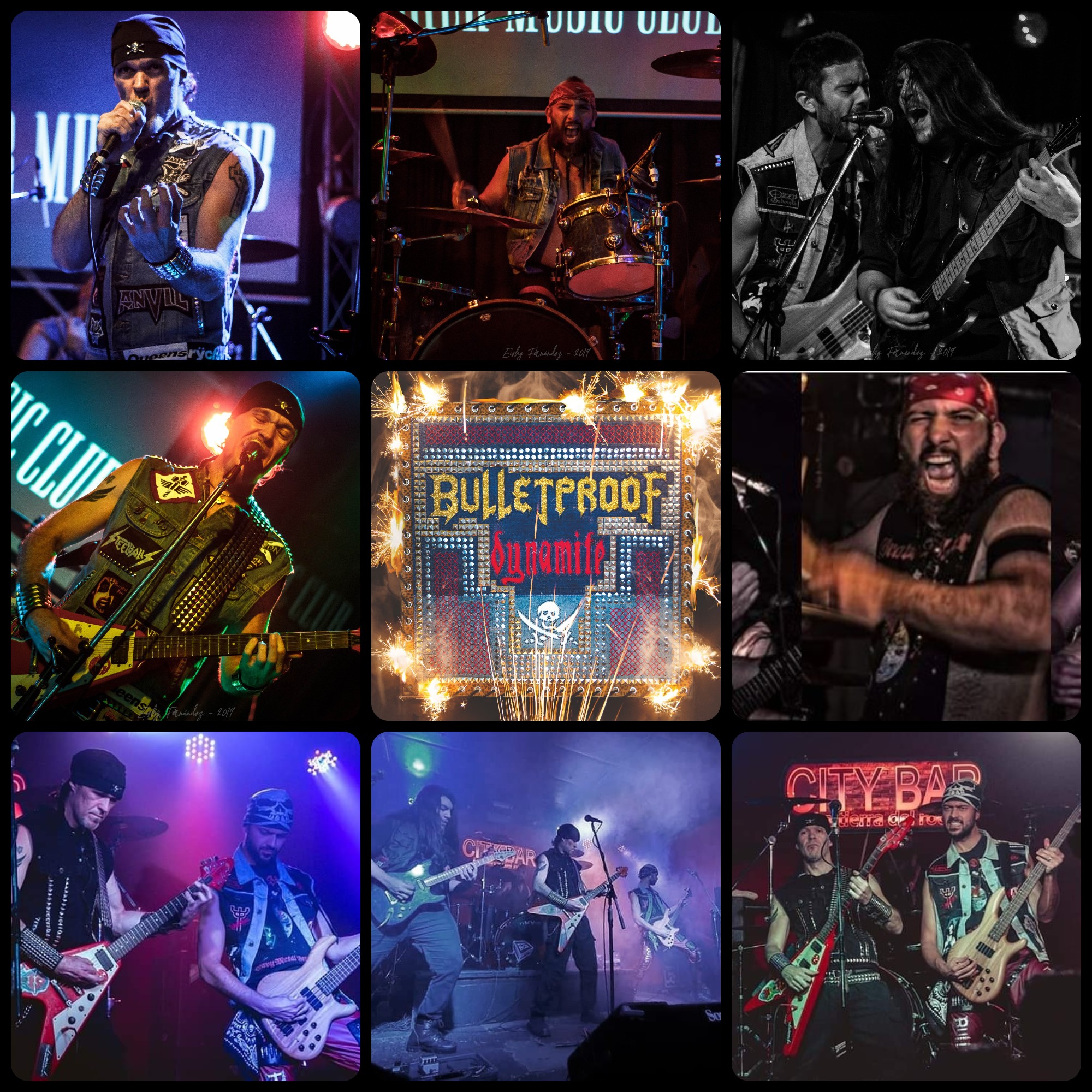 Lineup:
Poli Serafini: Lead vocal / Guitar
Matías Pena: Drums
Martín De Bonis: Bass guitar / Vocals
Ariel García: Lead Guitar / Vocals
Follow the band at these links:
https://www.facebook.com/bulletproofok/
https://www.facebook.com/ossuaryrecords
https://ossuaryrecords.bandcamp.com/
https://ossuaryrecords.com/en/
https://www.youtube.com/channel/UChzzVdKKRZE79cO9E8syH6w