Fugatta - The Darkest Planet - Reviewed At The Dark Melody ! Check it out here at this link: https://thedarkmelody.com/fugatta-the-darkest-planet-album-review/
Good to all readers of The Dark Melody. Today I will talk about the Mexican band Fugatta which is originally from Guadalajara, Jalisco and really very little known here, but that does not mean that it does not have quality because with their debut album "Mystic Kingdom" (2011) they showed that they have talent and left the feeling that in the future they were going to give us better works and that it would only be a matter of time to polish the musical ideas. We saw better things with "Tales of a New Century" (2019), an album that made Mexicans take a leap in quality thanks to its good sample of Symphonic Power Metal in the European style and a larger production that surpassed that of its debut album.
With the current lineup Daniel Viña (vocals), Hugo Medina (bass), Homero Lezama (keyboards), Eusebio Medrano (guitar) and Nash Zalmeron (drums), those from Guadalajara come with the intention of consolidating in the genre presenting their third studio work "The Darkest Planet", a work that remains faithful to the style of the band although with a greater presence of orchestral elements. The album covers a theme that subtly speaks of the problems that exist today in the whole world, such as hunger, wars, the destruction of nature and diseases, this is done in order to raise awareness in humanity since we must be careful with technology because it is quickly replacing us to a degree that will lead us to lose control and will come to dominate us. completely. Before starting to analyze piece by piece it is important to mention that in the compact we will find the collaboration of great artists such as vocalist Ivan Giannini (Derdian, Vision Divine) and guitarist Alberto Rionda (Avalanch).
Now the welcome is given by the song "Overture XXI" which is an emblematic instrumental introduction that aims to immerse us fully in the album with its fabulous sound structure, giving way to the energetic "The Dark Land We Belong" a song that makes us remember the glory days of Power Metal with multiple musical rotations that do not manage to unearth the compositional complexity or deeper motifs, but with his emotionality and technique he manages to get great melodic hooks.
In the third tier comes "Sons of Syria" where the speed on the guitars and the keyboard melodies next to the soaring hooks are well defined by elongated guitar notes that represent Power Metal in its most heartfelt form, reminiscent of the old Helloween with that classic style. In "Beyond the Light" folkloric, orchestral and acoustic sounds are combined, although later their riffs begin to pour power and cane giving us obvious derivations of the progressive rhythmic personality and the vocalist Daniel Viña is in charge of granting a melodic backing.
As for "Slaves of Heaven"it could be said that it has a more marked symphonic charm, in a song where everything is very well balanced powerful guitars, great choruses and attractive keyboard solos, of course none of this is new, of course, but The material that Mexicans handle they do so adequately in all areas. In"Gates of Atlantis" Fugatta manages to deliver us an instrumental of neoclassical bearing and meet the baseline of what makes Power Metal enjoyable, implementing gloomy orchestrations, keyboards that flow like water, and highly guitar solos. technicians.

"Lethal Virus" is a very emotional waltz that with its beautiful keyboard arrangements and neoclassical melody imposes an integral feeling, a piece that also manages to fulfill the baseline of a Powerballad. In"Metal Invaders" the orchestral sparkles unleash an elaborate Symphonic Power Metaltheme that operates at its most energetic and melodically effervescent with very active keyboards and heart-sung choirs performed byDaniel Viña.
As for "Duality (The Inner War)" itis a song that when listening to its musical structure gives us an inescapable feeling of listening to a European band. Here Mexicans opt for a change and a hodgepodge of borrowed sounds and guttural voices creating a good contrast. In"The Freedom of my Spirit"we have a track that moves within the classicPower Metal where I especially admire the chorus as it reminds of Freedom Call at its best.
In the final part "The Dark Land We Belong " is where the stellar collaboration of guitarist Alberto Rionda(Avalanch) appears, although this song is only the Spanish version of the second piece of the album. And to finish the album we have"Metal Invaders" in another version of the song but this time sung by the Italian fashion singer Ivan Giannini (Derdian, Vision Divine) closing the album with a very high musical level.
As I said at the beginning of the review, it was only a matter of time for these Mexicans to bring us great musical emotions and with " The Darkest Plane t" an abysmal growth has been seen in all facets, without a doubt Fugatta'sthird work is the best that those ofGuadalajarahave created in their careers. - The Dark Melody
Release Date: November 17th, 2021
FFO: Iron Maiden, Royal Hunt, Eternal Champion
Location: Mexico
The band has released its third album called "The Darkest Planet" on November 17th 2021.  Which talks about tight spots all around the world.
This album features very talented guests from Mexico and other countries. Ivan Gianini (Vision Divine) from Italy. Alberto Rionda (Avalanch) Spain. Nelson Quirarte (Insertion Loss) Mexico. Lilith Mendoza Mexico. Christian Vázquez Mexico. Oscar Alcalá (MexicaIrish) Mexico.
Also features a choir formed by awesome musicians from their city.
Check out these videos!
Director: Jesús Hagelsieb. Pianist: Antonio Quiroz.
Altos: Isabel Enríquez, Amelia Díaz y Lizette Sánchez.
Sopranos: Laura Echeagaray, Mayra Rosas, Ivón Abraham, Alejandra Luna y Rocío Torres
Tenors: Ezequiel Zavala, Enrique H, Jesús Hagelsieb y Carlos Villegas.
Basses: Santiago Hermosillo, Sergio Chávez y Adolfo Espinoza

The album was mixed by Domingo Trujillo at Dirty Box Studio and mastered by Matias Kupianien (Stratovarius) at 5 by 5 studio.
Check them out on Spotify and add them to your playlists!

Track list:
1.- Overture XXI
2.- The Dark Land We Belong
3.- Sons of Syria
4.- Beyond the Light
5.- Slaves of Heaven
6.- Gates of Atlantis
7.- Lethal Virus
8.- Metal Invaders
9.- Duality (The Inner War)
10.- The Freedom of my Spirit
11.- The Dark Land We Belong (Spanish Version ft. Alberto Rionda)
12.- The Metal Invaders (ft. Ivan Giannini)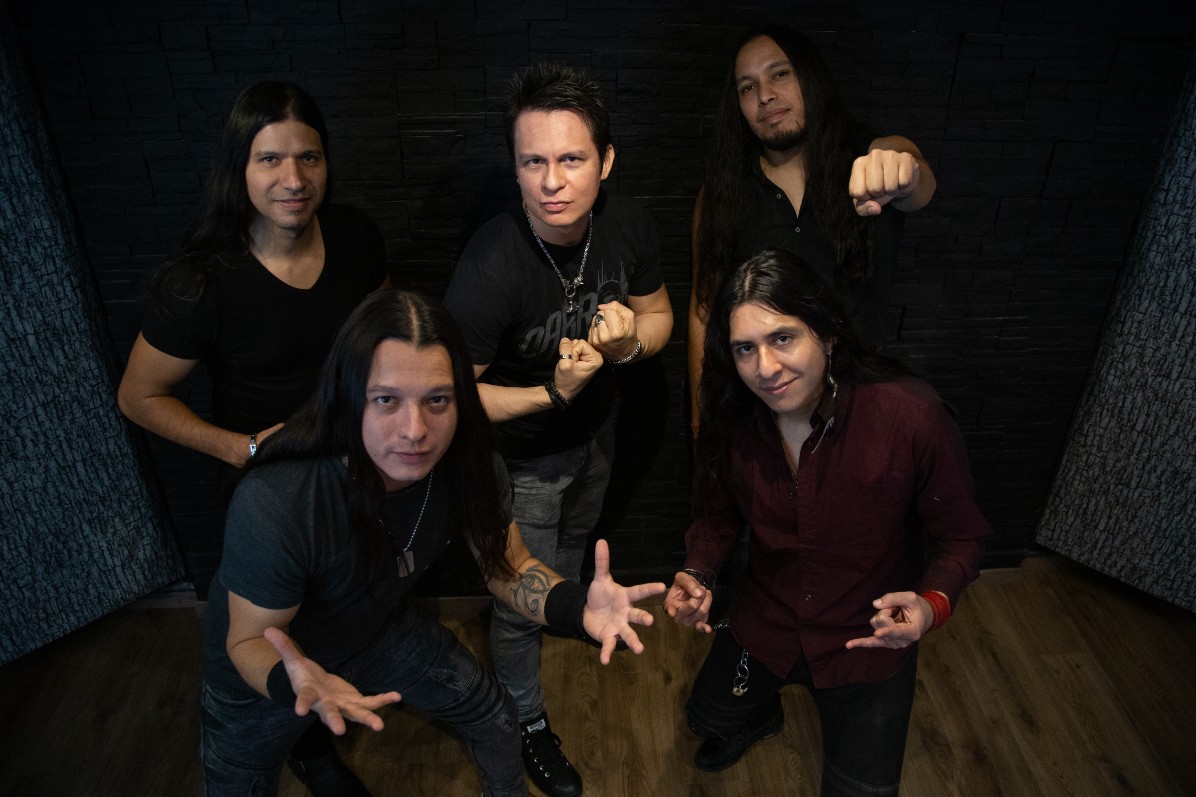 Follow the band at these links:
https://open.spotify.com/artist/2fzZgGz19IqLpG8wqqalVV
https://www.facebook.com/Fugatta/
https://www.youtube.com/channel/UCrPPX8TnCR4pzpbuWj3rW3Q
https://www.instagram.com/fugattaofficial/