Evoking Winds - Towards Homestead - Reviewed By MetalReviews.com ! Check it out here at this link: https://www.metalreviews.com/reviews/album/10673
Without doing any research I knew right away that Evoking Winds come from Eastern Europe. Only an Eastern European band can relay the Russian/Ukrainian folk melodies so profoundly. You had to be born with these sounds to meld them into blackened folk Evoking Winds plays. If any doubts of the band's origin persisted, they are completely removed when epic Oh, Black Raven, Leave Me starts playing, showcasing a traditional folk song of ancient Russian warriors heading into battle. Sad, full of soulful hardship, melody runs into a wall of blastbeats and fuzzy guitars, and, throughout that background, melody continues to prominently dominate, resonating with anyone who has heard Oh Black Raven even once. (I remember once discussing with my wife as to how Oh Black Raven has to make an excellent metal cover, and now someone had done it).
Investigating Evoking Winds origin shows that the band started in Belarus, with members now drifting all over the world, from China to the US. Towards Homestead is the collection of music the band has recorded over the years. Having settled the issue as to where Evoking Winds come from, I can't quite resolve whether their main melodic threads on almost every song are played using accordion, harmonica, or a synthesizer tuned to resemble those instruments. Either way these stretchy, sincere, heartfelt melodies will be recognized and appreciated by every Slavic soul, and those not born within the realm of Russia/former Soviet Union can learn to love these listening to Towards Homestead. Adding background tremolo guitar riffs, a heaping dose of blastbeats and dual vocals, both blackened shrieks and incomprehensible bellows, Evoking Winds go through a number of tracks, some of them rather short in terms of length, and create very atmospheric and melodic blackened folk. Whether these songs are Evoking Winds own creations or they are interpretations of Eastern Slavic folk, these compositions absolutely strike the chord and definitely resonate with the listener. Glacial and quiet In the Woods, more percussive and orchestral Yurja, sad and accusatory Why You, River, all of these songs, vocalized with the aforementioned dual approach (Rye by Mountainside), or instrumental (Why You, River, Yurja), Towards Homestead manages never to get trite or boring. The band has a knack of creating just the right quick sketch, and the album never gets repetitive, all the way to the final desperate short lounge Arrow's Burial or worldwide recognized Christmas carol Grateful Night, played by everyone from Savatage to TSO.
If you are into melodic folky side of black/death metal, from the likes of more epic Moonsorrow, folky Korpiklaani (while the booze and fun are taken out), slower and less warrior stanced Amon Amarth, to the ultimate Eastern Slavic Lord Wind and Nokturnal Mortum, Towards Homestead will be a very pleasant listen, even despite its obvious internet collaboration-like cobbled up production quality. - MetalReviews.com
FFO: Moonsorrow, Summoning, Finntroll, Finsterforst, Equilibrium
Release Date: August 10, 2021
Atmospheric metal meets folklore fantasy in music by Evoking Winds. It's a mixture of stormy blast beats with an epic ambiance and a healthy dose of Eastern Europe's dark tales.
Bio:
The band was originally founded by Artyom Prishchepov together with Ivan Sereda in Belarus in 2008 as the way close friends created music together. They composed music for years just for fun and inspiration, and the band has eventually grown: adding Yaroslav Korotkin on vocals and bass, Sergey Shulzhenko (keys and orchestration), Dmitry Sarychau on guitars, and Alexander Cherepanov doing vocals. Today the musicians live around the world: Belarus, USA, China, Russia - and collaborate online. Recently they decided to re-mix and issue all of their music digitally available for everyone for free, featuring James Knoerl on drums and programming. Starting with the very first works they walk the journey again opening new chapters together. This sense of friendship is something everyone really started to value during pandemics and isolation.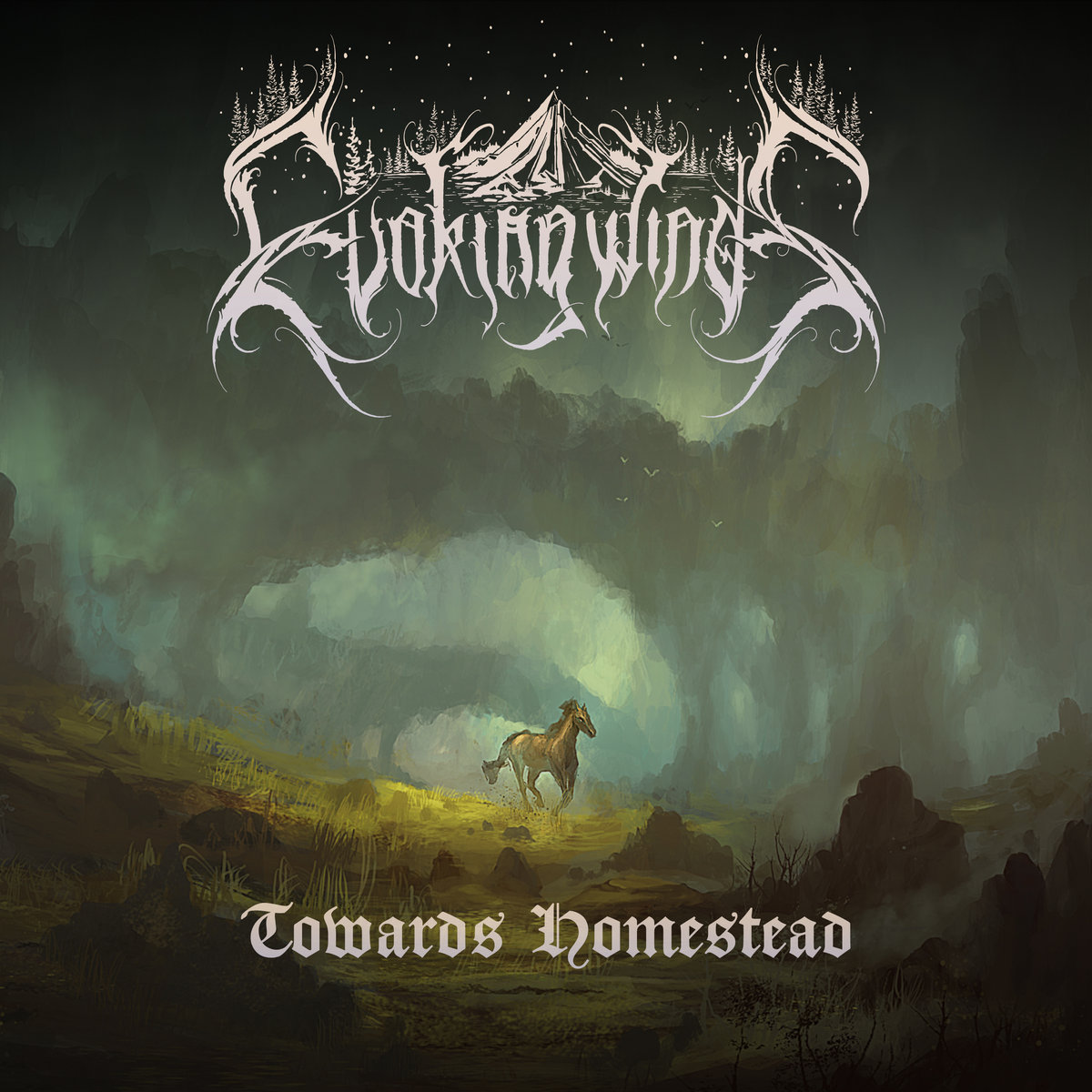 Follow the band at these links: 
https://www.youtube.com/channel/UCkvrxEe4T1lcXRQmosJUWfw
https://open.spotify.com/album/3dEeDCFhQR4jvzayrYSza9?si=l17acjSCRzalFJzTe5dZ5A&dl_branch=1
https://music.yandex.com/album/16903783
https://evokingwinds.bandcamp.com/album/towards-homestead