Divine Anger - Behind The Wall - Reviewed By MetalReviews.com ! Check it out here at this link: https://www.metalreviews.com/reviews/album/10711
Death metal and power metal combined?! Obviously spotting that particular genre mix in the promotional list was enough by itself to get your intrepid auronaut to venture forth! And of course the results aren't quite as awful as they might sound. Or, sadly, as exciting; mixing death metal and power metal suggests some kind of tremendous Deicide/Blind Guardian mash-up but of course in reality it's more likely to be heavy metal riffs with the odd snarled vocal, and sure, Guru of Hate provides plenty of that. For all the Rage vs Morbid Angel dreams that you may have had (and not to rain on any parades but honestly, if Hammerfall x Cannibal Corpse worked at all then surely you'd have heard of it by now?) the sad truth is that these disparate genres go together like apple pie and beef drippings. So the German Divine Anger, who would love to annoy the metal gods by genuinely mashing these very different metal genres together, are destined to be more of a gimmick, not least from the Soulfly-esque title track here, which will most likely annoy you a lot...
Still, you can see what Divine Anger are going for and honestly, why not do something original and piss people off? Sadly nothing else here quite reaches the heights (lows?) of that title track, but what is here is good enough to convince you that Divine Anger have promise. The galloping battery of Behind the Wall is solid enough and shows that were they aspire to more traditional power metal the results would be enjoyable, and the playing (particularly lead guitars) is more than capable. And there's variety with the thrashier moments in D-Day and the closing When Angels Sleep starts with balladic softness before launching into something crunchier and metallic, something like Iced Earth crossed with Armored Saint. That's probably the best piece present despite a too-blunt ending, which suggests a move that way would be the best idea for Divine Anger. A solid debut release, from a talented band that just needs direction. - MetalReviews.com
Divine Anger is an expressive power metal band from another dimension stranded in ours for the time being. The six musicians are pushing hard on their metal journey as they search for a way to get back home.
Fans of Helloween, Iced Earth, Nocturnal Rites, Blind Gaurdian and Nightwish are going to love this!
Believe it or not, Divine Anger is a metal band from another dimension. One moment, they were playing the biggest gig of their life. Next, they woke up here, in a reality that is home to you but alien to them.

For the time being, the six musicians are stranded in our reality but are pushing hard on their metal journey as they try to get back home.

The band plays expressive power metal – a style that ranges from melodic to aggressive but is always catchy as hell! So, you will mainly hear clean vocals in their songs, but you will also often hear screams, growls, or blends from these different vocal styles, inspired by subgenres like melodic death metal or alternative metal rather than specific bands.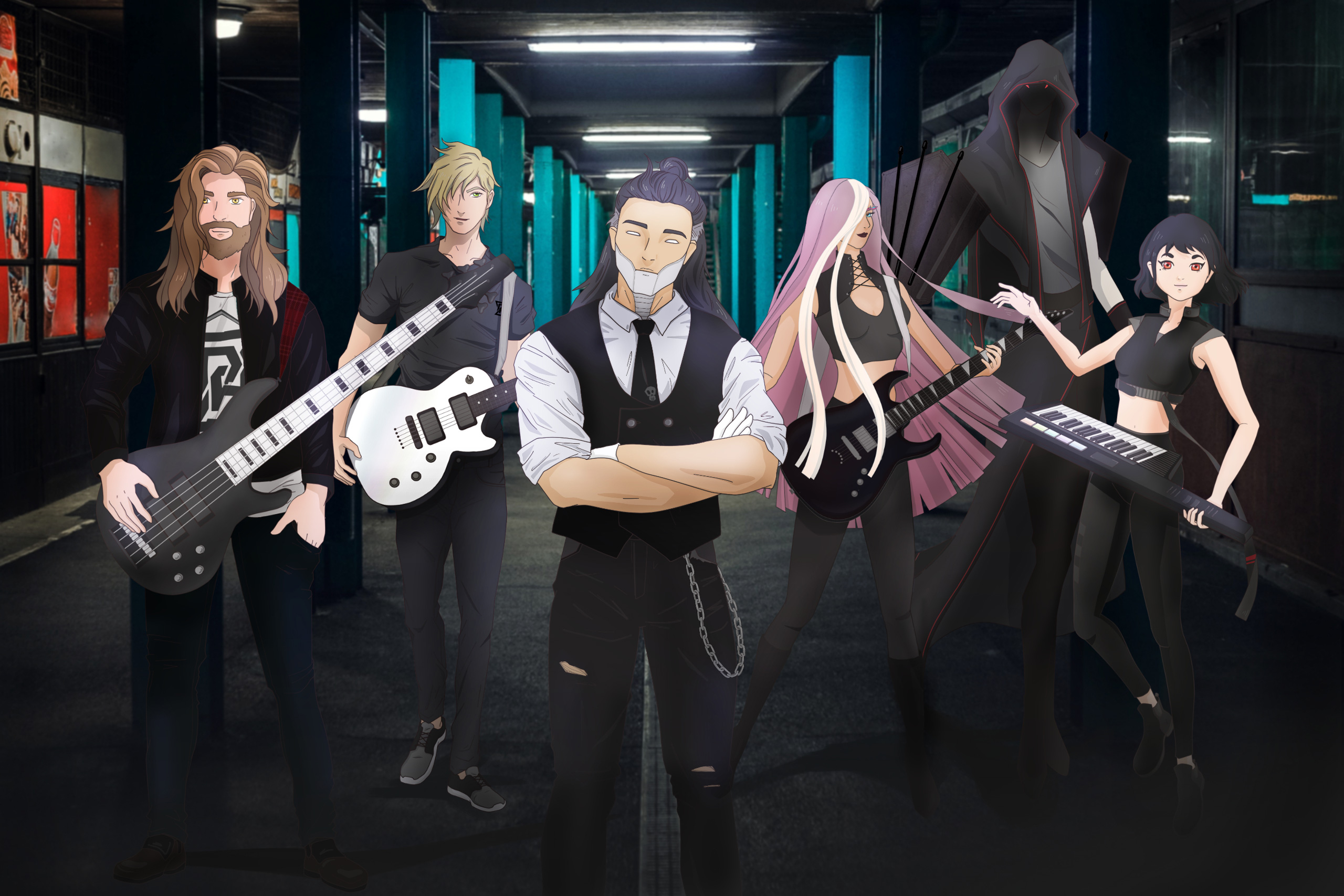 Divine Anger was founded in 2015 by Barry Ross (bass) and Luke Krämer (rhythm guitar), in Hamburg (Germany). With Misaki Hayashi (keyboard), J.J. (lead guitar), Damon (drums), and ART3M (vocals), Barry and Luke found irreplaceable comrades-in-arms, and today, they together form the permanent line-up of Divine Anger.
This year, their first single
Behind The Wall
will be released on December 1. In 2021, a second single (
Always Now
) and their EP
Guru Of Hate
will be unleashed on our ears.
Find out more about this unusual band and its out-of-this-world band members here:
divine-anger.com
.
Follow the band at these link:
www.divine-anger.com