TARA LYNCH Announce US Tour Dates With LAST IN LINE And A European Tour With VINNIE MOORE
US  guitarist, composer, vocalist and songwriter,   TARA LYNCH   (a.k.a. "Gui-Tara"), has announced ' Evil Enough '   US tour dates as special guest with   LAST IN LINE   in December 2021 and a European tour as special guest of  VINNIE MOORE   in January/February 2022.
TARA LYNCH   says: " Obviously, touring on this album was cut short by the pandemic and I want to be able to hit all territories with   Evil Enough   before I drop my new material. "
US tour dates with   LAST IN LINE :
December 2021
Dec 16 - Angola, IN - The Electric Room
Dec 17 - Harrison, OH - The Blue Note Harrison
Dec 18 - Flint, MI - The Machine Shop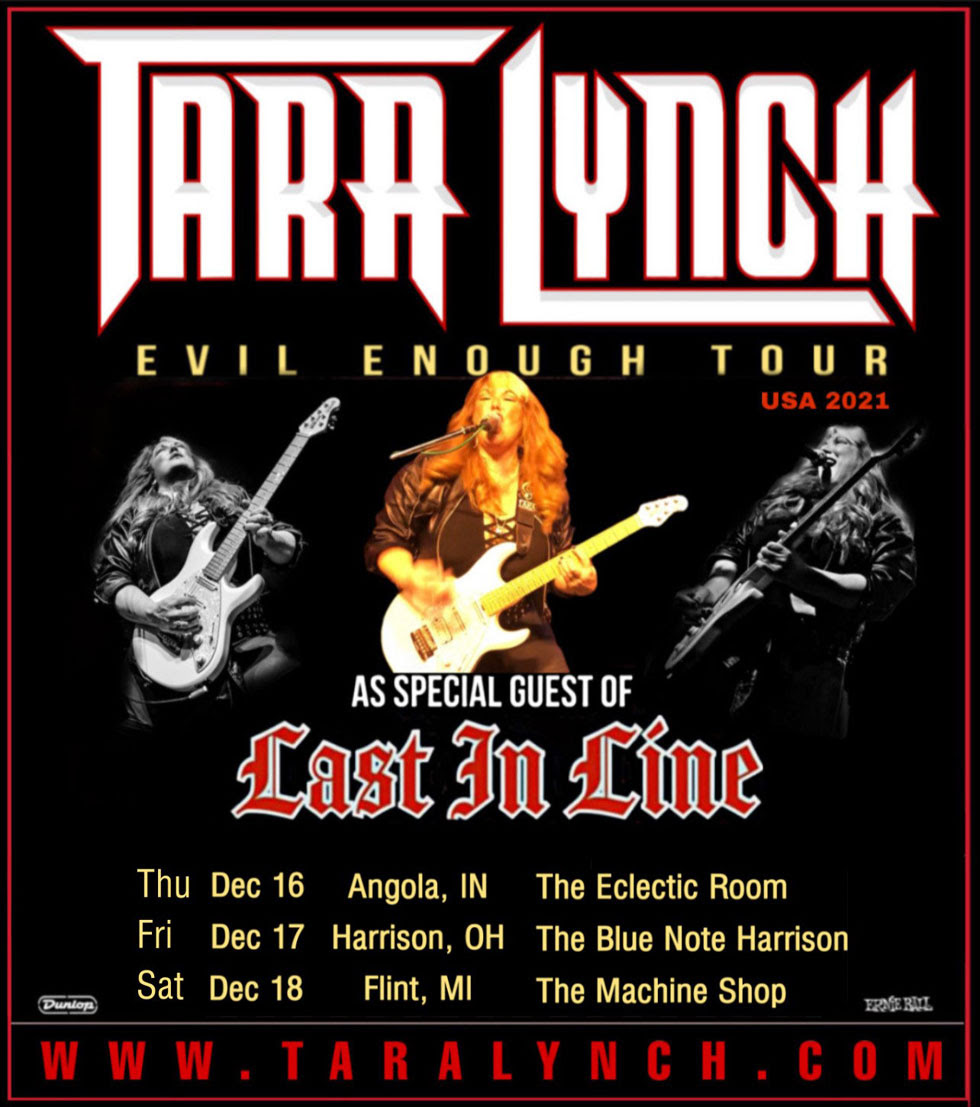 EUROPEAN tour dates as special guest of VINNIE MOORE:
January 2022
JAN 13 LET IT BEER - ROME, ITALY
JAN 15 IL PEOCIO - TROFARELLO, ITALY
JAN 16 BLUESIANA - VELDEN, AUSTRIA
JAN 17 DÜRER KERT - BUDAPEST, HUNGARY
JAN 18 BLUE NOTE - NOVE MESTO, SLOVAKIA
JAN 19 REIGEN LIVE - VIENNA, AUSTRIA
JAN 20 BOUNTY ROCK CAFÈ - OLOMOUC, CZECH REPUBLIC
JAN 21 KINO REGIS - BOCHNIA, POLAND
JAN 22 STARY DOM - DOMECKO, POLAND
JAN 23 BERGKELLER - REICHENBACH, GERMANY
JAN 24 MEISENFREI - BREMEN, GERMANY
JAN 26 7ER CLUB -MANNHEIM, GERMANY
JAN 27 Q-FACTORY - AMSTERDAM, NETHERLANDS
JAN 28 CACAOFABRIK - HELMOND, NETHERLANDS
JAN 29 ZIK ZAK - ITTRE, BELGIUM
JAN 30 SOUTH OF HEAVEN - BILZEN, BELGIUM
February 2022
FEB 02 HIRSCH - METZINGEN-GLEMS, GERMANY
FEB 04 DOWNTOWN - HAMBURG, GERMANY
FEB 05 LOUHISALI - ESPOO, FINLAND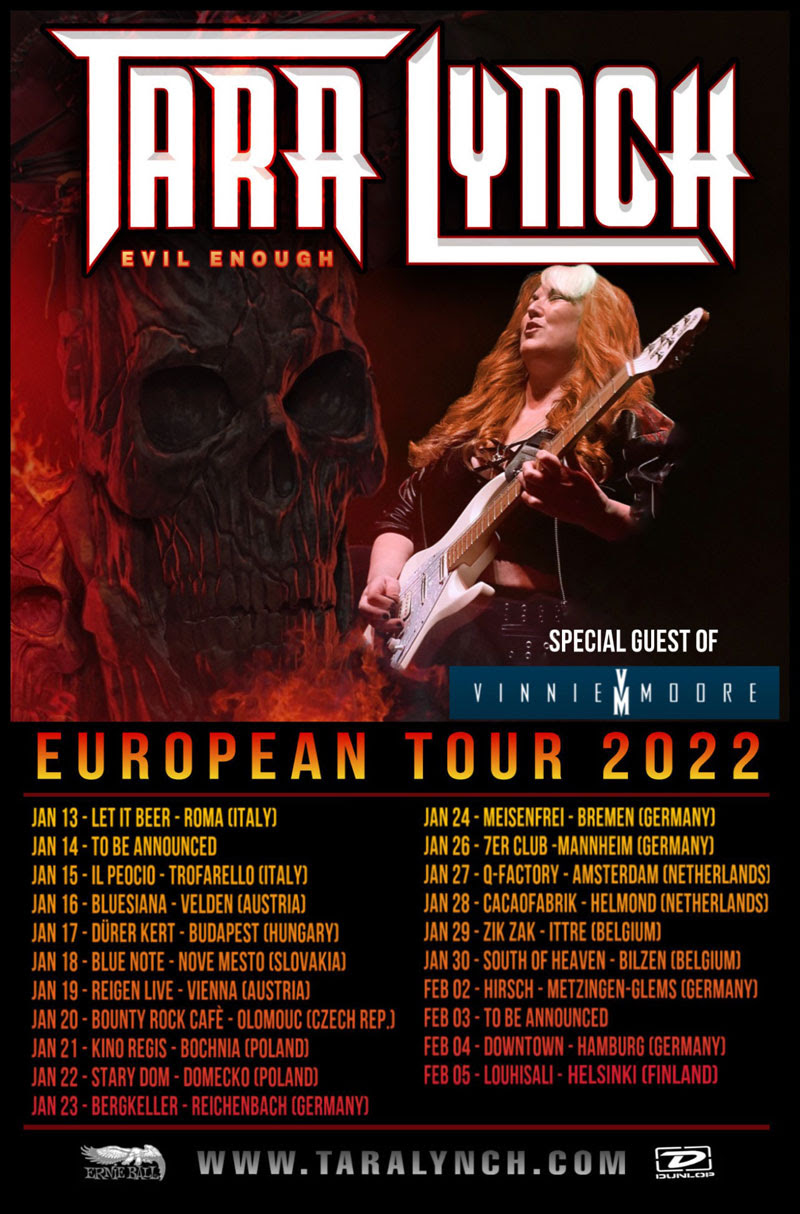 Musicians with as many talents as Tara Lynch (nickname: "Gui-Tara") are a rare find. The American multi-instrumentalist sings, plays the electric and the acoustic guitar, as well as the bass, drums and piano, in addition to composing her own material from an early age. At the same time, she enjoys an excellent reputation among her colleagues and not only deployed her own skills on her current album Evil Enough but was supported by international stars such as Vinny Appice (Black Sabbath/Dio), Tony MacAlpine, Phil Soussan (Ozzy Osbourne/Billy Idol), Mark Boals (Dokken/Yngwie Malmsteen, Ted Nugent), Brent Woods (Vince Neil/Sebastian Bach), Glen Sobel (Alice Cooper) and Björn Englen (Quiet Riot/Yngwie Malmsteen) as guest musicians. "They all welcomed the opportunity to play the songs I wrote and each guest put their own special vibe and feeling into each track, making them sound just perfect!"
And indeed Tara Lynch has succeeded in recording an outstanding rock album in Evil Enough, which – despite the renowned guest contributions – focuses mainly on her expressive voice, her intelligent, elegant guitar style and her mature songwriting. Says Tara: "I prefer to think of the guitar as a form of art and not just a tool to create music with, which is why there are four instrumental tracks on Evil Enough. My musical taste varies widely, and though I'm a huge fan of the instrumental guitar genre, my favourite bands have a vocalist and a guitarist that really takes advantage of melodies and not just pure shred."
For this reason Lynch, who has studied with Steve Vai (Frank Zappa, Alcatrazz, David Lee Roth), Chad Smith (Red Hot Chili Peppers) and Derek Sherinian (Dream Theater, Black Country Communion, Joe Bonamassa), among others, relies primarily on inspiration and instinct, despite her accomplished technical skill: "What you hear is exactly what comes out of me without any pre-programmed ideas. I have lived quite a colourful life thus far and have lots of things to talk about, so when I write my music I just say it like it is. I do the same with my guitar playing. I'm not out there to impress anybody, just to tell my story and hope that people enjoy what they hear and can even relate." And that's exactly what she's achieved in all ten songs on Evil Enough. Care for some examples? 'Antidote' is the first single and official music video released from the album. Tara: "This track tells the story of an all too familiar situation for a lot of people where the one closest to them hurts them so much that they resort to welcoming the company of others as an antidote."

In March/April 2019, Tara embarked on her EVIL ENOUGH TOUR in the UK & Ireland as special guest of UFO where the crowds filled each and every venue to capacity to see Tara open each night, which is very unusual for an opener! The tour was a great success.
In October 2019, TARA continued her EVIL ENOUGH TOUR joining the ranks of artists Lamb Of God, Anthrax, Suicidal Tendencies, Queensryche and many more, rockin' the high seas on the MEGADETH MEGACRUISE where she put on her touring show and also participated in a Q&A and artist/cruiser jam session.
November 2019 through February 2020 saw Tara continue her EVIL ENOUGH TOUR in the USA (as special guest of Last In Line) right up until the pandemic lockdowns which brought touring to a halt around the world for the remainder of 2020 through half of 2021.
 
Once the pandemic lockdowns were lifted and live shows resumed, Tara Lynch came back out to headline the HeartSupport stage in September 2021 at the sold out Blue Ridge Rock Festival in Danville, Virginia where 160,000 tickets were sold.
 
Beginning mid-December 2021 Tara Lynch resumes her EVIL ENOUGH TOUR both in the USA (as special guest of Last In Line) and in Europe in 2022 (as special guest of Vinnie Moore).
 
www.taralynch.com
www.facebook.com/TaraLynchOfficial