NERVOCHAOS - Dug Up - Reviewed By Soundmagnet ! Check it out here at this link: https://www.soundmagnet.eu/nervochaos-dug-up-diabolical-reincarnations-album-review/
On the occasion of the 25th birthday of the Brazilian death metal band  Nervochaos, the band is releasing a kind of Best Of to celebrate the day.  Dug Up (Diabolical Reincarnations)  is the name of the good piece and includes 13 tracks from the early years of the band, which were not only re-recorded, but also rewritten.
The first is  I Hate Your God,  a song that is mostly in the mid-tempo segment and comes across as quite linear, catchy and powerful with driving drums.
An opener like it doesn't get any better
Envy,  on the other hand, does not take any prisoners from the beginning, gets on the gas enormously and drives out of the plant with full brute force. Apparently, the band is warmed up at this point and delivers a similar bolt at  Putrid Pleasures,  which is additionally garnished with nasty sounding guitar melodies.  Pazuzu Is Here  is dedicated to mesopotamian wind demons in a more than worthy way and can be considered the highest quality headbang and mosh material. The proof of this can be found  HERE .
Mighty Justice  comes across as a bit more thrashy at first, but quickly fits into the round of thunder weather that has distinguished the previous album before  Upside Down Cross  rings as a crisp old school death metal number with blast beats en masse at halftime.
The Urge to Feel Pain  also gives in full on the twelve and boards without regard to losses, which is also true for Dark Chaotic  Destruction,  whereby here a few smaller breaks are built in, but which are primarily intended to get new momentum. With  Nervochaos  there is also a self-titled track, which is in parts punk or sometimes more doomy, before you concentrate with  Pure Hemp  for a whole 50 seconds back on the core business and knock out an almost grindcore-like number.
Huge thunder weather
Towards the end of the album, a certain prayer wheel-like repetition can no longer be avoided, because  Scavengers of the Underworld,  just like  Perish Slowly,  simply brutally punch in and put the home furnishings in noticeable danger.
The Devil's Work  takes some pressure off at the end and moves in rather slower climes, but represents a memorable conclusion to this more than pleasantly designed Best Ofs.
---
Conclusion
Nervous chaos  celebrates birthday with  Dug Up (Diabolical Reincarnations)  and lets the masses participate in it. For fans of the band, this offers the opportunity to experience the old classics in a new guise, while newcomers will find a perfect starting point to take a closer look at the band – which they definitely should.  8 / 10 - Soundmagnet
Release Date: November 19, 2021
FFO: Kreator, Vader, Sepultura
The Korporation is proud to announce its collaboration with Brazilian Death Metal heavyweights NERVOCHAOS for the band's 25th anniversary celebration in the form of a new album made of exhumed cadaverous material from their early discography, completely rewritten and re-recorded, titled "Dug Up (Diabolical Reincarnations" in stores Nov.19 on CD and digital.
Featuring brand new versions of songs originally appearing on the band's fourth full-length ("Payback Time" 1998, "Legion of Spirits Infernal" 2002, "Quarrel in Hell" 2006 and "Battalions of Hate" 2010) and 2014's "The Art of Vengeance"! This 9th studio album will come in its XENOKORP North American and European exclusive version, as a 500 copies limited edition deluxe DigiPak CD first print. with preorders launching on Aug.24.
Pursuing the celebrations, NERVOCHAOS will embark on yet another world tour in 2022 with an European leg in April alongside cult unholy Death Metalers MERCYLESS.
Check out this video!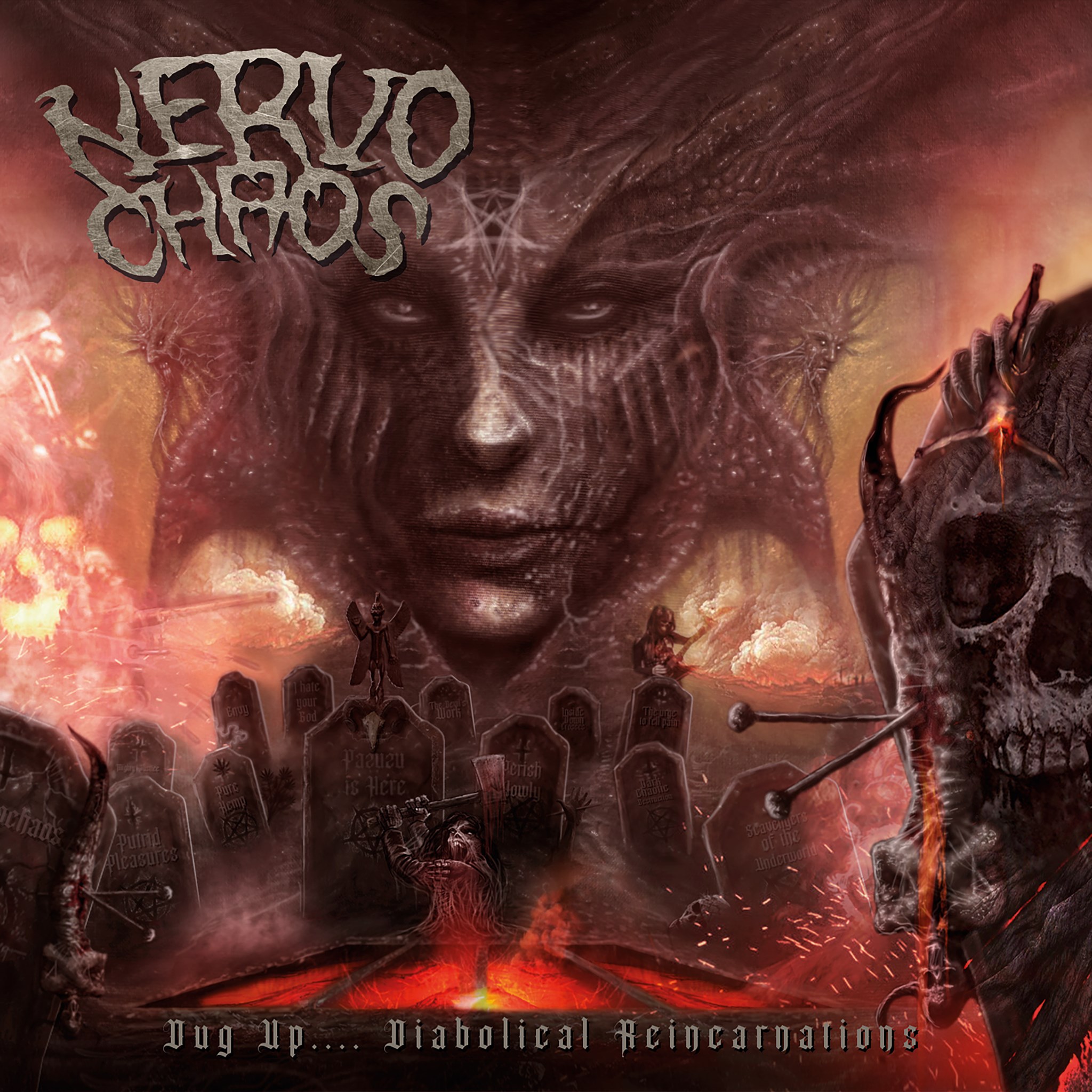 TRACK LIST:
I Hate Your God
Envy
Putrid Pleasures
Pazuzu Is Here
Mighty Justice
Upside Down Cross
The Urge to Feel Pain
Dark Chaotic Destruction
Nervochaos
Pure Hemp
Scavengers of the Underworld
Perish Slowly
The Devil's Work
LINE UP
Brian Stone - Vocals
Luiz "Quinho" Parisi - Guitars
Woesley Johann - Guitars
Pedro Lemes - Bass
Edu Lane - Drums
CREDITS

All music & lyrics by Nervochaos
Recorded at Abracadaver studio in May 2021
Mixed and mastered by Brendan Duffey
Artwork and layout by Edu Nascimento
Follow the band at these links:
https://www.facebook.com/NervoChaos