NERVOCHAOS "DUG UP... DIABOLICAL REINCARNATIONS" - Reviewed By Beyond Metal!
NERVOCHAOS "DUG UP... DIABOLICAL REINCARNATIONS" - Reviewed By Beyond Metal ! Check it out here at this link: https://beyondmetal.blogspot.com/2021/11/review-nervochaos-updiabolical.html?m=1
Nervochaos, are Brazilians who had lost track of them since we interviewed them in these same spaces. On that occasion they were divulging their "To The Death", it was then their fifth full-length, from there until today, it is quite the water that has run under the bridge, more albums, more tours, and more experience, one that has led them to travel a considerable number of sites and be on occasion a token of the mythical Brazilian record label Cogumelo Records. "Dug Up... Diabólical Reincarnations", is presented to us as an album of songs from their previous works mainly from their first albums, "Payback Time" (1998), "Legion of Spirits Infernal" (2002), "Quarrel in Hell" (2006) and "Battalions of Hate" (2010) making a small leap interspersed with "The Art of Vengeance" of 2014, mainly it is the celebration of the twenty-five years of the band's career, this ninth production of the Brazilians, more than a Marketing strategy, we could catalog it simply as a new re-recording of old songs, thirteen tracks where Nervochaos do not lose the habit of giving us many grooves based on chosen themes quite direct and very short, the Death Thrash Metal, splashes the walls, crystal clear sound, where all the instruments are heard perfectly, but still do not get confused because the distortions of guitars used here sound deadly, excellent definition in terms of production, the truth was played, detail that should not be strange for those who have heard them before, relating the original themes of the albums mentioned and these tracks is not much the difference, these sound more direct and more polished of the rest all the same, the interesting thing about "Dug Up... Diabólical Reincarnations" is that the band keeps its attention on deploying a tense and violent exposure of Metal that keeps us awakened throughout the duration of the material. Even they have not gained a status or a massive recognition of some Sepultura, or some Krisiun, however they have always maintained that energy to play good Metal. - Beyond Metal
Release Date: November 19, 2021
FFO: Kreator, Vader, Sepultura
The Korporation is proud to announce its collaboration with Brazilian Death Metal heavyweights NERVOCHAOS for the band's 25th anniversary celebration in the form of a new album made of exhumed cadaverous material from their early discography, completely rewritten and re-recorded, titled "Dug Up (Diabolical Reincarnations" in stores Nov.19 on CD and digital.
Featuring brand new versions of songs originally appearing on the band's fourth full-length ("Payback Time" 1998, "Legion of Spirits Infernal" 2002, "Quarrel in Hell" 2006 and "Battalions of Hate" 2010) and 2014's "The Art of Vengeance"! This 9th studio album will come in its XENOKORP North American and European exclusive version, as a 500 copies limited edition deluxe DigiPak CD first print. with preorders launching on Aug.24.
Pursuing the celebrations, NERVOCHAOS will embark on yet another world tour in 2022 with an European leg in April alongside cult unholy Death Metalers MERCYLESS.
Check out this video!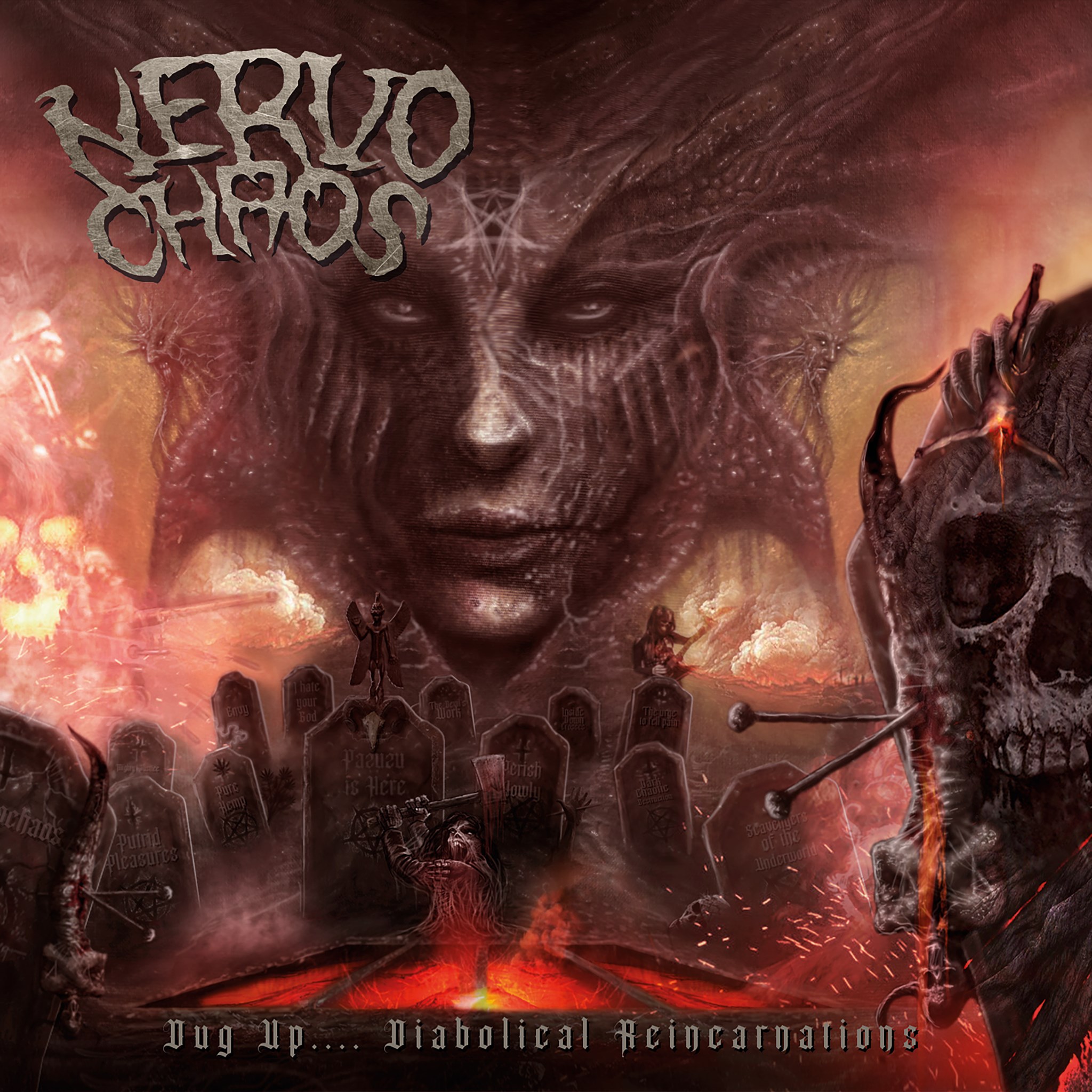 TRACK LIST:
I Hate Your God
Envy
Putrid Pleasures
Pazuzu Is Here
Mighty Justice
Upside Down Cross
The Urge to Feel Pain
Dark Chaotic Destruction
Nervochaos
Pure Hemp
Scavengers of the Underworld
Perish Slowly
The Devil's Work
LINE UP
Brian Stone - Vocals
Luiz "Quinho" Parisi - Guitars
Woesley Johann - Guitars
Pedro Lemes - Bass
Edu Lane - Drums
CREDITS

All music & lyrics by Nervochaos
Recorded at Abracadaver studio in May 2021
Mixed and mastered by Brendan Duffey
Artwork and layout by Edu Nascimento
Follow the band at these links:
https://www.facebook.com/NervoChaos