Nervochaos - "Dug Up... Diabolical Reincarnations" - Reviewed By WOM!
Nervochaos - "Dug Up... Diabolical Reincarnations" - Reviewed By WOM ! Check it out here at this link: https://worldofmetalmag.com/elementor-52646/
The press release points out that Fool's Ghost are currently challenging the notion of what is heavy in music, and we absolutely agree. In practical terms we can't say that is near metal. There aren't (precisely) distorted guitars neither frantic rhythms. However, we do have the ambience: a ghostly oppressive ambience that settles in without giving us any chances. In the other hand, it allows us to grow while also allowing us some measure of hope or at least scraps of said hope scattered in the horizon. Stylistically, it's not an easy work to categorize. It makes you want to call it ambient doom, though, because it encapsulates these both worlds and many other things. "Touch" is a hymn capable of moving even the most stuck piece of marble and as it, there are many others that leave us defenseless to our own feelings. Before the abyss but simultaneously with the will to jump to it, head first; which ends up happening, eventually, throughout these forty two minutes. - WOM
Release Date: November 19, 2021
FFO: Kreator, Vader, Sepultura
The Korporation is proud to announce its collaboration with Brazilian Death Metal heavyweights NERVOCHAOS for the band's 25th anniversary celebration in the form of a new album made of exhumed cadaverous material from their early discography, completely rewritten and re-recorded, titled "Dug Up (Diabolical Reincarnations" in stores Nov.19 on CD and digital.
Featuring brand new versions of songs originally appearing on the band's fourth full-length ("Payback Time" 1998, "Legion of Spirits Infernal" 2002, "Quarrel in Hell" 2006 and "Battalions of Hate" 2010) and 2014's "The Art of Vengeance"! This 9th studio album will come in its XENOKORP North American and European exclusive version, as a 500 copies limited edition deluxe DigiPak CD first print. with preorders launching on Aug.24.
Pursuing the celebrations, NERVOCHAOS will embark on yet another world tour in 2022 with an European leg in April alongside cult unholy Death Metalers MERCYLESS.
Check out this video!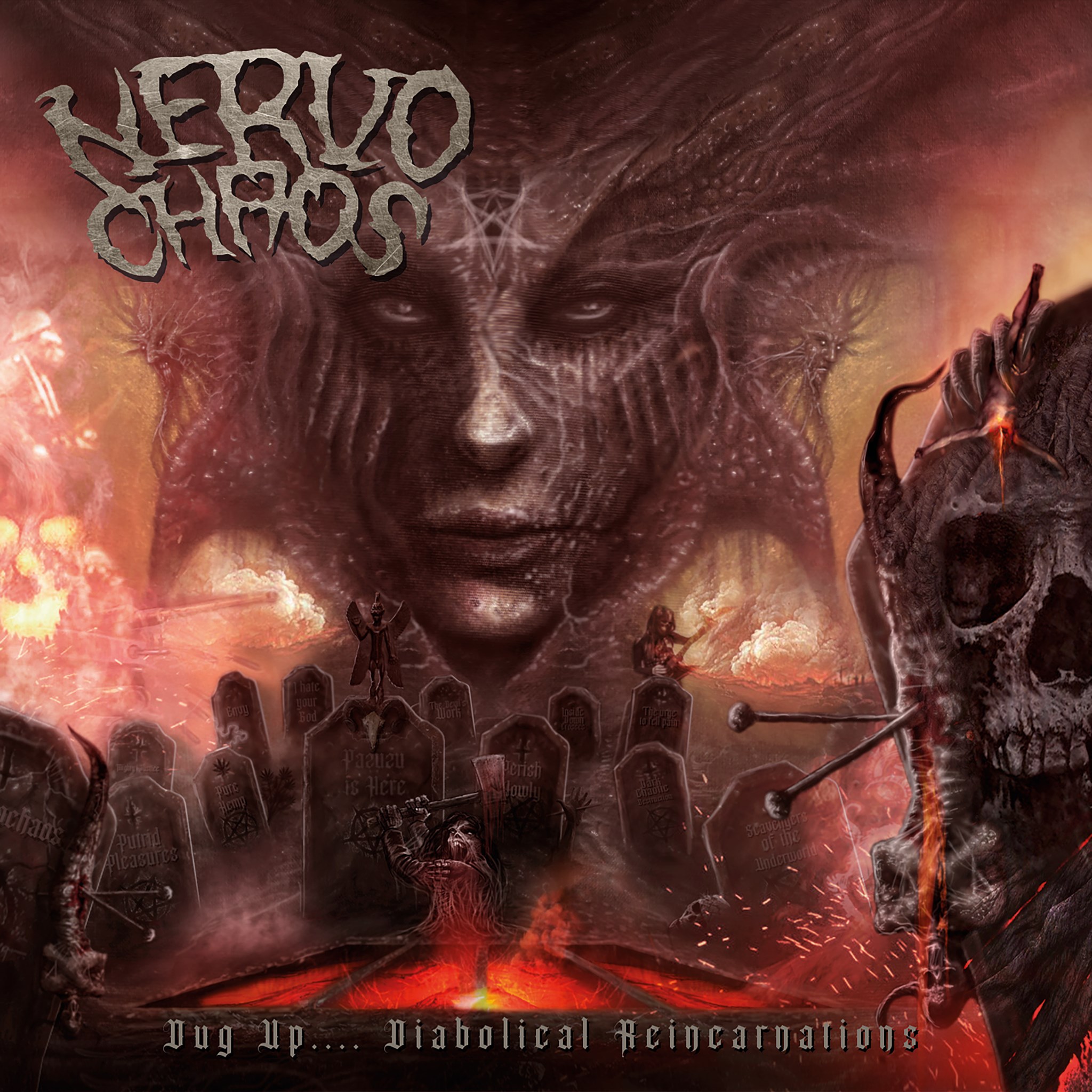 TRACK LIST:
I Hate Your God
Envy
Putrid Pleasures
Pazuzu Is Here
Mighty Justice
Upside Down Cross
The Urge to Feel Pain
Dark Chaotic Destruction
Nervochaos
Pure Hemp
Scavengers of the Underworld
Perish Slowly
The Devil's Work
LINE UP
Brian Stone - Vocals
Luiz "Quinho" Parisi - Guitars
Woesley Johann - Guitars
Pedro Lemes - Bass
Edu Lane - Drums
CREDITS

All music & lyrics by Nervochaos
Recorded at Abracadaver studio in May 2021
Mixed and mastered by Brendan Duffey
Artwork and layout by Edu Nascimento
Follow the band at these links:
https://www.facebook.com/NervoChaos