Kirkerbran / Visegard - " Kirkegard " - Reviewed By The Cold Coffin Spirit ! Check it out here at this link: https://theoldcoffinspirit.com/kirkebrann-visegard-kirkegard-adv-2021/
The Polish label OdiumRecordsspecializes in recording and promoting Black Metal bands,and will launch in late November split "Kirkegard", which brings together two of the most interesting emerging Norwegian entities, both created in the new millennium: KIRKEBRANN and VISEGARD. The work, which will be released on CDs (Digipack),has twelve songs in total, six from each group. There are special appearances, such as "Nattefrost" (NATTEFROST, CARPATHIAN FOREST) on vocals.
The first six tracks are from KIRKEBRANN,which has its name quite suggestive (can be translated as Church Fire).
The band was formed in 2004 in the Western Norwegian Folde region, and practices a sound extremely faithful to the traditions and legacy of the great institutions of the 1990s. What we have in its half of Split is TNBW (True Norwegian Black Metal) of the best quality, which shines amid the crust/punk vein and the carried Black n' Roll quite present, and undeniably exciting.
When the album opens with "Black Metal Blues", the acoustic and quiet intro cheats well, because it quickly realizes that the guys did not come to ride. Slut an insana track, which divides between absolute aggression and a totally captivating middle rhythm. The first impression couldn't be better.
Following we have "Døden byr opp til dans", or "Death offers for a dance". And that dance yields another hit-and-run. Vocals performed with hateful, impeccable instrumental. The correct use of melodies for the sake of obscurity and dark arts has magnificent effect, as is proven here. "Vederstyggelig Samsara" is short but striking. Crust/Black n' Roll irresistible footprint, which induces the breaker.
"Terroritt" takes up the side of insanity, with legal variations on vocals. The most well-drawn moments are very well drawn, and they stick instantly. "Lange netter" or "Long Nights" has exciting melodies, and an aura of wickedness almost palpable, well balanced with the absurd level of aggression. His last track is the "Hedensk dødsmarsj", or "Pagan Death March", closing his side of the Split with gold key, blunt riffs, great rhythmic variations and very nifty acoustic closure (and something Folk).
  The second half of Play belongs to VISEGARD. They are little more recent, from 2007, having originated equally in the West Folde. Fortunately, it is another organization focused on the traditional and true Black Metal of the 90s.
"Skogsdømt" arrives with good riffs and progress mostly in midtempo, it's a good track. "Månedans" has a more melodic inclination, remembering at certain times some great Finnish names of the style. "Draugen" is more effective than the previous duo, creating a denser atmosphere and featuring killer instrumental.
"Fortapelsen" has faster moments very cool, highlight to the trampo of batera. The "Hvor gausta rår" is the band's best band, energetic and choleric in similar measures. The chorus vocals are an interesting touch. "Jerva jakop" has clean folk and vocal elements amid the chaos and ferocity of sound, and closes the record well.
 Beautiful Split, material strongly recommended to connoisseurs of true Norwegian Black Metal. I will follow closely the future releases of both, especially kirkebrann, which gave show in its half of Play. - The Cold Coffin Spirit
Odium Records announces a split of two Norwegian bands - Kirkerbran and Visegard titled " Kirkegard ". Each of the bands prepared six songs. About an hour of pure Norwegian Black Metal rooted in the 90s. Split will be out in November in a form of digpack CD. 
Among the invited guests you will hear Nattefrost . Daniel Vrangsinn of Carpathian Forest is responsible for the mix of vocals on Kirkebrann's side whilst Morfeus known from Limbonic Art is behind the whole of Visegard's production.
Odium Records announces a premiere of the second song from the upcoming split of two Norwegian bands - Kirkerbran and Visegard titled "Kirkegard". This is a song of Kirkebrann called "Døden Byr Opp Til Dans".
Check out these videos!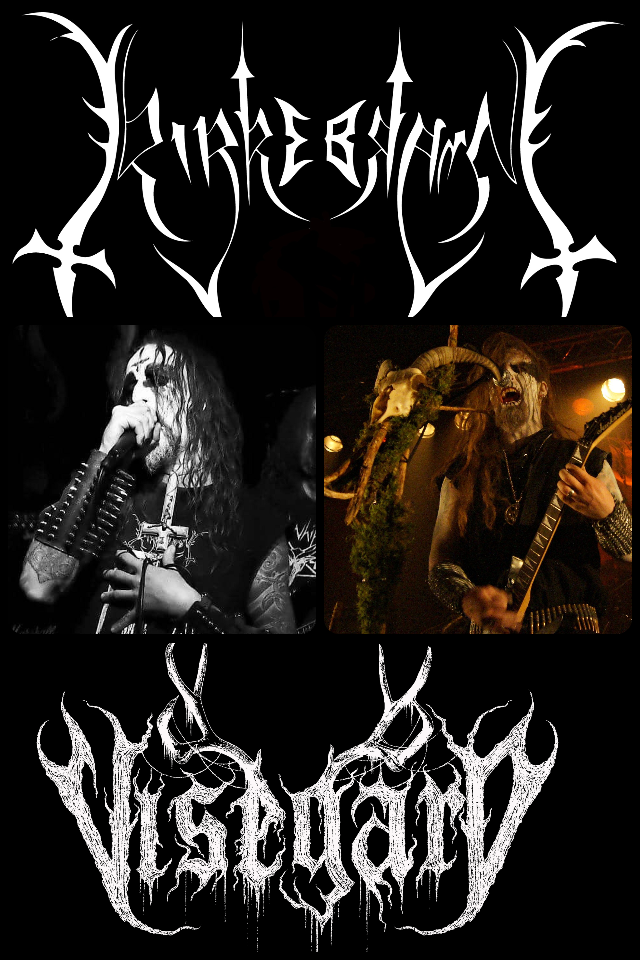 You can also pre order 6 panels digi pack with 16 pages booklet at: https://www.odiumrex.com/webshop or https://odiumrecords.bandcamp.com/
More info at these links:
https://odiumrecords.bandcamp.com/
www.facebook.com/odiumrex
www.facebook.com/Visegardofficial
www.facebook.com/Kirkebrann