LOOSE SUTURES: Metal Injection debuts Sardinian heavy fuzz/garage punk act's new album; out tomorrow via Electric Valley Records
Hear Loose Sutures' new album 'A Gash with Sharp Teeth and Other Tales'

Heavy fuzz/garage punk miscreants  Loose Sutures  will drop their sophomore record,  A Gash with Sharp Teeth and Other Tales , tomorrow ( Friday, October 15 ) via  Electric Valley Records . The Sardinian quartet has teamed up with  Metal Injection  to premiere the album in its entirety ahead of the release date (Stream the album + read full article  AT THIS LOCATION ).

According to Loose Sutures:
"'A Gash with Sharp Teeth and Other Tales' is a journey delving into lust with filthy guitars, stoned rhythms, and creepy voices escorting you deep inside the sticky core of what you fear yet desire. An escape on high heels, a recipe for toxic tastes, an endless nightmare, a tempting little mistress, a white vulture flight — the 10 tracks of the record were born in a sickly strip club, created with love, smoke and alcohol at RKS studio, and are now ready for you.
 
"So, put on your kinkiest outfit and let the record play."

Access the album on digital/streaming platforms  RIGHT HERE  and visit  Bandcamp  or  Webstore  of Electric Valley Records to order vinyl/merch. 

Stream  A Gash with Sharp Teeth and Other Tales
Assembled in June 2019, Loose Sutures is made up of four roughnecks who play classic '70s riffs with a pinch of modern punk attitude, conjuring a blend of stoner and garage energy and displaying an abundance of evil beats, venomous fuzzes, and raunchy lyrics.
Depicting killer profiles and kinky love stories, the Sardinian four-piece presented the self-titled debut LP in March 2020 via Electric Valley Records. During the summer of 2020, the guitarist/singer Gianpaolo Cherchi left the band, and shortly, the young and talented guitar player Giuseppe Hussain joined the ranks.
In February/March 2021, the band recorded their new album, A Gash with Sharp Teeth and Other Tales, at RKS Studio. Embellished with newly discovered sound, this sophomore album brings forth tracks that are harder, faster, and hotter than that of the last release.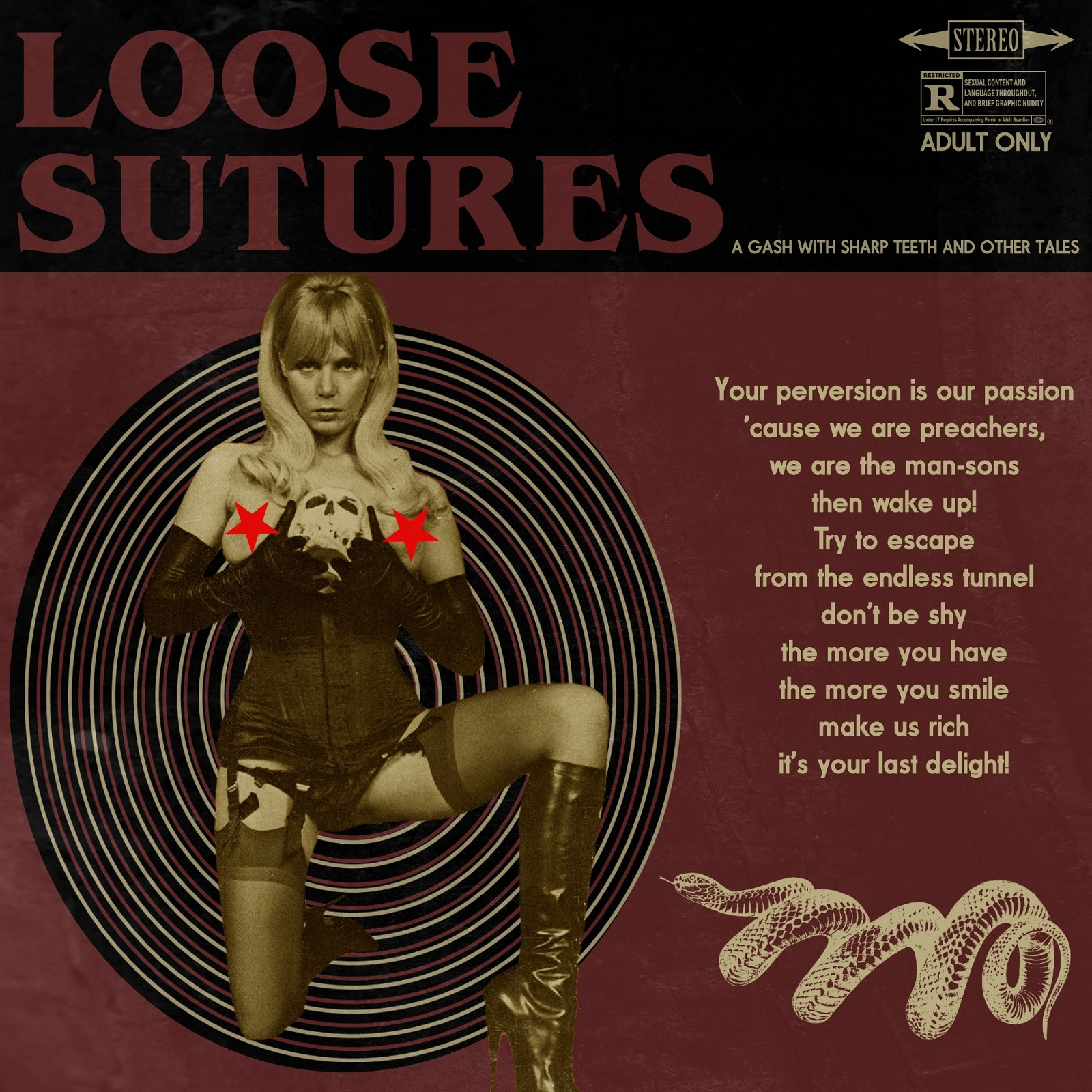 Track Listing:
01. White Vulture
02. Stupid Boy 
03. Sunny Cola
04. Last Cry
05. Mephisto Rising
06. Black Lips
07. Animal House
08. Superfast Shit Kebab
09. Death Valley I
10. Death Valley II
Lineup:
Antonio Pilo – Guitars/Vocals
Giuseppe Hussain – Guitars/Vocals
Marcello Meridda – Bass/Percussion
Marco Angius – Drums/Vocals
Others:
Marco Nieddu – Guitar Solo on "Sunny Cola"
Recorded, mixed, and mastered by Alfredo Carboni at RKS Studio in March 2021.
Artworks by Marco Nieddu.
Loose Sutures:
https://www.facebook.com/loosesutures
https://www.instagram.com/loose_sutures_band
https://loosesutures.bandcamp.com
 
Electric Valley Records:
http://electricvalleyrecords.com
https://evrecords.bandcamp.com
https://www.facebook.com/electricvalleyrecords
https://twitter.com/electric_valley
https://www.instagram.com/electricvalleyrecords