Evoking Winds - Towards Homestead - Reviewed At Powermetal ! Check it out here at this link: http://www.powermetal.de/review/review-Evoking_Winds/Towards_Homestead,38420.html
"Ride on, see you - I could never go with you - No matter how I wanted to." Do any of you know the folk song of the century 'Ride On'? Maybe even in the brilliant cover version of the CRUACHAN milestone "Folk-Lore" from 2002? Exactly the feelings associated with it permeated me when I take a look at the artwork of EVOKING WIND's first work "Towards Homestead". This beautiful colouring, the clever proportioning of the elements and the tasteful lettering create a very deep, thoughtful, almost melancholic mood. The lyrics of 'Ride On' captivate you just as sedentary. But much more important than this (quite subjective) connection to an older folk song is the question of whether the Belarusians succeed in implementing this emotional world musically.
And I fall right into the house with the door: Yes, they can do it. "Towards Homestead" is a digital remix of the original release from 2008, which is hard to get. And I am all the more pleased that you finally get the opportunity to enjoy this gem.
The ingredients are as generic as they are unspectacular. At its core, it is a very dark, black-metallic form of folk metal, which dispenses with jigs and reels and is more dedicated to slower, more epic songwriting. So much closer to the style of MOONSORROW and PRIMORDIAL than to FINNTROLL, ENSIFERUM or EQUILIBRIUM. Thus, in "Towards Homestead" the usual proportion of folk instruments for this genre is very small and actually comes about more through the use of the keyboard. Very often the sound of an accordion is produced, which takes over the melody and integrates very nicely into the overall sound.
Another advantage is the use of two equal singers. Nevertheless, you don't have to panic about the genre's typical weak-chested clear vocals, as only screams and growls can be heard here. The trick of assigning each type of singing to a singer has a positive effect on the listening pleasure and also supports the very lyrical concept. In general, a clear focus was placed on the texts. The highlight here is certainly the album long track 'Oh Black Raven, Leave Me Be', which was sung in another form by Russian soldiers in the Second World War. Longtrack in five and a half minutes? Yes, that's right. The band also makes a good decision here to let their songs settle down to just under two to three minutes and not to prolong the respective song ideas unnecessarily. This has also been experienced too often in this genre.
All in all, this results in a coherent, strong work with one of the greatest album covers of recent times. I really hope EVOKING WINDS takes this new release as a starting signal and presents us with a second album in the near future. - Powermetal
FFO: Moonsorrow, Summoning, Finntroll, Finsterforst, Equilibrium
Release Date: August 10, 2021
Atmospheric metal meets folklore fantasy in music by Evoking Winds. It's a mixture of stormy blast beats with an epic ambiance and a healthy dose of Eastern Europe's dark tales.
Bio:
The band was originally founded by Artyom Prishchepov together with Ivan Sereda in Belarus in 2008 as the way close friends created music together. They composed music for years just for fun and inspiration, and the band has eventually grown: adding Yaroslav Korotkin on vocals and bass, Sergey Shulzhenko (keys and orchestration), Dmitry Sarychau on guitars, and Alexander Cherepanov doing vocals. Today the musicians live around the world: Belarus, USA, China, Russia - and collaborate online. Recently they decided to re-mix and issue all of their music digitally available for everyone for free, featuring James Knoerl on drums and programming. Starting with the very first works they walk the journey again opening new chapters together. This sense of friendship is something everyone really started to value during pandemics and isolation.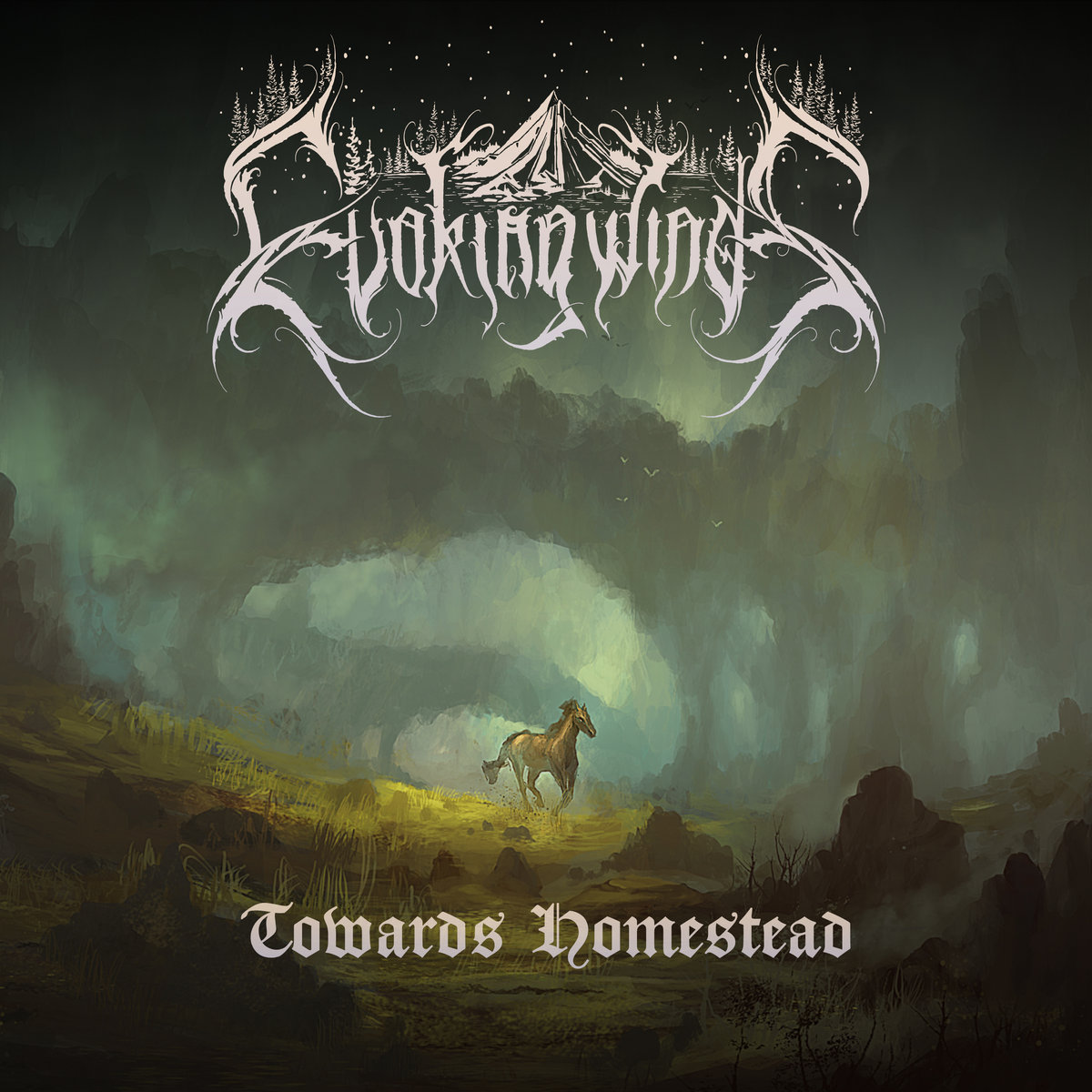 Follow the band at these links: 
https://www.youtube.com/channel/UCkvrxEe4T1lcXRQmosJUWfw
https://open.spotify.com/album/3dEeDCFhQR4jvzayrYSza9?si=l17acjSCRzalFJzTe5dZ5A&dl_branch=1
https://music.yandex.com/album/16903783
https://evokingwinds.bandcamp.com/album/towards-homestead