Orchriste - RE33 Necronomicon - Featured At Mtview Zine ! Check it out here at this link: https://music-mtview.blogspot.com/
Release Date: June 29, 2021
FFO: Amon-Deicide, Vader, Necrophobic
Anno Domini: September 1989 Sweden: A beast was born to transform into the legendary band SEANCE . The demo that started it all for SEANCE and later for the Haunted , Witchery including Johan Larsson and Patrik Jensen ...  True Swedish Metal 100%... 
"This ultradark creature of occult mysticism is coming back to the shadows. Here we have the early SEANCE actually. Their two main members were the core of ORCHRISTE . Yes I am referring to the Swedes Death Metallers SEANCE . Necronomicon was released in 1989. It marries Death and Thrash of the Swedish school, but it also has these rudimentary passages that drag you to the bitter end ... It sounds gloomy and angry at the same time. The re-release comes in cassette and CD from the Greek label Repulsive Echo . The material is remastered and shows its sharp teeth. We support original releases of Death Metal. Tip: Take a look at the line up of the band, but also at the equivalent of the SEANCE that came after. You will not find random names only."
Chris - Forgotten Scroll.
Taken from the RE33 Necronomicon demo by ORCHRISTE pre-SEANCE 1989
Bonus tracks taken by - Live At Nya Strömmen, Norrköping Sweden 08-02-1990 supporting Carcass on Symphonies of Sickness Tour
Mastered by Robbert Kok at Audio Visualz the Netherlands
Layout by Wanderley Perna
Revision art by Ghoul Art instagram @gargoylekellyart
JOHAN LARSSON - Vocals
PATRIK JENSEN - Rhythm guitars
JÖRGEN JOHANSSON - Rhythm and solo guitars
MATHIAS KARLSSON - Bass
JOHAN IMSELIUS - Drums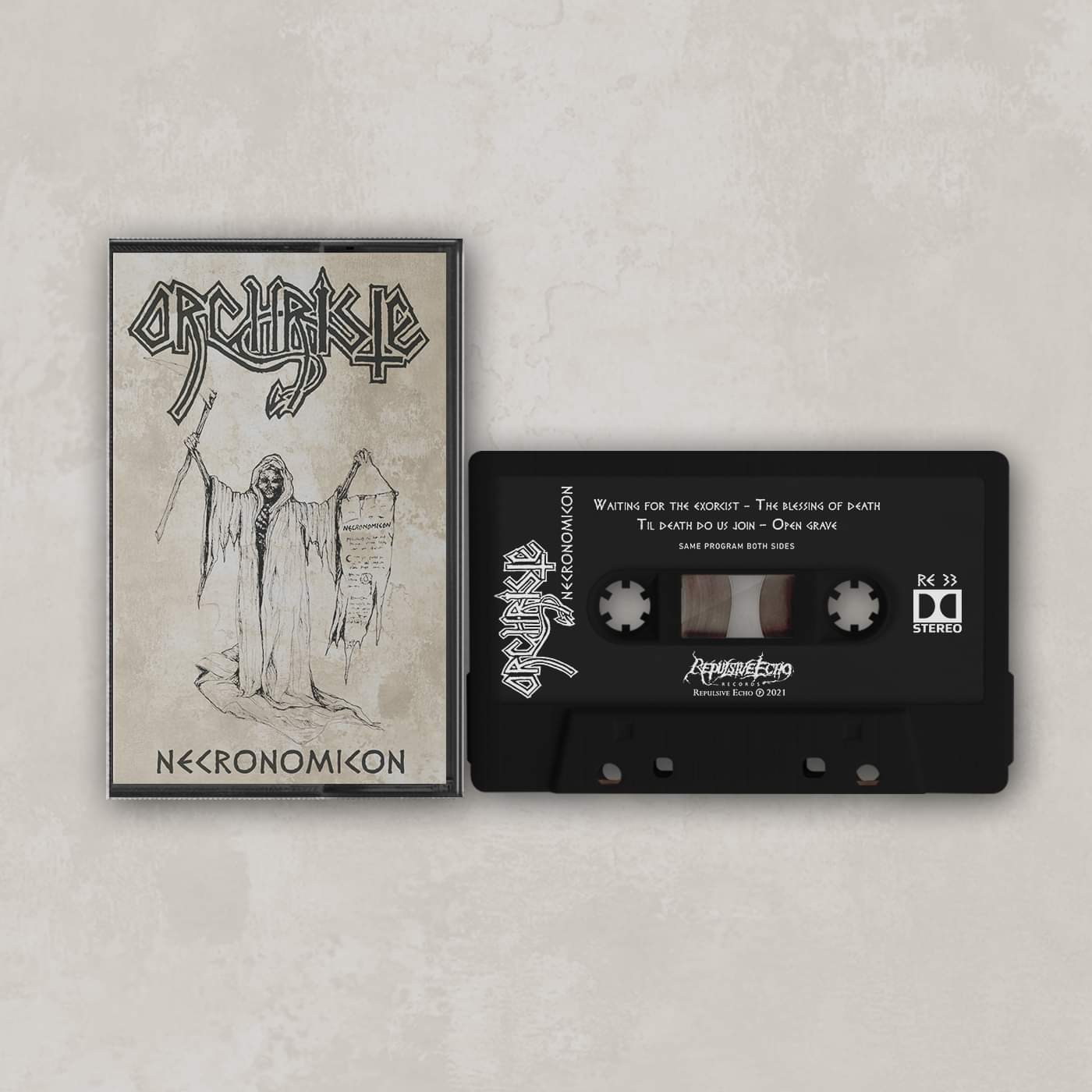 Follow the band here at these links:
https://orchriste.bandcamp.com/releases
https://www.facebook.com/repulsiveecho/
https://www.instagram.com/RepulsiveEcho/