Incognito Theory – Incognito Theory - Reviewed By Zwaremetalen ! Check it out here at this link: https://zwaremetalen.com/albumrecensies/incognito-theory-incognito-theory
Southern Hard Rock, blues rock's swampy marginal cousin who in his spare time stokes moonshine and shoots raccoons. Who doesn't love this? Always something going on with such bands. Yes, stereotypes usually don't add up on any sides, but I can't help it, this genre of music raises certain expectations. So did this next band: Incognito Theory. This group not only plays southern hard rock, the band members also do everything they can to strengthen the southern image. For example, the cowboy hats are prominently present in photos of these gentlemen.
And yet it's not all confederal flag that strikes the bell. The band hails from the New Jersey/New York region and handles things extremely professionally. These are not a gang of hillbillies hoping to get out of the swamp for pure luck. Incognito Theory cherishes his image, but above all works very his music and career. For example, the band already has its own website – which is quite unusual for bands that do not yet have a record label and hardly generate streams on Spotify, and they work together with Steve Zing as producer. The name may not directly tell you anything, but this is danzig'sbassguitarist. And now that we're talking about stereotypes.. Glenn Danzig is not immediately known as an easy person so if you have been working with that since 2006 you are musically very strong.

Incognito Theory dropped his last EP on our editorial board and since southern hard rock always goes in with me, it didn't take long for this disc to get its chance. Bring on the southern rock! And... after a few seconds I am already surprised. I really didn't expect to hear such a fat riff. With southern rock I think of bands like Lynyrd Skynyrd or ZZ Top. This does have something bluesy and southern, but with such a deep, bass-like guitar riff you as a band are more likely to end upon the territory of bands like Alice In Chains or Deftones. I really like this Set It Off. Jerry Cantrell playing with Blackfoot with Zakk Wylde as singer!
The following songs also sound nice and deep and there is actually a solo flowing in between here and there. Fired Up and Smokin' Gun are fun songs that are very reminiscent of Black Label Society. This band around Zakk Wylde also has a song called Fired Up. Accident? I like this Incognito Theory though. As a fan of both Black Label Society and Alice In Chains, I can be found for this combination.

It's a short EP of barely seventeen minutes, but extremely entertaining without really impressing very heavily. However, I don't think this is such a southern hard rock, but rather southern heavy metal. The influence of bands like Black Label Society and even Pantera is too great to ignore. Hey, pretty good though. I will never lose a band that tries to sound like Pantera. However, this Incognito Theory does more than try to sound like a clone of the aforementioned bands. The southern influence forms a spicy touch and gives the music of this band just a little extra. Meanwhile, the boys continue to present themselves as southern hard rock. I checked their Facebook page and they now describe their music as – hold on tight – Top Shelf Whiskey Fueled American Southern Hard Rock. What a wonderful band! There are people you can't possibly be mad at. There are apparently such bands as well. - Zwaremetalen
Release Date: June 25, 2021
FFO: Hellyeah, Texas Hippie Coalition, Down
Incognito Theory was formed in 2009 by lead singer lyricist and founder Dave Incognito. Incognito Theory have set the bar high to bring their unique blend of crossover hard rock southern groove metal.
Fast-forwarding and moving forward, with the help of producer, Steve Zing bassist of Danzig, drummer of Samhain has produced the new album.
In addition, Symphony X bassist, Ross the Boss, Silent Assassins, and good friend Mike LePond has appeared on the album.
Drummer and backing vocalist John Mosco appear on the album who is also lead vocalist and founder of Sixty miles Down.
Dave Crum lead guitarist of Sixty Miles Down lending his session services. The new permanent guitarist is Steve Bloodgood who is now playing guitar for the band.
The Band of Brothers Incognito Theory
Dare to be different. To bring you up to date with their newest and darkest release.
Self-titled "Incognito Theory "
Check out this video!
Live Band:
Dave Incognito - Vocals
Steve Bloodgood - Lead guitarist/Backing vocalist
Mike LePond - Bassist/Backing vocalist
John Mosco - Drummer/Backing vocalist
Incognito Theory is always Fired Up!!!
They are prepared to take on anything that stands in their way embrace this monster y'all help created!! They bring you the sounds of perseverance and diligence.
Jersey's own. Incognito Theory!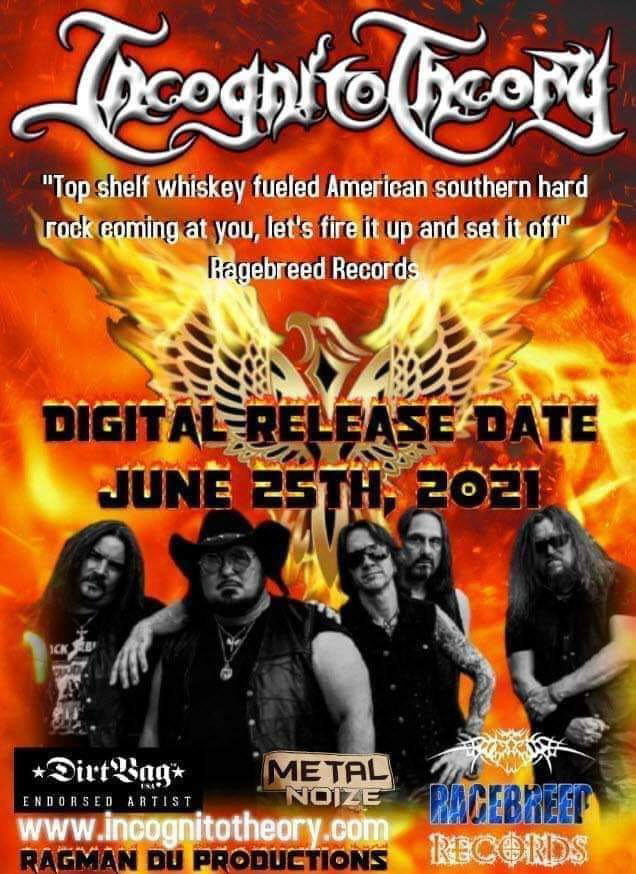 Follow the band at these links:
http://www.incognitotheory.com/
https://www.facebook.com/incognitotheory
https://www.instagram.com/incognitotheory/
https://www.youtube.com/user/incognitotheory
https://twitter.com/incognitotheory
https://www.reverbnation.com/incognitotheory
https://incognitotheory.bandcamp.com/
https://music.apple.com/us/artist/incognito-theory/336353660
https://open.spotify.com/artist/2BXmH330TL4ArAtvN99TYV?si=2heIE0ERRWK3M0V_fSotSg&dl_branch=1
Check them out on Spotify and add them to your playlists: