Incognito Theory - Self Titled - Reviewed By Metal Digest ! Check it out here at this link: https://metal-digest.com/2021/08/23/incognito-theory-incognito-theory/
Formed in 2009 from various members of local New Jersey bands, Incognito Theory (IT) is a classic example of the whole being far more than the sum of its parts. Myself, being a fan of Southern/Groove Metal, was curious what they would sound like. These boys have a little of this, a little of that…and whole lotta something else. Very dense guitars, solid rumbling bottom end, and an impressive baritone from Mr. Incognito make IT a formidable force.
IT delivers tons of cool riffs, laced with plenty of grit, grime, and fiery solos (especially on "Smokin' Gun"). Pair this with sweeping choruses and an abundance of swag, and you have the perfect soundtrack to spill your beer to. The riffs are heavy and complex, similar to THC, but a bit more punch in the gut.  Vocals are reminiscent of a certain guitarist, ZW, but still unique and effective.
Lyrically, songs are embedded in the everyman intellect… also, there is a mention of distilled spirit or two. In this genre, it is legally required, after all.
From the crushing "Set It Off" (a personal favourite) to the anthemic "Hell Bent," these five songs cover a lot of ground.

Their debut album 'Ashes Divide' was more varied, lighter at some turns. This album is much heavier, more focused, more zeroed in on displaying their influences. And that's the thing. We already know what their influences sound like. I think we are seeing the evolution of a killer band. I genuinely look forward to hearing IT as their own beast. Keep these guys on your radar. - Metal Digest
Release Date: June 25, 2021
FFO: Hellyeah, Texas Hippie Coalition, Down
Incognito Theory was formed in 2009 by lead singer lyricist and founder Dave Incognito. Incognito Theory have set the bar high to bring their unique blend of crossover hard rock southern groove metal.
Fast-forwarding and moving forward, with the help of producer, Steve Zing bassist of Danzig, drummer of Samhain has produced the new album.
In addition, Symphony X bassist, Ross the Boss, Silent Assassins, and good friend Mike LePond has appeared on the album.
Drummer and backing vocalist John Mosco appear on the album who is also lead vocalist and founder of Sixty miles Down.
Dave Crum lead guitarist of Sixty Miles Down lending his session services. The new permanent guitarist is Steve Bloodgood who is now playing guitar for the band.
The Band of Brothers Incognito Theory
Dare to be different. To bring you up to date with their newest and darkest release.
Self-titled "Incognito Theory "
Check out this video!
Live Band:
Dave Incognito - Vocals
Steve Bloodgood - Lead guitarist/Backing vocalist
Mike LePond - Bassist/Backing vocalist
John Mosco - Drummer/Backing vocalist
Incognito Theory is always Fired Up!!!
They are prepared to take on anything that stands in their way embrace this monster y'all help created!! They bring you the sounds of perseverance and diligence.
Jersey's own. Incognito Theory!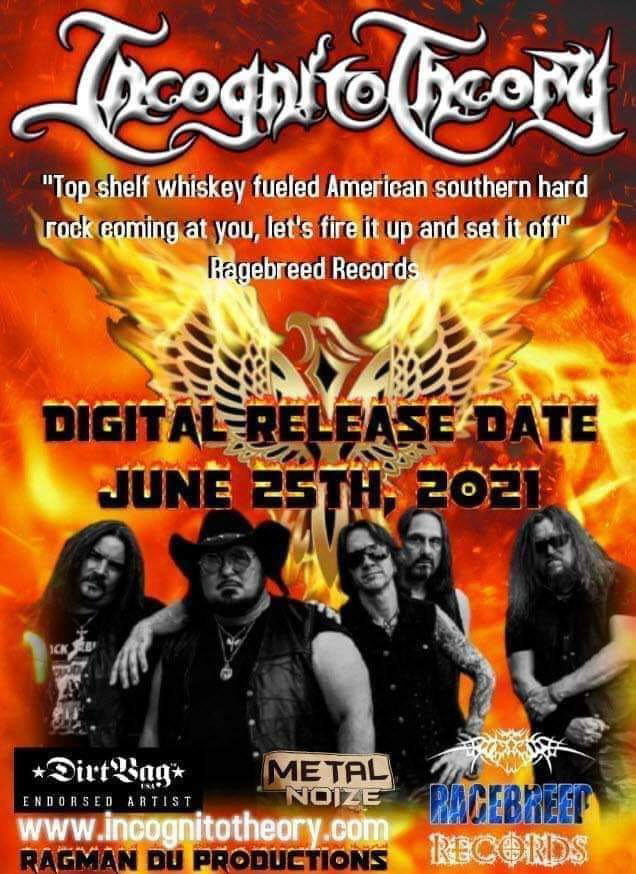 Follow the band at these links:
http://www.incognitotheory.com/
https://www.facebook.com/incognitotheory
https://www.instagram.com/incognitotheory/
https://www.youtube.com/user/incognitotheory
https://twitter.com/incognitotheory
https://www.reverbnation.com/incognitotheory
https://incognitotheory.bandcamp.com/
https://music.apple.com/us/artist/incognito-theory/336353660
https://open.spotify.com/artist/2BXmH330TL4ArAtvN99TYV?si=2heIE0ERRWK3M0V_fSotSg&dl_branch=1
Check them out on Spotify and add them to your playlists: