Incognito Theory - Self Titled - Featured At Pete's Rock News And Views ! Check it out here at this link: http://petesrocknewsandviews.com/incognito-theory/
Release Date: June 25, 2021
FFO: Hellyeah, Texas Hippie Coalition, Down
Incognito Theory was formed in 2009 by lead singer lyricist and founder Dave Incognito. Incognito Theory have set the bar high to bring their unique blend of crossover hard rock southern groove metal.
Fast-forwarding and moving forward, with the help of producer, Steve Zing bassist of Danzig, drummer of Samhain has produced the new album.
In addition, Symphony X bassist, Ross the Boss, Silent Assassins, and good friend Mike LePond has appeared on the album.
Drummer and backing vocalist John Mosco appear on the album who is also lead vocalist and founder of Sixty miles Down.
Dave Crum lead guitarist of Sixty Miles Down lending his session services. The new permanent guitarist is Steve Bloodgood who is now playing guitar for the band.
The Band of Brothers Incognito Theory
Dare to be different. To bring you up to date with their newest and darkest release.
Self-titled "Incognito Theory "
Check out this video!
Live Band:
Dave Incognito - Vocals
Steve Bloodgood - Lead guitarist/Backing vocalist
Mike LePond - Bassist/Backing vocalist
John Mosco - Drummer/Backing vocalist
Incognito Theory is always Fired Up!!!
They are prepared to take on anything that stands in their way embrace this monster y'all help created!! They bring you the sounds of perseverance and diligence.
Jersey's own. Incognito Theory!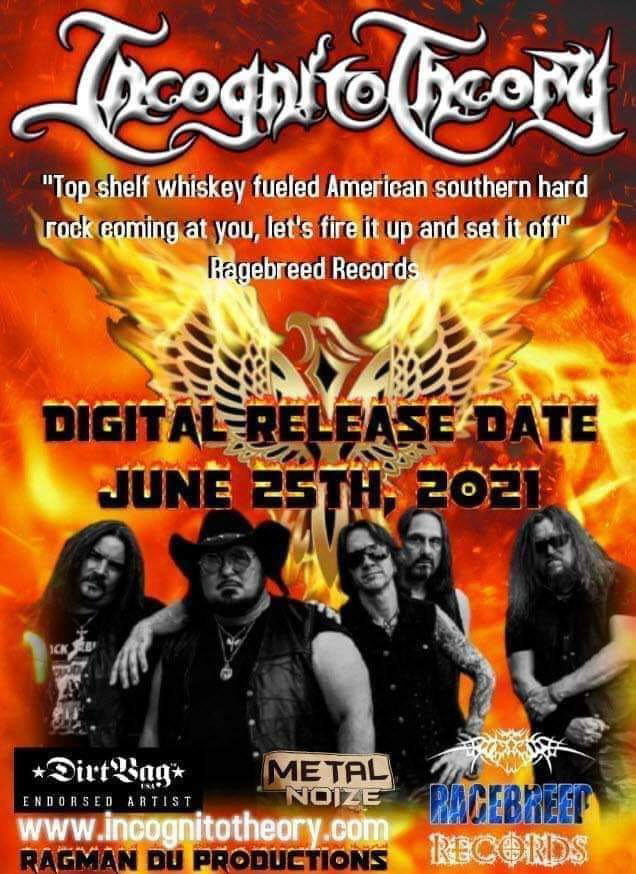 Follow the band at these links:
http://www.incognitotheory.com/
https://www.facebook.com/incognitotheory
https://www.instagram.com/incognitotheory/
https://www.youtube.com/user/incognitotheory
https://twitter.com/incognitotheory
https://www.reverbnation.com/incognitotheory
https://incognitotheory.bandcamp.com/
https://music.apple.com/us/artist/incognito-theory/336353660
https://open.spotify.com/artist/2BXmH330TL4ArAtvN99TYV?si=2heIE0ERRWK3M0V_fSotSg&dl_branch=1
Check them out on Spotify and add them to your playlists: