Ren Marabou - 'Prophecy Of The Seer' - Reviewed By Jenny Tate ! Check it out here at this link: https://jennytate.wordpress.com/2021/08/14/ren-marabou-prophecy-of-the-seer/
Forthcoming new video track, 'Prophecy Of The Seer', from Irish soloist Ren Marabou is out on May 1st. Following on from his last release, the 'Way Finder' album (March 2021), 'POTS' continues with the Viking metal theme. Ren's live appearances utilise a backing quartet, composed of equally well accomplished musicians. 'WF' is out on all main online sites.
Having become known for his energised live shows, Ren is currently composing his 5th album and many more studio videos are in the pipeline. Ren is endorsed by Cassidy Guitars, Skull Strings and Dirtbag USA.
Prophecy Of The Seer – Immediate metallic intro. Lots of freestyle riffage. Imaginative setting. Heavy vocals, with softer backing choruses. Drums rolling smoothly. It's quite a grungy track, with a loose flow to the structure. A middle eastern flavour to the bridge. Good physical depiction of the group harmony. Chanting style employed, towards the end. It's actually more grunge than Viking and as such, quite a departure from previous form. Cohesive, smooth delivery, all round. Unexpectedly gentle, tonally and structurally. A well aligned and energised performance, executed with a lighter touch, through which, contemplative themes are conveyed. Less impactful than it could be, but to some extent, the flawless delivery compensates for that. A fairly enigmatic track, adeptly handled.
8/10 ******** - Jenny Tate
Ren Marabou is a multi-instrumentalists rock/metal solo artist who hails  from the Emerald Isle of Ireland. he has released 4 albums to date.  Most recent album ' Way Finder ' was released on the 1st of March and is available on all major platforms. He has gigged extensively around Ireland, UK and Europe. When playing live, he has a four piece band of seasoned musicians behind him with whom he performs a high energy, intense live show. Riffs, melodies and grooves. Currently he is endorsed by Cassidy Guitars, Skull Strings, and Dirtbag USA. Album number 5 is in the works and there are loads of music videos and behind the scenes studio videos on the way.
FFO: Amon Amarth, Tyr, Wintersun
Check out this video!
Ren Marabou is Currently in the studio working on the new album Valhalla waits. Valhalla waits is an album that encompasses Norse mythology and Norse pagan folk lore, the album takes you into the time of Vikings with its heavy riffs and intense melodies and the chants of the ancient warriors. This album is due for release on May 1st 2021.
Check him out on Spotify and add him to your playlists!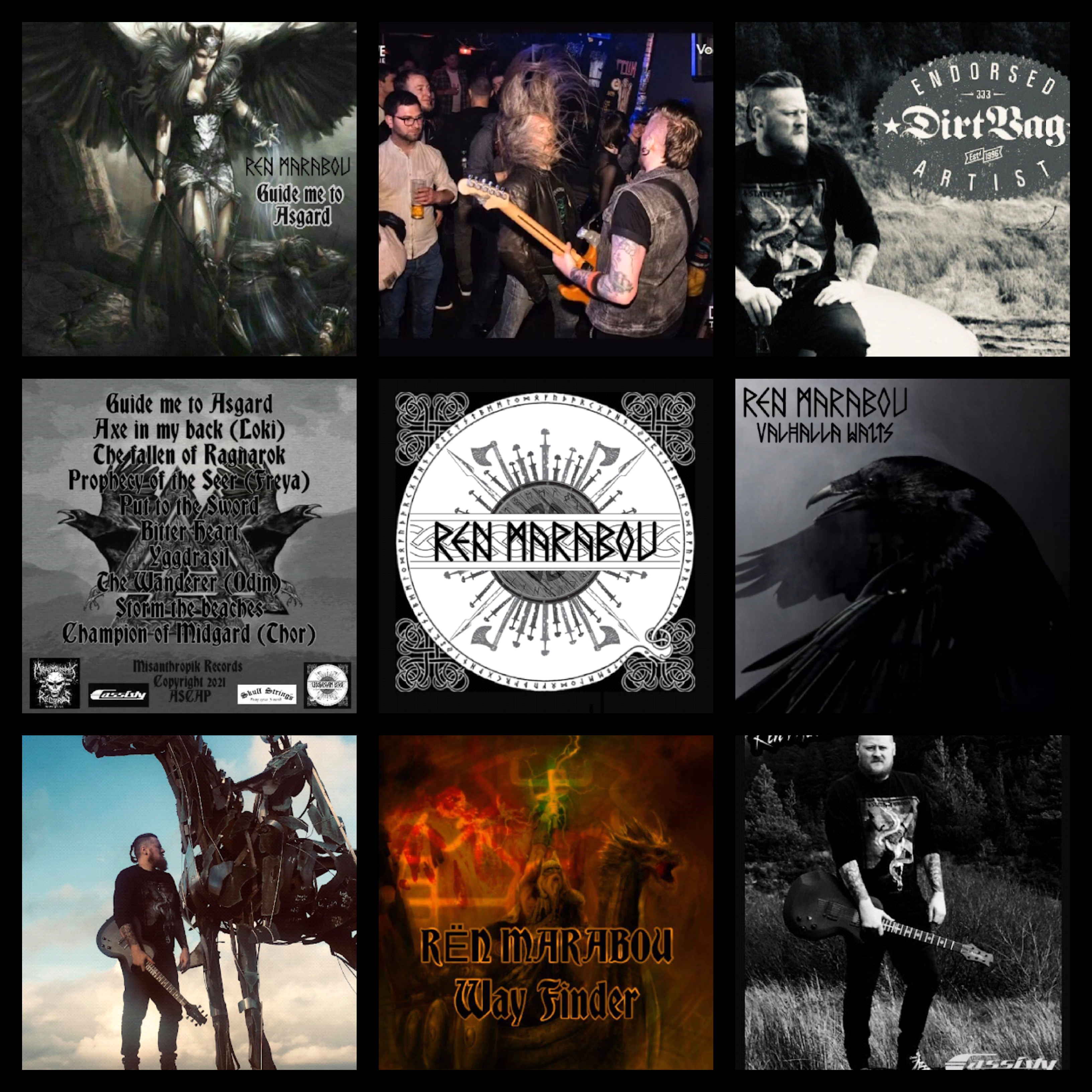 Follow the band at these links:
https://www.instagram.com/renmarabou/
https://misanthropikrecords.com/ren-marabou
https://www.facebook.com/renmarabou/
https://open.spotify.com/track/1ZYj9c6JlTKoBLOwIbJx0E?si=TrCRP-ViRyqIDOe6UBsj0A
https://open.spotify.com/artist/4SO7ijOmWLl1eIOXgGMOGB?si=LCLsE7AXS86xlNcyExK-jg
https://www.youtube.com/channel/UC0RzRnLskzx0barj6BsL87w