Prayer Line – Thrill Me, Lick Me, Fuck Me, Kill Me - Reviewed By Zware Metalin ! Check it out here at this link: https://zwaremetalen.com/albumrecensies/prayer-line-thrill-me-lick-me-fuck-me-kill-me
Everyone makes an attempt at making music sometimes. So did Prayer Line from the United States of America. Thrill Me, Lick Me, Fuck Me, Kill Me is not a good name for a debut EP. This corresponds to the quality of the music that the foursome produces. "We make loud music about exciting shit" is the band's statement. Prayer Line could have sufficed with, "We make shit music.""
Prayer Line suggests making crossover thrash/horror punk. That's right. Sneue riffs, boot drumming and moronic vocals complete the picture. It's music without any venom. Below is a photo of the band members. The same emotional inconsistency that can be seen on this can be heard in the music.

It starts off dramatically with one of the worst vocal screenings I've heard in a long time. The lyrics aren't very intelligent either. This way you get to process "I'm a bad bad boy, and I don't give a fuck". On the go, another country-laden solo is added that belongs to another song. What song I don't know, because this solo can't add value anywhere in any place in this universe.
I hear you think it's easy to off a band like that. It's not all bad. However, the vocals make it a pretty tricky sitting. Thrill Me and Night of the Demons have the best vocals, and make the tracks immediately listenable. The latter song also has a simple but effective riff, which is only exploited in a small way. Every stanza seems to stand on its own. The flow tragically proceeds as if you've refueled a car with vodka instead of gasoline. Prayer Line only does something, and you can hear it.
I thought it was a strange experience, and certainly not exciting or hard. Punk may be messy, but this is so messy and shouty that it rather gives the feeling of the Jostiband. Give everyone a flute or a drum and let it go. Thrill Me, Lick Me, Fuck Me, Kill Me contains poorly written songs with bad vocals. Maybe nice to hear you play at a prom, but I wouldn't spend a dime on it if I were you. - Zware Metalin
Prayer line just released a new video for the song Reanimator! From the EP "Thrill Me, Lick Me, F*ck Me, Kill Me," available on Never Nervous Records. Video produced and edited by Dennis Stein. Check it out below!
Release date July 16, 2021
FFO: Murderdolls, Rob Zombie, Wednesday 13
PRAYER LINE is ready to return in 2021 with a 6 song EP titled Thrill Me, Lick Me, Fuck Me, Kill Me . This would serve as the follow-up to their self-released debut album Drink The Blood which was released in April of 2019. The bands previous releases have more of a Horror Punk vibe. This collection moves into Crossover Thrash territory with songs influenced by bands like Motorhead and Municipal Waste . Lyrically, the band draws inspiration from pop culture relics such as The Thing, Night of the Creeps and The Exorcist . The music was produced and recorded by Dave Chale at Deadbird Studios . They plan to promote the EP in the new year with social media ad campaigns, music videos (one for each song), and regional tours (when it is safe to do so again).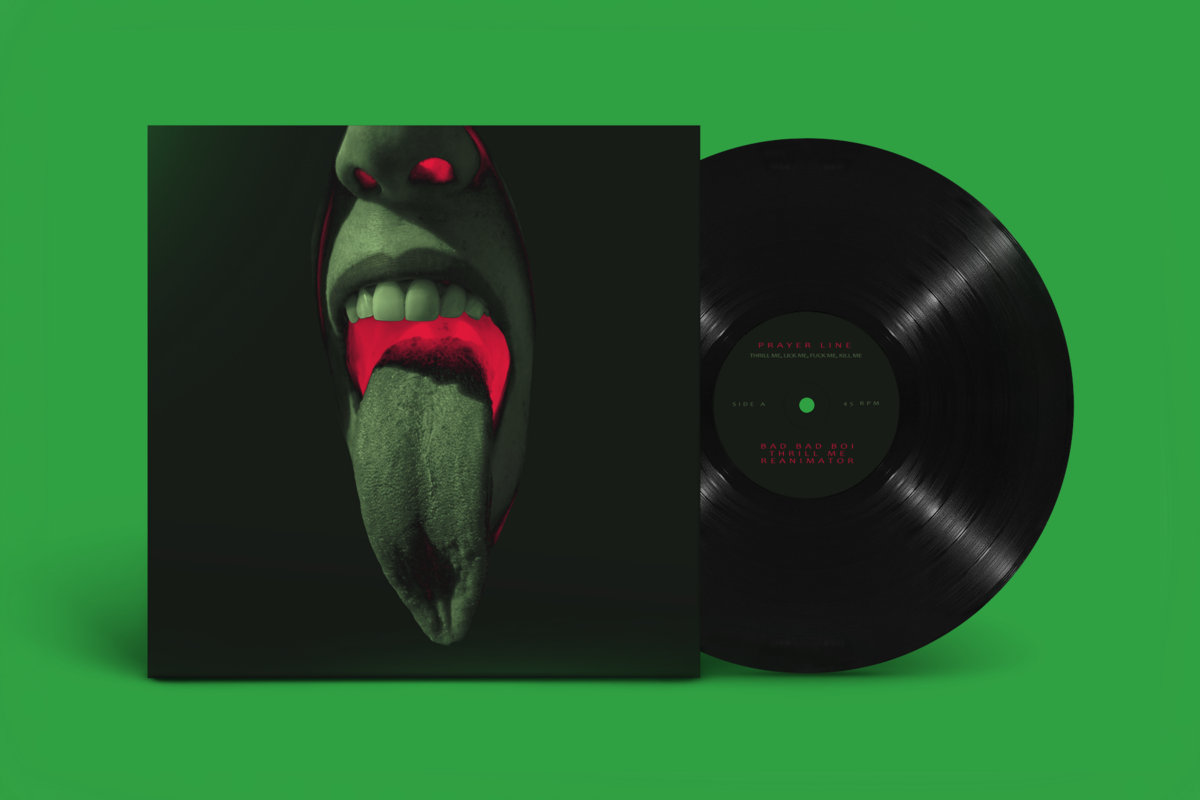 Check them out on Spotify and add them to your playlists!
https://open.spotify.com/artist/1XMpqDEL6OT5eU8Ks5ymMH?si=9fTTwTe7SRC6oagH_grZxQ&dl_branch=1
They are also available on Apple Music!
https://music.apple.com/ng/artist/prayer-line/1438799465
Check out these videos!
Follow the band at these links:
https://prayerline.bandcamp.com/
https://www.facebook.com/PrayerLine666
https://www.instagram.com/prayerline666/