Herb Burke from Drawn And Quartered joins us on the show for a live interview! We talk about the new record 'Congregation Pestilence' and take questions from our audience. We play some new tracks from the record as well as new releases from Ghastly, DESTRUCTION, FLOTSAM AND JETSAM, Slizard, PESTILENCE, Inhuman Condition, Twin Temple, Hellionight, Lunacyst, Ryth, Hellripper, CASSIUS KING, DayGlo Mourning, INFEX, KHANDRA, Vile Cynic, Tombstoner, Treebeard, TYGERS OF PAN TANG, Dead Soul Revival, IRE, and battle of the bands winners Mauricio Tolosa! We also play some classics by request from Megadeth, Venom Inc, Lamb Of God, Napalm Death, Metallica, and Slayer!
Track List:
1 - Ouroborus/Out of the Psychic Blue/Sea of Light - Ghastly
2 - The Zach Moonshine Intro
3 - Go to Hell - Megadeth
4 - Mad Butcher - DESTRUCTION
5 - Brace For Impact - FLOTSAM AND JETSAM
6 - STILL LOVING YOU (Scorpions Cover) - Slizard
7 - Deificvs - PESTILENCE
8 - The Neck Step/Tyrantula/ - Inhuman Condition
9 - Drawn and Quartered - Interview
10 - Babalon - Twin Temple
11 - Extermination Now! - Hellionight
12 - Plague of Tyranny - Lunacyst
13 - Auto Autonomous - Ryth
14 - Ave Satanas - Venom Inc
15 - Vigil - Lamb Of God
16 - Scum - Napalm Death
17 - Blood Orgy of the She-Devils/Hell's Rock 'N' Roll - Hellripper
18 - King of Lies - CASSIUS KING
19 - Dead Star - DayGlo Mourning
20 - Creeping Death/The Thing That Should Not Be (Live) - Metallica
21 - War Ensemble/Angel Of Death (Live) - Slayer
22 - Beer Run - INFEX
23 - With the blessing of starless night - KHANDRA
24 - Blood Eagle - Vile Cynic
25 - Sledgehammer - Tombstoner
26 - 8x0 - Treebeard
27 - Worlds Apart - TYGERS OF PAN TANG
28 - Down For The Last Time - Dead Soul Revival
29 - Watch It Burn - IRE
30 - World With Another Face 2 - Mauricio Tolosa
Listen to the entire episode on Mixcloud!
Check out the interview on Spotify!
Check out the interview on YouTube!
Follow all the interviews on Apple iTunes!
https://podcasts.apple.com/us/podcast/the-zach-moonshine-show/id1533618474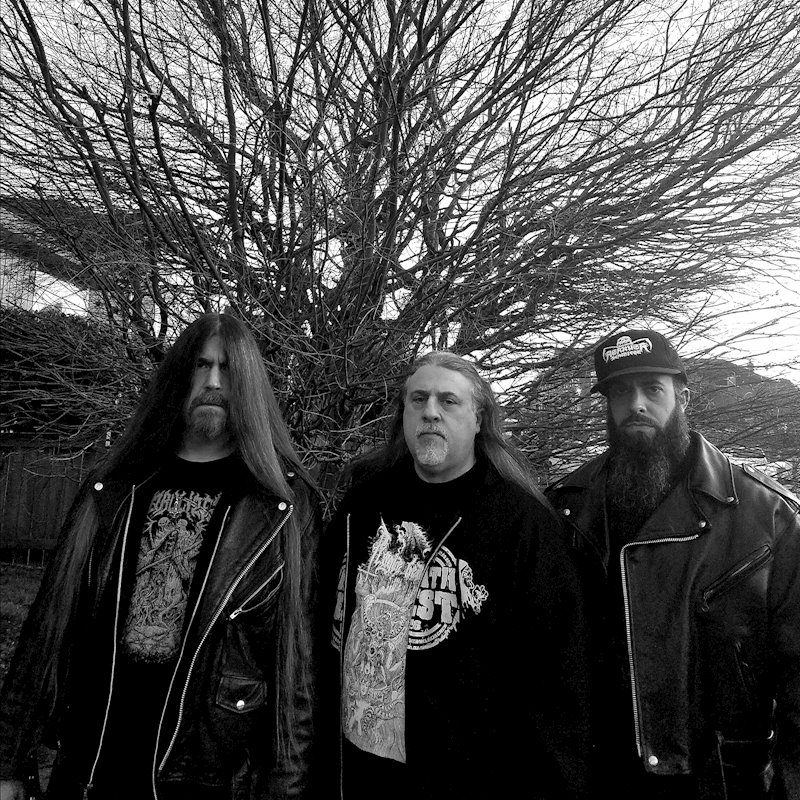 Drawn And Quartered resurges to transmit its newest outbreak of evil, Congregation Pestilence, due out July 02nd on vinyl, CD, and digital formats via Krucyator Productions.
 
A formidable and influential force in the domain of extreme metal, Drawn and Quartered arrived on the scene nearly three decades ago in 1992 under the name Plague Bearer. A year later, the dark death metal group changed their name to Drawn and Quartered; the guitarist Kelly would later revive Plague Bearer as a separate project in 1999.
 
Forever underground, Drawn and Quartered perhaps have not achieved the level of recognition that other contemporary death metal legends have in their possession. But is it a touchstone to downplay the Seattle horde's weight? Well, the awe-inspiring discography of 7 critically acclaimed full-lengths, a sprinkling of mini releases, and decades of mutilated live obliterations should be self-evident to determine their death metal hunger and mastery.  
On the imminent 08th LP, Congregation Pestilence, Drawn and Quartered stick to their guns without de-escalating the branded frenetic motion, interminable aggression, cyclonic complexity, or unfathomable darkness, and legitimately, the death metal veterans consider it as their strongest studio offering to date. Having new songs written for a split that never eventuated and numbers already performed live, this opus oozes a primordial celebration of violence and devilry.

TRACKLIST:
1. Death's Disciple
2. Age of Ignorance
3. Oblivion Pilgrimage
4. Proliferation of Disease
5. Dispensation (Rise of the Antichrist)
6. Six Devils (Trepanation)
7. Carnage Atrocity
8. Rotting Abomination (The Cleansing)
9. Congregation Pestilence

CREDITS:
– Band Members –
Kelly Shane Kuciemba: Guitars
Herb Burke: Vocals, Bass
Simon Dorfman: Drums
– Others –
Recorded by Kelly Shane Kuciemba at the Plague Pit.
Drums recorded by Chris Manino at Die Burning Studio.
Mixed and mastered by Loïc Fontaine (Autokrator, N.K.V.D.) at Krucyator Studio.
Artwork by Gabriel T. Byrne (crafted cover arts for every Drawn and Quartered full-lengths).
Layout Arrangement by Loïc Fontaine.
Band Photo by Phil Ginsberg.

PRE-ORDER:
Vinyl – https://krucyator.com/collections/frontpage/products/drawn-and-quartered-congregation-pestilence-lp
CD – https://krucyator.com/collections/frontpage/products/drawn-and-quartered-congregation-pestilence-cd
Bandcamp (CD/Vinyl/Digital) – https://krucyator.bandcamp.com/album/congregation-pestilence
Digital/Stream – http://smarturl.it/congregationpestil

FOR MORE INFO:
– Drawn and Quartered –
https://www.facebook.com/drawnandquartered
 
– Krucyator Productions –
http://krucyatorproductions.com 
https://krucyator.com  
https://www.facebook.com/krucyatorproductions
https://krucyator.bandcamp.com
https://www.instagram.com/krucyatorproductions