Ren Marabou - 'Valhalla Waits' - Reviewed By Metal Digest ! Check it out here at this link: https://metal-digest.com/2021/05/12/ren-marabou-valhalla-waits/
Irish multi-instrumentalist Ren Marabou offers up his fifth album of Norse mythology and Pagan folklore. The album is rich in imagery, utilizes traditional instrumentation, and is immersed in Marabou's Irish heritage. Is this the Emerald Isle's version of Amon Amarth? Not quite.
Instead of the heavy-handed bludgeon approach, this album is more of a guitar and voice-centric affair. The riffs are first class, driving, and crunchy. Multi-tracked vocals are layered perfectly, essentially becoming another instrument in Marabou's arsenal. Tasteful flourishes of keyboard and shouted vocals accentuate in just the right spots. There are moments of inspired Celtic guitar and fiddle passages seamlessly woven into some seriously killer Hard Rock runs. That's the thing; this album doesn't know what it wants to be…and who says it has to? If you're looking for another Ensiferum or Amon Amarth, this isn't for you. Chances are, you already have these bands in your collection anyway.  Ren Marabou just might be the bridge you need. I plan on delving into his previous works in my spare time (as soon as I find it.) While the music doesn't exactly conjure visions of Viking ships, unruly beards, and bloody axes, it is definitely worth checking out. If it's not for you, it will be the best-sounding mistake you make today. - Metal Digest
---
Ren Marabou is a multi-instrumentalists rock/metal solo artist who hails  from the Emerald Isle of Ireland. he has released 4 albums to date.  Most recent album ' Way Finder ' was released on the 1st of March and is available on all major platforms. He has gigged extensively around Ireland, UK and Europe. When playing live, he has a four piece band of seasoned musicians behind him with whom he performs a high energy, intense live show. Riffs, melodies and grooves. Currently he is endorsed by Cassidy Guitars, Skull Strings, and Dirtbag USA. Album number 5 is in the works and there are loads of music videos and behind the scenes studio videos on the way.
FFO: Amon Amarth, Tyr, Wintersun
Check out this video!
Ren Marabou is Currently in the studio working on the new album Valhalla waits. Valhalla waits is an album that encompasses Norse mythology and Norse pagan folk lore, the album takes you into the time of Vikings with its heavy riffs and intense melodies and the chants of the ancient warriors. This album is due for release on May 1st 2021.
Check him out on Spotify and add him to your playlists!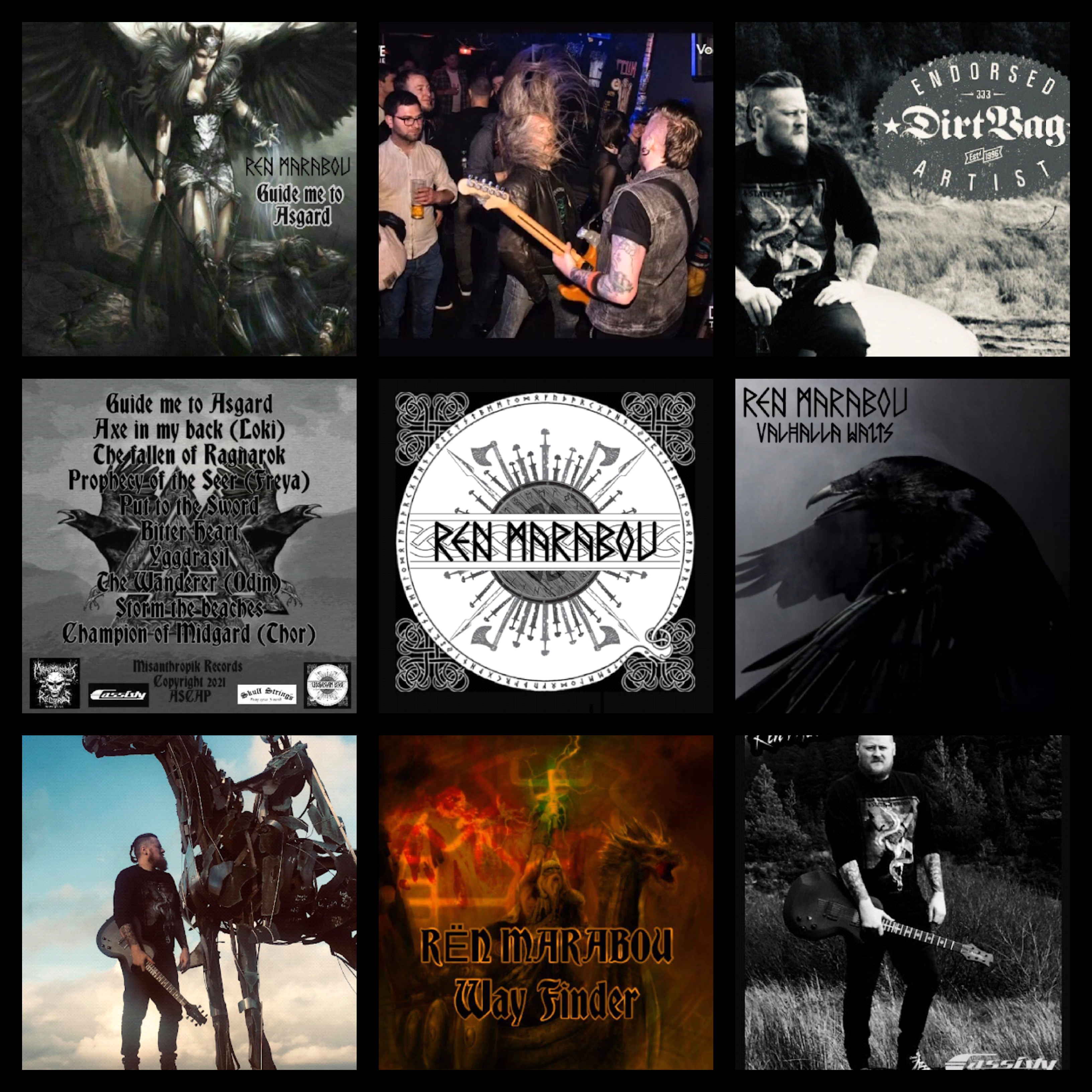 Follow the band at these links:
https://www.instagram.com/renmarabou/
https://misanthropikrecords.com/ren-marabou
https://www.facebook.com/renmarabou/
https://open.spotify.com/track/1ZYj9c6JlTKoBLOwIbJx0E?si=TrCRP-ViRyqIDOe6UBsj0A
https://open.spotify.com/artist/4SO7ijOmWLl1eIOXgGMOGB?si=LCLsE7AXS86xlNcyExK-jg
https://www.youtube.com/channel/UC0RzRnLskzx0barj6BsL87w