GENTLE SAVAGE: 'Treat Yourself And Let Our Magic In. We'll Take Care Of The Rest' - Featured At Bathory'Zine!
GENTLE SAVAGE: 'Treat Yourself And Let Our Magic In. We'll Take Care Of The Rest' - Featured At Bathory'Zine ! Check it out here at this link: https://www.bathoryzine.com/2021/05/gentle-savage-treat-yourself-and-let.html
Gentle Savage's characteristics stem from the ancient Karelian magic spells combined with the feel of European mega cities hum and spin. With a musical DNA twirling back to the earliest days of rock music, Gentle Savage roars with their heavy, yet dynamic style. Their message is clear; 'Don't you worry 'bout a thing. Just let our magic in and we'll take care of the rest'.
For the fans of Whitesnake, Rival Sons, Greta Van Fleet
Check out the new single on Spotify and add them to your playlists!
GENTLE SAVAGE have released a lyric video for their new rocking single 'Lovin' Ain't Easy', graphic & digital art by Kristian K XP, watch it here:
'Lovin' Ain't Easy' is available on all major streaming services, at: https://smarturl.it/gentlesavage_lovin
Order 'Lovin' Ain't Easy' at https://smarturl.it/GS_Lovin_Single_2021.
Lead vocalist Tornado tells the whole story on the single:
Lovin' Ain't Easy is a presentation of a persons emotional state when without really knowing why, one has been rejected and left stranded by the loved one. In this case the narrator is a male person, but it could be anyone who lives in an intimate relationship with another human being. The mood is neither sad nor aggressive. It's more like the narrators love affirmation. He leaves the decision whether to quit or to continue in the hands of the beloved woman who's leaving home.  
The atmosphere, melodies and harmonies borrow musically from the wonderful 70's era. Spiced with modern production and sound engineering Lovin' Ain't Easy leans towards The Beatles and Alice Cooper. A careful listener can find some delicate details in the soundscape, submerged in the background and filling up the scenery. This tune is closest to the feel of Gentle Savage when the band first started writing music and it is planned to be a stand-alone single, not included to the upcoming 'Midnight Waylay' debut album.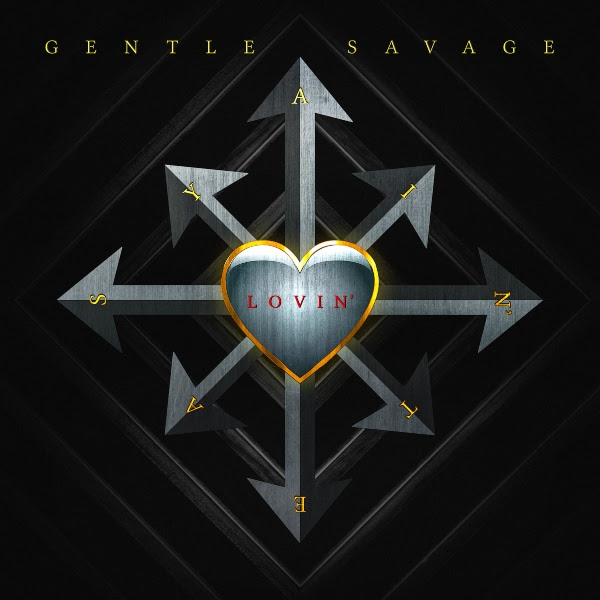 As previously announced, Due to the current Covid pandemic GENTLE SAVAGE are forced to postpone their debut album 'Midnight Waylay' release to later this Spring. The new release date will be announced soon.
Tornado on the debut album: "Midnight Waylay depicts a 'taking it easy in the daytime, turning into a beast at night' kind of lifestyle. Just like a hunter strikes from the shadows, ruthless and silent, these songs can without warning rock your world. As a concept the album Midnight Waylay is best appreciated when served whole, but each song has its own character and works well independently. Find your own adventure, let yourself loose!"
Watch the videos for the previous singles:

"It is all about the songs. And their internal message. That's the basic philosophy behind Gentle Savage."
Subscribe to GENTLE SAVAGE's new youtube channel hyperurl.co/GentleSavageYouTube 
GENTLE SAVAGE are:
Tornado Bearstone, songwriter, vocals and guitar
Jay B, drums and backing vocals
Vance Bead, bass and backing vocals
Tim O`Shore,  guitar and backing vocals
Theo van Boom, keyboards and backing vocals
'Treat yourself and let our magic in. We'll take care of the rest'.
Band promo photo by Timo Soasepp
Single coverarts by Vin Valentino
Follow the band at these links: 
https://www.facebook.com/Gentlesavagerockband
http://gentlesavagerockband.com
https://www.instagram.com/gentlesavageofficial
https://open.spotify.com/artist/70BViBWZuG5uIBw3VXsKlH?si=2iiROaiARHeAJFbt2oIG9A
https://gentlesavage1.bandcamp.com/music
https://www.youtube.com/channel/UCSe-yyD7_XB5cFE37yYBtaw
https://smarturl.it/gentlesavage_lovin
tarjaalphaomega@gmail.com