Moonscape - Entity, Chapter II: Echoes from a Cognitive Dystopia - Reviewed By Heavy Metal Heaven webzine!
Moonscape - Entity, Chapter II: Echoes from a Cognitive Dystopia - Reviewed By Heavy Metal Heaven webzine ! Check it out here at this link: https://www.heavymetalheaven.it/2021/04/09/recensione-moonscape-entity-chapter-ii-echoes-from-a-cognitive-dystopia/
"Very good": so, at the beginning of 2018, I had judged Entity , debut released at the end of the year before the Moonscape project . This one man band by Norwegian multi-instrumentalist Håvard Lunde actually impressed me with its progressive and extreme sound. It was a more melodic death-shifted version of the old Opeths , but without copying them: it rather provided a viable alternative to the Swedes.
Also for this reason, I had high expectations for Moonscape's second job . Expectations that, however, were at least partially disappointed at the release, last November 23, of Entity, Chapter II: Echoes from a Cognitive Dystopia. Behind this ambitious title, in fact, there is no hiding the record of maturity for the Lunde project , as I hoped. On the contrary, there is a definite step backwards from the onset.
At least as far as genre is concerned, Moonscape has n't changed that much. What Entity, Chapter II remains a progressive extreme metal with melodeath influences, a bit 'less present than in the first Entity but always important. Some of them, however, have been replaced by an even wider range of influences on the part of the Scandinavian musician. Who, in general, seems to want to detach himself from the Opeth reference : a positive fact of his own, but which in the case of Moonscapeled to a loss of personality.
The main problem of Entity, Chapter II is precisely the lack of a soul. It is no coincidence that the best moments are those that refer to the first Entity ; otherwise, here the music varies much more, but without a strong expressive or stylistic line to make it coherent. And the result suffers: we are talking about an album with little that remains in mind, even after dozens of plays.
Fortunately, it is not all to be thrown away: as mentioned, some good ideas are present, immersed in a sea that almost always presents at least an echo of the class of the debut. In general, Moonscape did not do badly: Entity, Chapter IIit is a well played album and composed in a more than discreet way. Unfortunately, however, it rarely makes a difference: this makes it much less exciting and much more average than what Lunde has proposed to us in the past.
The initial A Prelude to Grief is the most classic of the symphonic preludes. Inside, a slow and solemn melody is scanned, which somehow echoes some of the harmonies present later on. Nothing special, but with its scarce two minutes it is not bad as an opening, before Illusion of Reality played on metal. Although, for the moment, it is a very calm, delicate progressive metal twist.
Only over time, the music takes a slightly more melancholy tone, from a classic melodeath, with a melody that is partly reminiscent of the first Entity , albeit in a less powerful and more melodious way. The guitar weaves are often almost Maidenian, although there are also heavier moments. Some traits, indeed, become even more extreme: the riffage ofLunde is on the verge of classic death, as well as the growl above. Although there are often symphonic keyboards or electronic synths to mitigate the darkness.
But there is also considerable space for melodious openings, which nevertheless represents the piece's Achilles heel. If some of them work well, especially when the rhythm is sustained and maybe the riffage is still pretty tight, elsewhere the music lacks a bit of bite. But the main problem is the solo excesses at times: if at certain moments they are significant, elsewhere (as in the center) they go on a little too long, without really needing them. It's like the band looks too much in the mirror, which is the song's worst flaw.
After all, even the hardest part is not exactly perfect. The most expressive moments are excellent, but some grind without giving much more. Fortunately, this happens quite infrequently: usually the power is the right one. Effective are also the most progressive moments, which at times look back, to the most classic incarnation of the genre. Whether in the most melodic or in the most intricate traits or in the bizarre unions with the most extreme part, they never work badly. Finally, the long final evolution is noteworthy: it starts with light but solemn tones, with the voice of the guest Marcela Villarroel , and then grows. But without breaking away from the calm: between doom guitars and Alexandra Laya's violin that almost resembles My Dying Bride , it's a beautiful part.
The result of all this is a very long piece with its almost seventeen minutes, and which at times suffers a little from its prolixity. But, in general, it's not too bad: it turns out to be pleasant, even if it represents the lowest point of Entity, Chapter II .
A much shorter episode, with The Ails to Withstand the Moonscape project finds a greater focus. You hear it from the beginning, dark but deep as the melodeath commands, and then it develops in an aggressive sense. Between the growl and rhythms between death and even black metal, it is a beautiful panorama, extreme but not too much: the melody and a certain emotional side are never lacking, even if at times they hide a little. Especially in moments with blast and an energetic, ferocious riffage.
Elsewhere, however, the feeling returns, in dreamy openings albeit in a crepuscular, mogia way. Among other things, the latter is the dominant soul in the second part of the song, which tends to open up more and more. Until it reaches a long opening, still in folk tones: between clean guitars and a flute, combined with prog echoes, it is a phase that remembers, from afar, even Jethro Tull .
The tones then rise again in the finale, a slow but steady escalation. It starts with delicate metal tones, prog of the more melodic type, but then reaches remarkable levels of frenzy. This time the long solos, however intricate, are not annoying: between Maiden and power, they know their stuff. And they bring to a conclusion a great piece, Entity's best ever , Chapter II!
The concluding In the Mourning Hour then continues along the lines of the previous one, with a long passage of clear power metal influence. An influence that lasts for long minutes, even when the growl appears: only over time do Moonscape return with more conviction to more extreme paths. At first it happens in small doses, between the lightest and most easy-going passages; but then in the center this soul takes over again.
There are still some initial leftovers, but the whole thing is very obscure. However, even this panorama is destined to pass, after hitting a peak in the center. However, between new power influences and other extremes, which reach a new intense moment on the trocar, the trend is towards opening. Up to a very calm, solemn, sunny finish that envelops you properly. Although the actual conclusion is an under-track outro, which takes up the basic melody with which the previous Entity began .
Thus ends a piece that can be enjoyed for a good part of its duration. but which, on the other hand, has a few jolts, a bit of confusion about which direction to take and in general turns out to be only discreet. Sad to say, but it is also the destiny of the disc that closes: this therefore represents its perfect manifesto.
As you may have guessed by now, Entity, Chapter II is an enjoyable album for a long time, but it doesn't get much further. Although it is half a step above average, in general it is not too far from the typical prog album, great on the formal side but empty in substance.
Of course, if you like the more extreme progressive metal, this album and the Moonscape project in general continue to be recommended to you. However, as far as I'm concerned the first Entity was much better. And I can only hope that, in the future, Håvard Lunde will be able to return to those levels! - Heavy Metal Heaven webzine
MOONSCAPE is a melodic death/progressive/power metal oriented project which was formed back in 2015 by Håvard Lunde, based in Gjøvik, Norway. Musical inspirations and influences include bands like EDGE OF SANITY, OPETH, ENTOMBED, AYREON, HELLOWEEN, YES, JETHRO TULL and many more. After many years of trying to find a proper musical direction in which he felt comfortable, he formed MOONSCAPE after rediscovering EDGE OF SANITY's 1996 classic «Crimson» album, an album that stood out as the ultimate inspiration already in his adolescent years when he first became musically active. The idea of creating music that had low-tuned guitars with good melodies on top was an appealing one, and with added atmospheric and symphonic elements and variations in terms of texture and arrangement, he was better able to reach his goal; to create a large scale composition that his listeners would later on refer to as «a musical journey».
The debut album «Entity» was released on October 2nd 2017, and received great reviews from the underground press, including a very rare 100/100 score from the Italian webzine Insane Voices Labirynth. The album is a concept album that told the story of a protagonist who isolates himself deeper and deeper into his own mind, in an attempt to escape from the real world. He finds shelter in the dark shadows of his own mind, but as a result of his isolation soon he finds himself forced to battle a demon he thought was long forgotten…
«Entity» was released as a digital album as well on a limited jewel case CD edition, pressed in only 330 copies. The vinyl edition was released in July 2018, and was limited to 100 hand numbered copies.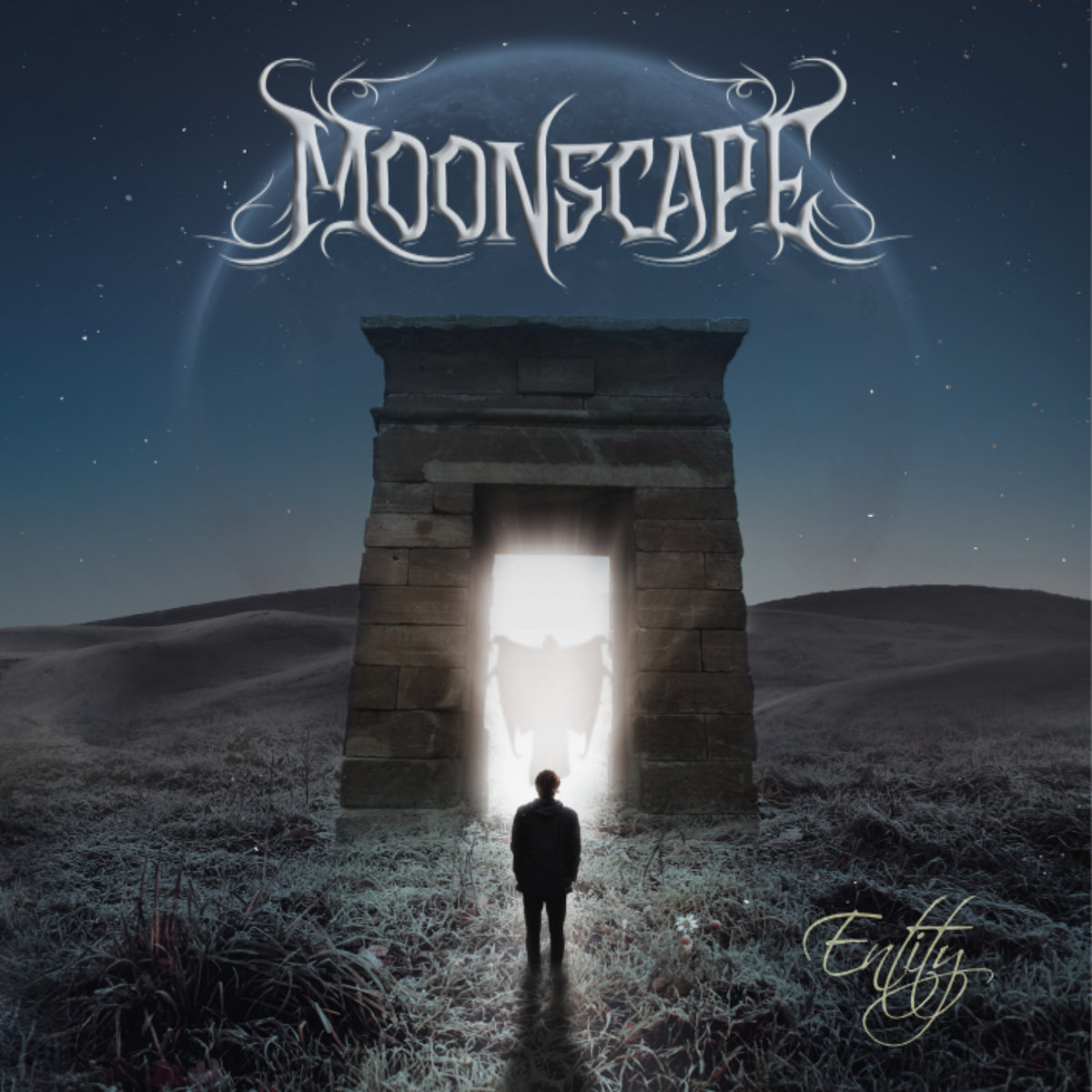 Ever since the release of «Entity», Lunde kept writing a follow-up album, which was released on November 23rd 2020. «Entity, Chapter II: Echoes from a Cognitive Dystopia» continued the concept where the debut left off, and marks the conclusion of the story. Whereas «Entity» was fairly atmospheric and melodic death/prog oriented, «Chapter II» has a slightly more direct expression. Still it retains the progressive orientation, with more symphonic elements and higher in tempo and intensity, qualities that are often typical to the power metal genre.
The album was released digitally and on a limited 6 panel digipack CD, pressed in 200 copies only. A vinyl edition is scheduled for release in March 2020, also limited to 100 handnumbered copies only.
In addition to the two physical albums, Moonscape's discography also counts two singles, an anniversary reissue (Name Your Price on BandCamp) and an EP, all released during 2020.
MOONSCAPE's discography includes the following releases:
Entity
– full length album (October 2017)
The Throes of Desperation
– digital single (January 2020)
Entity
– digital reissue to commemorate the 5 year anniversary of MOONSCAPE's formation (February 2020)
Here With You – acoustic single (May 2020)
Resurgence E.P.
– digital E.P. released as a teaser to the new album, including two cover songs (September 2020)
Entity, Chapter II: Echoes from a Cognitive Dystopia
– full length album (November 2020)
All of MOONSCAPE's releases are available on all major streaming services, and physical products can be purchased at moonscape.bandcamp.com.
MOONSCAPE's music is solely written, composed, arranged, recorded and produced by Lunde himself, but features a rich variety of guests on both vocals and lead instruments. Lunde Plays bass, lead and rhythm guitars, keyboards, programming and lead and backing vocals.
GUEST PERFORMANCES:
Entity:
Jim Brunaud (The Gaemeth Project) – lead vocals
Matthew Brown (Arkhane) – lead vocals
Kent Are Sommerseth (ex- Unspoken, Varulv) – lead vocals
David Russell – piano
Leviathan (ex- Unspoken, Abyss Below, Kvesta) – lead guitars
Andreas Jonsson (ex- Spiral Architect) – lead guitars
Diego Palma (Lord Divine) – keyboards
Simen Ådnøy Ellingsen (Shamblemaths) – Acoustic and clean lead guitars
Jon Hunt – keyboards
John Kiernan – lead guitars
Alex Campbell (Seek Irony) – lead guitars
Noah Watts - lead guitars
Sean Winter – tenor saxophone
Justin Hombach (AeoS) – lead guitars
Entity, Chapter II: Echoes from a Cognitive Dystopia:
Pauli Souka (Coldbound) – lead vocals
Runar Steen Hansen (Firefight) – lead vocals
Drake Chrisdensen (Ruins of Elysium) – lead and backing vocals
David Åkesson (Qantice, Vivaldi Metal Project etc) – lead and backing vocals
Marcela Villarroel – lead vocals
Andreas Jonsson (ex- Spiral Architect) – lead guitars
Cezar Popescu (Days of Confusion) – lead guitars
Bret Barnes – saxophone
Linus Abrahamson (Guthrie Govan, PelleK, Andromeda, The Codex etc) – lead guitars
Aaron Minich (Nekrogoblikon) – keyboards
Eirik Dischler (Shamblemaths session member) – organ
Alexandra Laya (Qantice) – violin
David Russell – piano
Leviathan (ex- Unspoken, Abyss Below, Kvesta) – lead guitars
Rafael Agostino (Armored Dawn) – keyboards
John Kiernan – lead guitars
Mark Anthony K. (Projekt Gemineye) – lead guitars
Diego Palma (Lord Divine) – keyboards
LINKS:

Spotify: https://open.spotify.com/artist/2FD6PltivXbzITBq1L2MzR?si=nNiGjusZTbSk_W8SpoxD-w 
YouTube: https://www.youtube.com/channel/UCevXN2-eQ1mVRKbwouNJZRw 
Facebook: https://www.facebook.com/moonscapenorway/
Instagram: https://www.instagram.com/moonscapenorway/
Merch: https://teechip.com/resurgence-entity2
BandCamp: https://moonscape.bandcamp.com/