Pete Clemens from Yellowtooth joins us on the show to talk about the new record 'The Burning Illusion' We talk about the history of the band and take questions from our audience. We play new music from the record as well as new releases from Blazon Rite, Cannibal Corpse, Cirith Ungol, Endseeker, Capra, FLOTSAM AND JETSAM, Devoured, ICE WAR, Gravehuffer, Whipstriker, War Curse, All Men Must Die, Amethyst, Cadaveria, CARNIFEX, Hurricane On Saturn, Ophiuchi, Wurm Flesh, Inception Of Eternity, The Age Of Ore, Meursault Omega, Ren Marabou, Right Stripped, and Michael Fulkerson. We also play some classics by request from Deicide, Machine Head, and Alter Bridge!
Track List:
1 - Legends of Time and Eidolon/Put Down Your Steel (Only for the Night)/The Executioner's Woe - Blazon Rite
2 - The Zach Moonshine Intro
3 - Murderous Rampage/Inhumane Harvest/Ritual Annihilation - Cannibal Corpse
4 - Kill The Christian/Satan Spawn,The Caco-Daemon - Deicide
5 - Brutish Manchild - Cirith Ungol
6 - Count the Dead - Endseeker
7 - Yellowtooth - Interview Featuring FROM FAITH TO FLAMES/ASTRONAUT'S JOURNEY/VOID
8 - Hollow Doll/Paper Tongues/Samuraiah Carey - Capra
9 - Burn The Sky - FLOTSAM AND JETSAM
10 - Agenda Perputaran Jagad Raya - Devoured
11 - Warfare Cry - ICE WAR
12 - Sights to the Sky - Gravehuffer
13 - Now We Die - Machine Head
14 - Restless Dogs - Whipstriker
15 - Blackbird - Alter Bridge
16 - Only - War Curse
17 - Lost Connection - All Men Must Die
18 - Straight To Hell - Amethyst
19  Shamanic Path - Cadaveria
20 - Dead Bodies Everywhere Radio - CARNIFEX
21 - Outsider - Hurricane On Saturn
22 - Mercurial - Ophiuchi
23 - House Of Flesh - Wurm Flesh
24 - Blunt Blade - Inception Of Eternity
25 - The Age Of Ore - The Age Of Ore
26 - BLOWING_FROM_A_GUN - Meursault Omega
27 - Axe in my back (Loki) - Ren Marabou
28 - Hellraiser - Right Stripped
29 - Turn a Snitch Into a Metal Head - Michael Fulkerson
Listen to the full episode below on Mixcloud!
Check out the interview on Spotify!
Check out the interview on YouTube!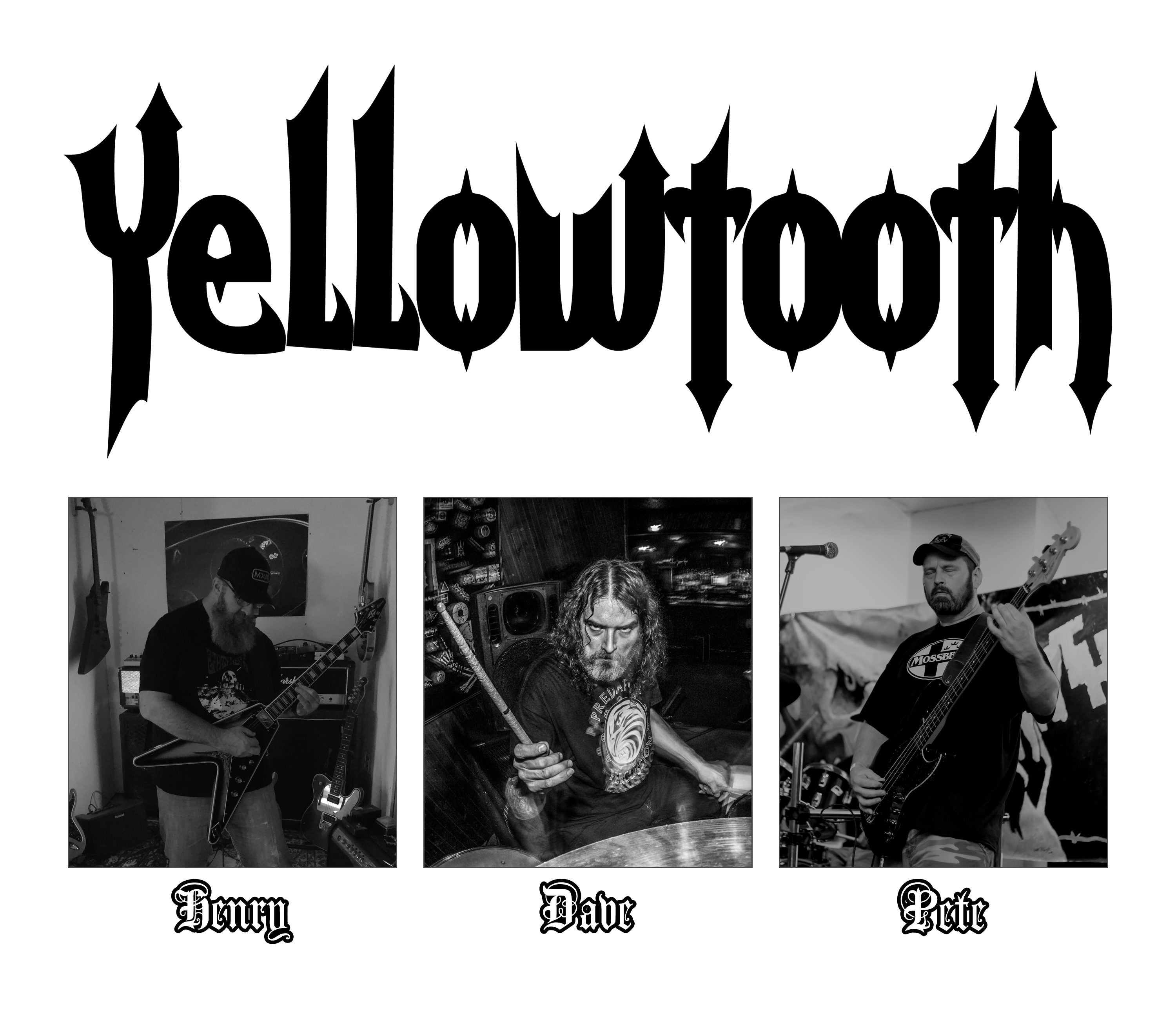 Indiana's YELLOWTOOTH have released the official video for "From Faith To Flames." The track comes from forthcoming album The Burning Illusion. The video was directed by Adam Laughlin and can be viewed at this location.
Having survived the plague year, YELLOWTOOTH will release its long-awaited third album, The Burning Illusion, April 30 on Orchestrated Misery Recordings.
Working with Year of Desolation/Prime Specimen guitarist/studio engineer John Hehman at Bang Studios, this first recording with new drummer Dave Dalton behind the skins has captured YELLOWTOOTH's unique brand of heavy metal, incorporating styles from doom and sludge to a sonic cacophony of speed metal. Still hidden in the band's songwriting are elements hinting of southern stoked riffs and rhythms, venturing into exciting new musical territory that needs to be heard in its entirety.
In the coming months YELLOWTOOTH plans on sporadic live performances to showcase Burning the Illusion, and to continue perfecting new material for an upcoming EP. When is that going to emerge from the aether? Good question...
Pre-order The Burning Illusion at:
cursedproductions.com/catalog/view/2620/Yellowtooth-The-Burning-Illusion
Track Listing:
1. From Faith To Flames
2. Atrocity
3. Deep Space
4. Astronaut's Journey
5. The Illusion
6. Void
7. Dead Flowers
8. Scattered To The Wind
9. Lazarus Syndrome
 
Line-up:
Peter Clemens - Bass/Vocals
Henry McGinnis - Guitar/Vocals
Dave Dalton - Percussion/Drums
BIO:
The Yellowtooth journey began in 2008 when bassist/vocalist Peter Clemens (Invasion, Skullview, Sea of Tranquillity) joined forces with Chronic Disorder's seasoned veterans Ed Kribs (drums) and Henry McGinnis (guitar/vocals), striking the new band's first notes in the basement of a home built in 1900. Thus begun an uncharted march to play their brand of sludge, doom, and heavy metal for the unsuspecting masses, only to have the reality of life step in and try to block their progress.
Taking influences from Orange Goblin, Clutch, Weedeater, COC, Xysma and Black Sabbath, by 2009 the trio conjured up a 4-song demo showcasing the band's potential. The following year, Yellowtooth unleashed the debut full-length album, Disgust, and roughly five years later churned out the second opus, Crushed by the Wheels of Progress, which showed a bit of progressiveness and some maturation.
In 2018, drummer Ed Kribs left the band and was replaced by Dave Dalton, a dedicated musician from Central Indiana who has spent time playing drums with Ratzkrieg, Legion, and Demons of Wrathica. A high caliber artist, Dave has elevated the band's sound and has become a vital piece of the machinery.
yellowtooth.bandcamp.com
facebook.com/Yellowtoothband
facebook.com/OrchestratedMiseryRecordings
reverbnation.com/yellowtooth 
yellowtooth.stereokiller.com