FOLLOW ME DARK Interviewed By MHF !
1.Greetings from MHF and Colorado! How are you guys?
 Fucking cold!  It just snowed here in Grass Valley California.  But just last week we were disc golfing in t-shirts.     


Congratulations on the new self-titled album and condolences on releasing it during what is arguably the worst time in history to be starting out. Tell us all about the album…in other words, time to brag a bit. 
  The band started in 2019 and has mostly played locally here.  We had recorded a few songs, done a radio appearance, and just been involved in the concentrated effort to create a body of songs that we feel are worthy of our time and worthy of the listeners' time.  We were planning on doing some west coast touring last spring when the quarantines started and we had to cancel a slew of planned shows.  We decided to shift gears and get our material recorded as a good use of the time.  We're pretty proud of ourselves for sticking it out, and the album is a testament to that.  It represents an entire body of work, a lot of blood, sweat, and tears.  And a way to keep us all centered and sane as we've been enduring what everyone else in the world has been enduring these last twelve months.


You guys got together in Grass Valley, CA via happenstance and good chemistry. Prior to that (individually) what were guys doing from a music standpoint?
 Stephen had just moved here from Chicago where he had an electronic rock project called Sun Machine.  Elliott had another band that ran concurrently, a funky rock project called Shai Tuesday.  Sean and Jim had both been on a bit of a hiatus after playing with a variety of bands, mostly metal.  We bring an eclectic set of influences to the mix.  There are a few bands we all agree on, like Deftones, Tool, Alice in Chains, bands that are heavy, progressive, and strong melodic songwriters.  



I have listened to Follow Me Dark several times now. I dig it. To me, it is a "dark room, headphones, no distraction" type of album. At the earliest stages, what were you envisioning this album to be? Was the result right on the mark or did it evolve into its own thing?

 We're glad you feel that way, as we in the band set out to make that type of album.  It's an interesting thing because the vast majority of the songs came up organically and one at a time.  So on one level, the album traces the developing sound of the band in real-time.  Oftentimes Elliott, Sean, or Stephen will bring a riff to the group, it can be a brand new idea or something that's been kicking around for years, and we develop it as a band as a live arrangement.  We're kinda old school.  What you're hearing is vocals, guitar, bass, and drum, usually full takes and minimal overdubs, so what you hear on the album is very close to what we sound like in the room.  Moving forward we may get more elaborate with recordings but we designed these songs to work with just four concurrent parts at a time.  
As for the album itself, Stephen and Elliott stayed up all night figuring out a sequence that had a loose three-act structure, with the right peaks and valleys.  It's definitely meant to be visceral and emotional.  It starts out with a bang.  We deliberately opened the album with several of our more hard-hitting, fast-paced, approachable songs, before switching into full overdose mode by "Ancient Ones" which is a sort of doom metal epic.  The middle section is super heavy and guitar-driven.  Then we end with a trio of more spacious, contemplative songs.  It's definitely a three-course meal, as it were.  There's a lot to chew on. 


I am literally writing my interview questions while watching your January 21st performance at The Brick in Nevada City, CA.   A big tip of the hat to The Brick. Tell us about this unique experience. Anything else like this in the works?
  The Brick is pretty much the only rock venue here in town and is our informal home stage, so we were thrilled when we were asked to do a live stream.  It was our first time in an actual venue in nearly a year so it was a great experience for us and we made sure to capture it so that you can pull it up on YouTube and have a virtual experience of seeing us live.  It was also our first show since we finished the album so we were able to get some of the new songs up on their feet.  We were hungry for it.  We are in the planning stages of doing a more low-key, acoustic live stream soon.  And hopefully, be able to be back on stage in person in a matter of months.



During your aforementioned performance at The Brick, at 22:38 who is the young lady asking, "Are you gonna take another shot?"  Just kidding…no names please…but it did give me a chuckle. 😊 .   For an emerging band (in 10 words or less) how important is it to have grassroots support? Any words for those folks? 

 We have many talented friends who have supported us, collaborated with us, fed us, housed us.  One of the best aspects of being in a band is having the opportunity to build that community around you that incorporates creativity and the DIY ethos.  Dark Army represent!


"As She Feeds." Personally, I think this an outstanding tune. There is a very cool video for this, which we will feature in this interview. Please explain the story behind this song. Any moments on this album you are particularly proud of?

 Lyrically, the song has to do with the darker aspects of the Mother or Earth Goddess archetype.  Stephen is a big fan of Joseph Campbell and this kind of philosophical question gets into the lyrics.  The line "as your blood feeds the earth" represents that kind of raw statement, an acceptance of the cost of living.  The video was a labor of love for our entire circle of friends and collaborators.  We shot it in a day on a minimal budget and everyone was pretty thrilled with the result.
As far as the album goes, we all have our favorite moments, I think a group favorite is the closing track, "Alone", where we are able to use polyrhythms to take an acoustic ballad and push it into something a lot more intense.  That last drop in that song is one of our proudest musical moments.


The current album just hit the streets and I hear you are already working on new stuff? What can we expect? 
In fact, we have taken a left turn and are working on several new songs that feature piano, cello, acoustic instruments, and overall softer dynamics.  It's been really cool to explore the farther reaches of what this band can do and what our sound can be.  We also have a couple epic rock tracks in the works that are in the 7 to 15-minute range.  The new stuff is a bit more unpredictable, sweeter in some ways, and haunting.  So there will be some releases coming before we shift back into touring mode (hopefully) by the end of 2021.


Ok. Grass Valley, CA. If I were to visit, and it is a mere 1,100-mile drive, what would be the one thing I simply must see? 
 Summertime at the river is a magical thing here, but in general, it's just a beautiful area with a lot of really talented folks around.


We thank you for your time, wish you all the best, and look forward to seeing you guys live one of these days. Any parting words for our readers? 
Keep your chin up and keep the rock alive!
December 9, 2020 - Alt Rock/Metal band Follow Me Dark ends 2020 on a high note with the release of their self-titled odyssey "Follow Me Dark". Slated to go LIVE on the winter solstice, the 12/21 release is an impeccable testament to their dedication and perseverance. COVID truly changed everything for musicians, putting them in an introspective position to create art during a time when nobody is playing shows. In light of this, Follow Me Dark chose to focus on finishing their album right in time for the changing of seasons. In the spirit of challenging comfort zones, their full length album is meant to welcome people into listening to something outside of their realm of comfort. Instrumentally, the band taps into multiple genres in an attempt to convey a mood through music to reflect the dimensions that are inside of all of us. Their intricate textural interludes and melodic choruses captivate fans of alt rock, metal, psychedelic rock, indie rock and even rock opera. The modern psychedelic grooves and metal attacks tap into fans of Muse, Alice in Chains and Deftones. 
Follow Me Dark's emotional new album isn't afraid to confront human nature in a very raw and transparent way. Consisting of Stephen Kozak (vocals/guitar), Sean Batinic (guitar), Elliot Grove (bass) and Jim Boots (drums), the band reveals a chemistry between bandmates that assists in amplifying their message in a relatable yet 'larger than life' way. Hailing from Grass Valley, CA, the band has successfully introduced their grassroots following to a progressive approach to songwriting. And in "Follow Me Dark", the band embraces very organic musical peaks and valleys, offering a refreshing complexity to the alt rock/metal genre. "Too much music nowadays is predictable, it's unexciting. It's not surprising. That's something we pride ourselves in; we try to make music that pushes you into "I didn't see this coming. I'm off my rocker. I can't categorize this" says vocalist/guitarist Stephen Kozak.
Full length albums are often hard to come by in our singles-laden world. But "Follow Me Dark" has a unique way of provoking you to commit to listening from beginning to end. The "Follow Me Dark" project embraces the darker parts in all of us that we aren't always consciously aware of. With the release of their self-titled project, they hope to create an outlet for people who might be confronting some of the same feelings that they do; those feelings of dread, confusion, chaos and anger. In the words of drummer Jim Boots, "There's a dark, shadowy feeling to the music that's kind of what the world is going through right now." And after such a turbulent year, it's important not to ignore those feelings but to welcome them knowing that many are experiencing the exact same thing. While the light and positive emotions bring us together, so do the dark ones. Our imperfections make us relatable to one another and after a culmination of two years of intense creativity, Follow Me Dark hopes to provide their fans with cathartic & spiritual experience to wrap up a year that is sure to go down in history books.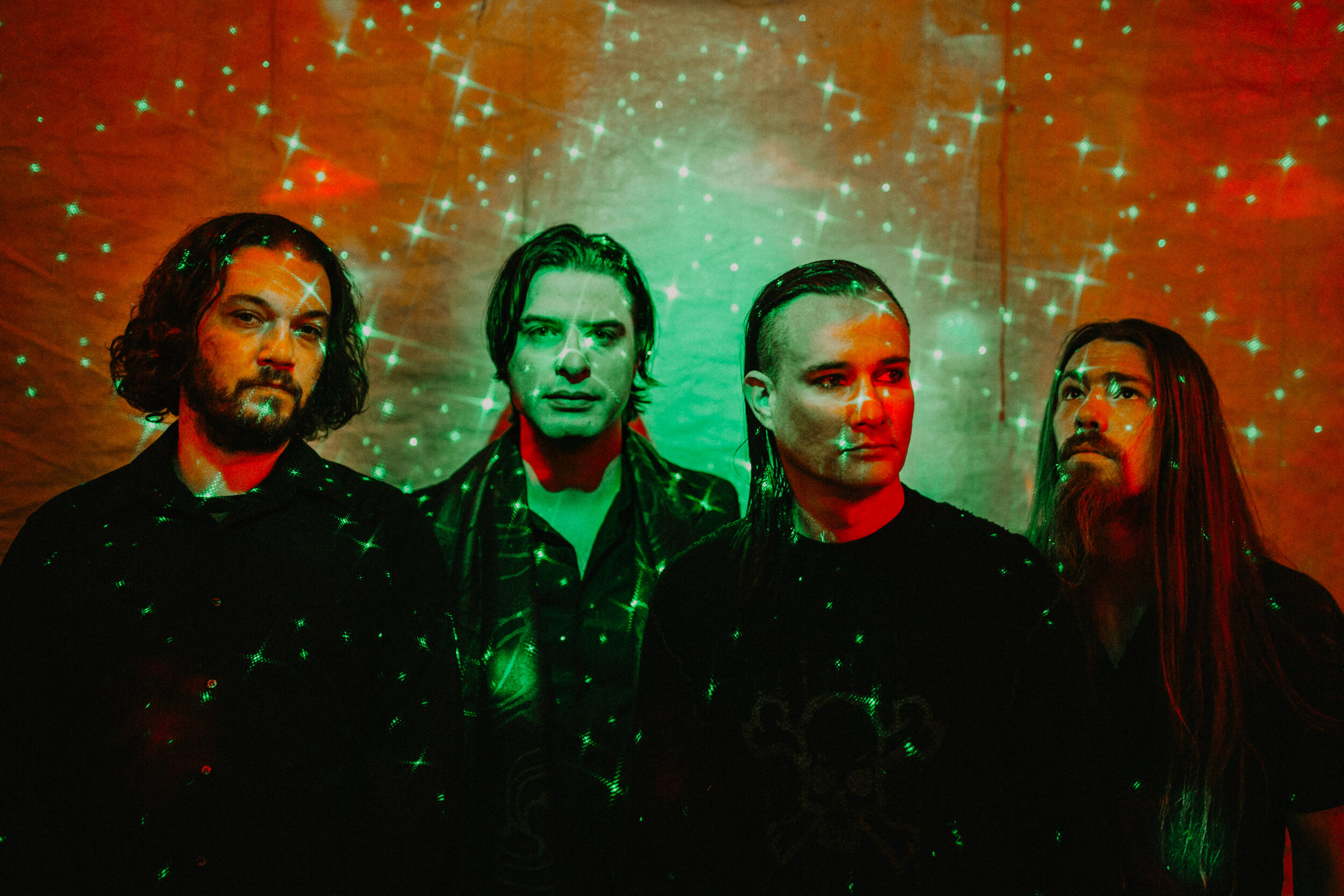 Follow Me Dark Online