Hellz Abyss Debut Album 'N1FG' - Reviewed At Rock Portaal ! Check it out here at this link: https://www.rockportaal.nl/hellz-abyss-n1fg/
Under her stage name Hellz Abyss, the Australian singer Lisa Perry has released a hard-hitting ruthless album.
It is a debut album that did not just get off the ground. After Perry flew from Australia to Ohio to make her dreams come true, not everything went according to plan. The producer who promised her the world had, to say the least, screwed her up incredibly. Perry flies back home and on the way on the plane she pens her first number. It was an event that made her stronger and she continues to write songs tirelessly. She releases a number of singles that are well received and there has already been a comparison about her that she could just be the unhinged love child of Alice Cooper and Harley Quinn in terms of beauty and seduction, but meanwhile hiding a knife behind her smile.
She bumps into producer Daryl Holden and the two decide to work together. They decide to release an album under the name Hellz Abyss. The album has fourteen strong compositions with the underlying theme that we all have to live our lives as we want to. The hesitant intro of Deadones is misleading, the guitar slowly swells and a heavy and languid rock song is created with a nice guitar part at the end. Perry's voice floats between the instrumental accompaniment.
In Ratatat the tempo goes up and the volume also increases. Perry's vocals get sharper, the short riffs get rougher. Slowly, the listener is being prepared for a ruthless rollercoaster ride. With Kill The Real Girls, The Darkest and Faith the band shows what the intention is. A subtle instrumental and musical accompaniment laced with hard-hitting riffs and inimitable vocals. The band goes wild for fourteen songs and it never gets boring. Fifty minutes of unparalleled rock with excellent guitar work. Many people will undoubtedly enjoy this album.
They say ''that what doesn't kill you makes you stronger''. Never was this more apt than when applied to Hellz Abyss. 
The music business has always been one full of danger, broken promises and sharks, with even the most experienced artists occasionally falling prey to the crooks and conmen who infiltrate it. Having gained a formidable reputation as a singer and writer whose live shows thrilled all those lucky enough to witness them, two years ago Lisa Perry, A.K.A. Hellz, left her home in Sydney to cross oceans to America, landing in Ohio to meet a producer who had literally promised her the world. 
To cut a long story short…a story that may well become part of an autobiography one day…things didn't go as planned. The next few weeks were filled with horrific experiences of gaslighting, lies and shattered hopes, the dream very quickly and most definitely turning into a nightmare. Somehow, she got through it all though, returning home battered, bruised and almost broken. Whilst it may have finished many off entirely, Perry is made of stronger stuff. Determined to turn bad into good, picking up the pieces on that flight back she immediately started writing new songs, the first one pouring out of her in a cathartic stream as she made her way over the Pacific Ocean.
It was this moment that saw the true birth of 'Hellz', rising like the proverbial Phoenix from the flames and more powerful than ever. With this new determination, the hardworking artist ramped things up even further, her fighting spirit and warrior soul coming to the fore. Getting her head down in a display of breathtaking focus, she released a string of critically acclaimed singles, each building on the growing reputation as a rock artist who HAS to be heard. There was a feral wildness and dark fun-house glamour here that spoke of the unhinged lovechild of Alice Cooper and Harley Quinn, beauty, seduction and a razor- sharp blade hidden beneath the smile. Here was someone who could crush you but leave you begging for more. 
Given the passion and drive of Perry, inevitably, there was a lot more to come too and it was a chance meeting with musician, writer and producer Daryl 'Abyss' Holden that opened the door to the next, huge chapter. Once again, circumstances had brought two people together, this time though everything was right from the very first moment.
Having worked with some of the cream of the Australian scene, both as a performer and engineer, the award-winning Holden has built a career that's the envy of many, opening his own studios in Queensland and contributing to the success of multiple chart singles and albums. With their two singular and enormous talents, it seems like the pair were always destined to meet but no-one could have predicted just how good the results were going to be. Perry reports ''the moment we met, that was it…we started writing together straight away and the material just flew''.
There was obviously something special going on here, a symbiotic relationship that has flourished and brought the two artists together to form Hellz Abyss.  The resulting fruits of their labor is the staggering debut album 'N1FG'.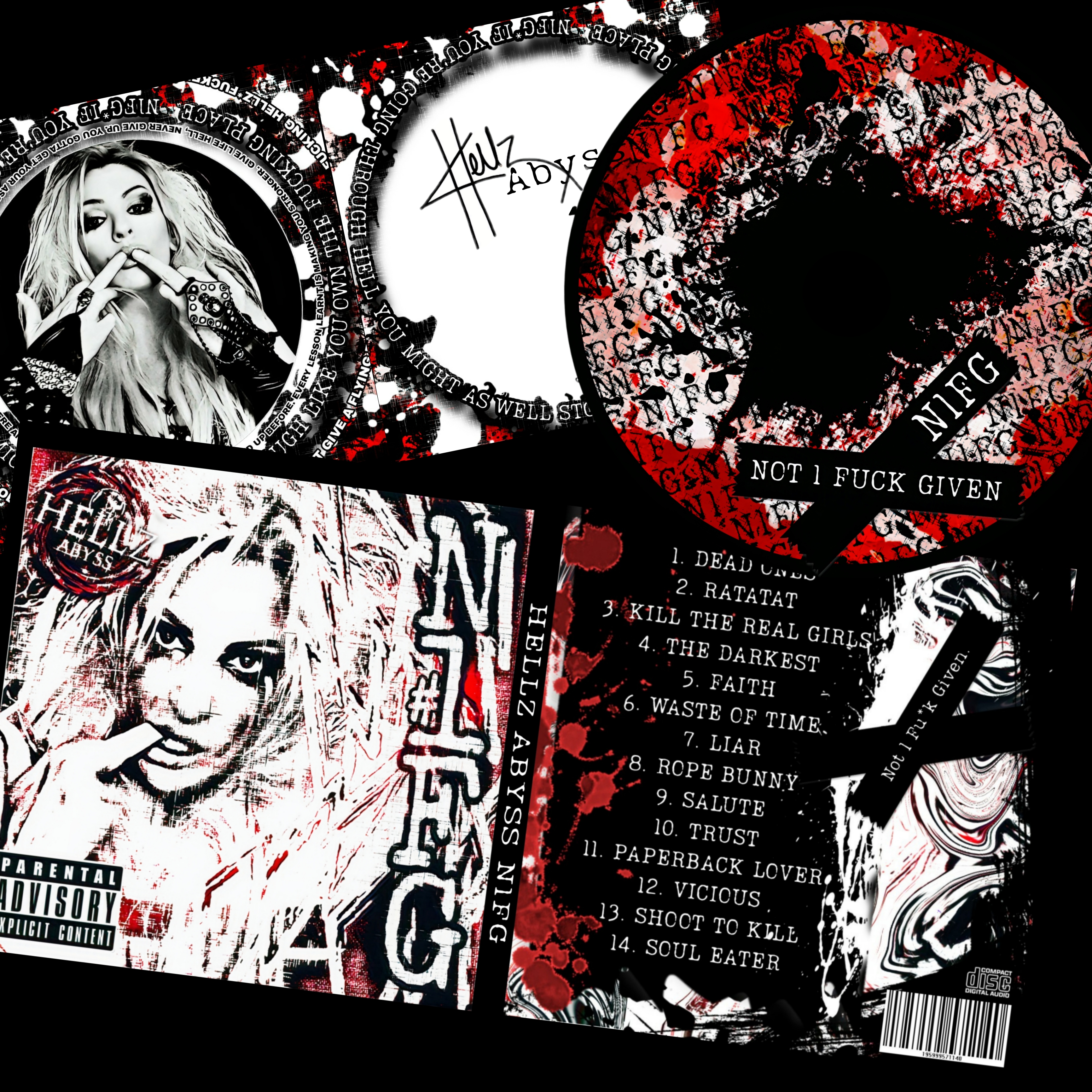 Consisting of fourteen breathtaking tracks, this full-on rock and metal beast is a massive statement of empowerment and sheer force that both uplifts and inspires, a rallying call to us all to live our lives as we want to. Packing in more dynamics and verve in over a dozen songs than most bands manage in a lifetime, this just doesn't set alight to the senses but ties them to the tail of a Saturn rocket, roaring off the launchpad at Cape Canaveral. It's a thrill ride with more twists and turns than any roller coaster you can name, as you're taken on a journey that both thrills and scares the life out of you at the same time. 
Despite the crushing power of the guitars, the city flattening heft of the drums and bass and Hellz incredible vocals that are part siren, part banshee, it's not all just a trip in the passenger seat of a nitro fueled street racer. In amongst the heavy assault of tracks like the pneumatic 'Paperback Lover' and the wildly industrial 'Ratatatatat' there's still room for the spiky psychedelia of 'Souleater' and the downright funky 'Salute'. Yes, this is an album to get excited about, a total game changer and one that won't so much kick down doors but flatten entire houses.
It's not just in the studio that Hellz Abyss will be focusing their energy though. With a worldwide set of dates that will cover Australia to Europe, Japan, South America and New Zealand with Global Unity Tours, Hellz joins a stellar line-up of artists who will be playing live across the continents, destroying cities as they go.
With 'N1FG' poised to be unleashed and a massive and far-reaching tour booked in, it's going to be an incredible year for Hellz Abyss. There is a whispered word that album Number Two is already being written, such is the staggering connection that has sprung forth from this union between Perry and Holden, but that just shows the commitment the two have to the project. This isn't just a flash in the pan but the start of a much bigger bang.
With the release of the album, we see the circle turning full circle, back to endless possibilities and, this time, real promise. The message is clear and one aimed squarely at not just the villain of our story who unwittingly unleashed a Valkyrie, but at all those who would try to steal our confidence, worth and lives from us. In Hellz own words: ''Someone is out there holding their breath waiting for you to fail…Make sure they suffocate''. Prepare to be changed and challenged to reach for and grab YOUR dreams.
The only decision left is to get onboard and enjoy one of the most exciting and visceral rock 'n' roll albums to come out this year to get right out of the way. Whatever you do, there's no way of stopping Hellz Abyss.  

Hellz Abyss – 'N1FG' is released on 03/03/2021 on Revenge of Eve Records
Produced by Daryl Holden
All songs written by Lisa Perry / Daryl Holden / Mark Pollard
COPYRIGHT
© 2021, Daryl Holden Lisa Perry
Check out these videos!
Presave link
https://hellzabyss.hearnow.com/
For more Hellz Abyss info go to:
www.facebook.com/hellzabyss/
www.houseofhellz.com